09 > 13-02-2015 – Workshop Arts² – Villa Arson Rhombo (Médiavision)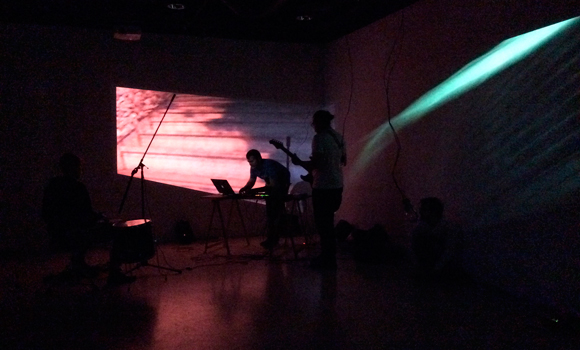 'Rhombo' resulting from the Mediavision workshop initiatied by Villa Arson (National Art School of Nice) and partnership between Villa Arson, Arts² and Transcultures, addresses issues of space creations, set design and sculpture through the use of digital techniques.
This Mons/Nice workshop (a first common workshop has been organised in November 2014 at Villa Arson-Nice) is about exploring the architectural and urban forms by light, transforming/sculpting/questioning the space. This will require the creation of singular worlds of image projections or light today as lighting technology is approaching more and more technologies of projected video and film (frames, drawings, 3D videos).
The students/participants are asked to write narrative fictions or not, using the media profusely and his potential as a dramatic spring. The keywords could be hybridizations, microphones stories, frames, overlays, collages, projections…
The development is done on software such as Processing, Rezolume, etc … The result of these Mons-Nice workshops will be displayed as part of the exhibition "Digital Emergences" in the Biennale Transnumériques (27 November-12 December 2015) organised by Transcultures as part of Mons2015, European Capital of Culture.
Informations
09 > 13/02/2015

Carré des Arts

4a, rue des Sœurs noires, Mons

free
production
Partnership: Arts² – ENSA Nice- Villa Arson, Transcultures.
Teachers : Drita Kotaji, Natalia de Mello, François Zajega (Arts²), Christian Vialard, Gauthier Tassart (Villa Arson)