Mauro Vitturini – the sound of the city (Feed back on his M4m residency at Transcultures)
Mauro Vitturini, composer, sound and interdisciplinary artist hosted in Mons at Transcultures for a intense 3 week M4m – M for mobility  (European project supported by the European Commission-Culture Programme) residency (with the help of technician Emilien Baudelot and the final collaboration with sound-multimedia Mons artist Arnaud Eeckhout for a performance) answers to Philippe Franck (director of Transcultures)' s questions on his approach and the result of his creative process in Mons at and with Transcultures.
Opening monday 04 02 2013 : Mons > La Médiathèque > 18:30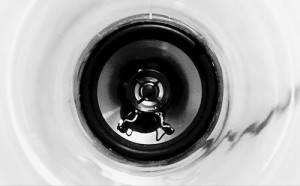 exhibition : 05/06 02 2013 – 14.00 > 18.00
free entrance
Transcultures : What attracted you to Mons and Transcultures for your M4m residency?
Mauro Vitturini : Actually, I didn't know about Mons before reading the call for applications at Transcultures. Then I started to get information about both the city and the organisation, and I found Transcultures very interesting for me and my professional development. I think that Transcultures is one of the most attractive organisation as a vehicle for experimental art, and an avant-garde for sound, digital and new media art.
T : How did you work with the guest technician Emilien Baudelot and the Transcultures staff all along the process ?
M. T. : Emilien is really nice and very professional; he helped me to find all the material that I needed, driving me all around Belgium. He gave me also some technical advices and he was really helpful during the set-up of the installation. And most important, he gave me a very nice and well structured knowledge about belgian beer!
T : How does this new installation « Tentative d'épuisement d'un lieu montois » take place in your work?
M. T. : Which (artistic, technical) developments did it bring? This is the first time for me to present my work in a different country from that one where I used to live. I moved abroad just few months ago, and "Tentative d'épuisement d'un lieu montois" fits perfectly with my future objectives. It's an important validation for my work. However, thanks to the staff and the people I met during the residency, I improved my technical knowledge and I knew some very interesting sound editing programs that I didn't knew before.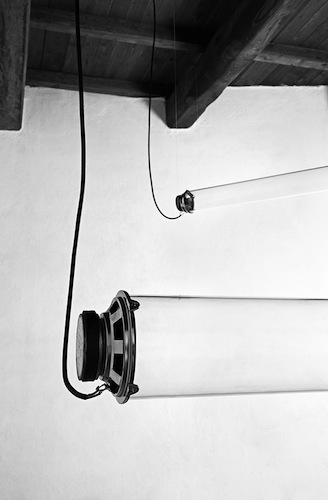 T : What is your vision of « sound art » and « digital arts »?
M. T. : I appreciate the quotation marks. However, speaking in a broad sense, I don't like the attempt at "defining" things and one of the aims of my work at Transcultures is also to convey this idea.
I am used to think art as something that involves mind and thought before, and then perception and senses. Sound for me is a medium to express thoughts, language issues and concepts without imposing a personal view, and then a ready-made image.
But for the time being, I like to interchange a more conceptual research to one more sensorial. I don't know if sound art is actually something like this; but I really don't question it since I don't pretend to be a sound artist. However, in my opinion, sound, digital and new media are the most relevant arts to be in the forefront.
T : You met Arnaud Eeckhout (young musician, sound and visual artist often supported by Transcultures) thanks to this residency in Mons, how is he going to integrate your devices for his performance at the opening of the final exhibition?
M. T. : I really appreciate Arnaud's work. I think he is a very good artist. From the outset we have been on the same page. He started to work on my devices in a completely free and spontaneous way, even if I know that is not easy to work with the work of someone else. But he's doing very well, and I think he has found the best solution to integrate his work with mine, in a very experimental way.
T : What is the next step for you after this M4m residency? What did it concretely bring to you?
M. T. : I will exhibit in Trevi (PG, Italy) in March. However, when the curator wrote me some days ago, I was not yet in the position to tell her what I was going to do. Now, thanks to this M4m residency and to the people I met here, I know exactly what to do. And I feel much better!
Anyway, it's been the first time for me to find someone who really shares the same interest as mine. I talked a lot with Arnaud, and for a moment, while he was talking, I felt like I was him and he was me. In Italy, from my experience, most of the people don't really care about your work; most of them just care about appearance and success. But what I do is not just "my work". I don't care about my name, I care about the aim of my work, the aesthetics; I am not doing this to be the "first", but to share it and then let people make it better than me. "We don't own ideas anymore, so no one can steal them", as John Cage said.
Thank you Transcultures and M4m!