Newsletter July 2019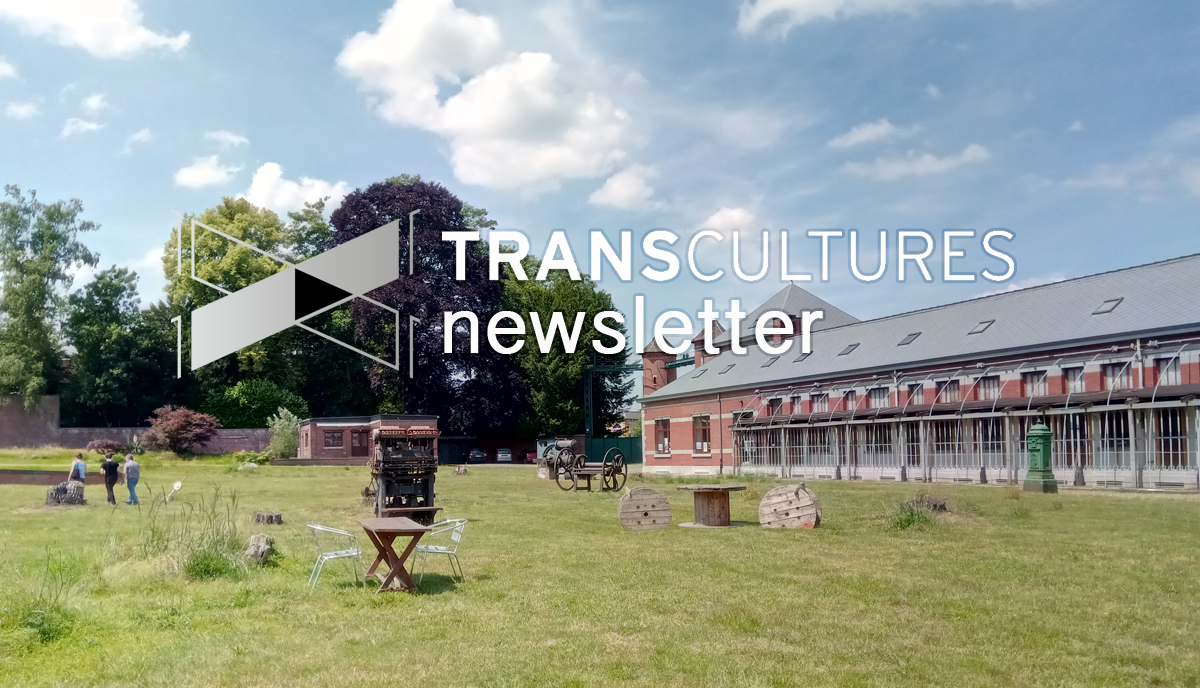 Transcultures déménage cet été à Bois-du-Luc, sur le site du Musée de la Mine et du Développement durable afin d'y développer un nouveau projet interdisciplinaire dédié aux cultures numériques et sonores qui sera particulièrement attentif à croiser les avant-postes de la création contemporaine aux thématiques sociétales et écologiques qui sont au coeur des mutations de notre humanité.

Nous reviendrons sur ce projet dans les prochains mois. En attendant, vous pourrez visiter, jusqu'en septembre, les différents lieux à La Louvière et en Région du Centre de la biennale d'art contemporain et de patrimoine ARTour (et plus particulièrement de notre contribution avec l'exposition Media Memories au Chateau Gilson) ou de découvrir, un apéro à la main, des performances sonores indisciplinaires dans un cadre bucolique propice à l'écoute ouverte.

Nous mettrons également en ligne sur la chaîne youtube transcultures, plusieurs archives de ces derniers mois qui ont été particulièrement intenses en événements créatifs et différenciés. Que l'été 2019 vous soit doux !

Transcultures is moving this Summer to Bois-du-Luc, on the site of the Mining and Sustainable Development Museum, to develop a new interdisciplinary project dedicated to digital and sound cultures that will be particularly attentive to cross the outposts of the contemporary creation on societal and ecological themes, which are at the heart of the mutations of our world. We will come back to this project in the coming months.

In the meantime, you will be able to visit the various places in La Louvière and in the Centre Region of the biennale of contemporary art and heritage ARTour (and more particularly our contribution with the exhibition Media Memories in Château Gilson) or discover, an aperitif in hand, undisciplined sound performances in a bucolic setting conducive to open listening.

We will also be posting on the Transcultures channel (youtube) several archives of the past few months that have been particularly intense in creative and differentiated events. May this Summer 2019 be sweet to you !
Jusqu'au/Until
08.09.2019
---
Château Gilson
La Louvière
ARTour – Media Memories
EXPOSITION
Maïa Blondeau, Colin Pontot, Helga Dejaegher, Valkiri
Pour sa douzième édition qui se tiendra cet été, la biennale d'art contemporain et de patrimoine ARTour a choisi la thématique « D'un temps à l'autre ». De La Louvière à Soignies, des œuvres sont créées pour l'occasion ou intégrées dans un contexte nouveau pour inviter au dialogue entre passé et présent.

Dans ce cadre, Transcultures propose au Château Gilson, avec Media Memories, une sélection d'installations qui donnent une nouvelle vie à des médias devenus aujourd'hui obsolètes (cassettes audio, enregistreurs à bandes, appareils électroniques, composantes informatiques…) en les réenchantant à travers des dispositifs ludiques, génératifs, interactifs….
Il se dégage de ces dispositifs inventifs, une certaine poésie, un art du détournement qui interroge l'obsolescence programmée de nos prothèses numériques à l'éphémère nouveauté innovative, mais aussi plus largement la culture des médias dominants et du progrès technologique, tout en célébrant l'esthétique propre de ces vieilles machines rebelles qui nous livrent ici un peu de leur précieuse mémoire redynamisée.
Maïa Blondeau (Fr) Cette musicienne et étudiante en arts numériques à l'école des arts visuels Arts2 présente le dernier état de son Ghetto du Lab, sculpture sonore conçue avec des vieilles machines électroniques/informatiques récupérées qui est le résultat d'ateliers Emergences numériques et sonores menés par Transcultures avec Arts2.
Colin Ponthot (Fr/Be) réavive son impressionnant Monster Happy Tapes invitant le visiteur se saisir de têtes de lecture pour redonner vie à des cassettes audio trouvées
Helga Dejaegher (Be) conçoit à partir d'une vieille cassette de pop-variété un premier Paysage magnétique (sous-titré Libertine de nom de la chanson figurant sur la cassette d'origine) (création) vidéo abstrait
Valkiri (Fr) propose une pause dans les transats au bord de sa Mermedia (création), un environnement apaisant à partir des de flux et reflux de vieux jouets électroniques, radios, lecteurs cassettes..jusqu'au minitel qui diffuse un poème de Pablo Neruda.
For its twelfth edition to be held this summer, the biennale of contemporary art and heritage ARTour has chosen the theme 'From one time to another' From La Louvière to Soignies (Belgium), works are created for the occasion or integrated in a new context to invite dialogue between past and present.
In this context, Transcultures presents 'Media Memories" at Château Gilson, a selection of installations that give new life to the now obsolete media (audio cassettes, tape recorders, electronic devices, computer components …) by re-enchanting them through devices. playful, generative, interactive…
From these inventive devices, there emerges a certain poetry, an art of diversion that questions the programmed obsolescence of our digital prostheses to the ephemeral innovative novelty, but also more widely the culture of the dominant media and technological progress, while celebrating the clean aesthetic of these old rebel machines that give us here a little of their precious memory reinvigorated.
Maïa Blondeau (Fr) this young musician and student at the visual arts school of Mons Arts2– digital arts dept ) presents the latest state of her 'Ghetto Lab', a sound sculpture designed with old recovered computer / electronic machines (which is the outcome of 'Digital & sound emergences" workshops lead by Transcultures at and with Arts2) ; Colin Ponthot (Fr/Be) re-invents his impressive 'Monster Happy Tapes' inviting the visitor to grab heads of reading to revive found audio tapes; Helga Dejaegher (Be) creates from an old audio cassette an abstract AV 'Magnetic Landscape' ('Libertine' from the title of the French pop song initially on the tape) while Valkiri (Fr) offers a break in the deck chairs at the edge of his 'Mermedia', a soothing environment from the ebb and flow of old electronic toys, radios and cassette players…and even the minitel broadcasting a poem of Pablo Neruda.
 > 08.09.2019
Media Memories @ Chateau Gilson – 11, r

ue de Bouvy, La Louvière

Ouverts les samedi & dimanche/open on Saturday & Sunday 14 > 18.00
Entrée libre / Free entrance
Production : Transcultures, Central
Biennale ARTour –  La Louvière, Binche, Mariemont, Carnières, Soignies
PASS ARTour (5 musées/museums) : 10 euros
06.07.2019
---
Le Chalet de haute nuit
Esneux
L'inconstance de l'été
DRAMATICULES MUSICAUX INSTANTANES EN JARDIN
Ludovic Medery + Pastoral + Fred Michiels (aka Wichard Ragner)
L'inconstance de l'été est le prétexte pour une soirée dédiée à l'exécution en plein air de dramaticules musicaux instantanés. Le jardin dans lequel elle prendra place ne se réduit pas à un lieu d'accueil, il se veut également une source d'inspiration et un matériau sonore à part entière. Cette soirée conviviale sera l'occasion de découvrir Ludovic Medery, créateur sonore favorisant la composition électroacoustique et expérimentale. Elle permettra également au duo Pastoral (Christophe Bailleau + Philippe Franck) de nous livrer des extraits électro-cinématiques ou post pop de L'échappée belle, élégant opus audio-poético-visuel récemment paru sur l'alter label Transonic (ouvrant la collection Sonopoetics).

Enfin, sous la bannière des ses improbables alias, Fred Michiels, artiste flamand résidant en Wallonie, mais ouvertement asexué linguistique, bricolera un art oratoire au troisième degré avec de petits riens, des embouts de langue, des gadgets lexicaux, des abus verbaux.

The 'Inconstancy of Summer' is the pretext for an evening dedicated to the outdoor performance of 'instant musical dramaticules'. The garden in which it will take place is not reduced to a place of welcome, it also means to be a source of inspiration and a full-fledged sound material. This convivial evening will be an opportunity to discover Ludovic Medery, Belgian sound creator favoring electroacoustic and experimental composition. It will also allow the duo Pastoral (Christophe Bailleau + Philippe Franck) to deliver electro-cinematic or post pop extracts of 'L'échappée belle', an elegant audio-poetic-visual opus recently published on the Transonic label (opening the "Sonopoetics' collection).

Finally, under the banner of his improbable aliases, Fred Michiels, a Flemish artist living in Wallonia but openly linguistic asexual, will craft a third-degree oratory with little things, language tips, lexical gadgets, verbal abuse.
06.07.2019 – 20:00
Prix libre/Open price
Le Chalet de haute nuit – Rue de la Charrette 43, 4130 Esneux
Un événement Eastern Belgium at night
En partenariat avec/In partnership with Transcultures/City Sonic & Transonic Label
Valkiri (Fr)
Pépinières Européennes de Création
MAP residency program 2019
Architecte de formation et bidouilleur multimédiatique, Valkiri (Lille) axe ses recherches sur une hybridation entre les technologies d'hier et d'aujourd'hui. A partir de tout type de média -vieux ou jeune- il élabore des dispositifs pensés pour s'inscrire dans un lieu et le faire vibrer. Son travail sur le détournement d'objets électroniques (hardware hacking, circuit bending) et l'algorithmique lui a permis de développer une réflexion sur la place de l'homme à notre époque, celle de l'autonomisation des machines, et des relations qui les unissent. Partant de là, Valkiri propose aussi bien des installations numériques que des concerts de musique électronique avec son « Orchestre symphonique de jouets ».

Sélectionné dans le cadre du programme MAP des Pépinières Européennes de Création, il entame sa deuxième période de résidence chez Transcultures après avoir montré une première étape de son installation environnementale et méditative Mermedia, au Chateau Gilson (La Louvière) dans le cadre de la biennale d'art contemporain et de patrimoine ARTour. Une deuxième étape de ce dispositif à géométrie variable devrait être présenté dans le cadre du festival international des arts sonores City Sonic qui aura lieu à Louvain-la-Neuve (et en Brabant wallon), du 21 novembre au 1er décembre 2019.

Architect by training and multimedia fiddler, Valkiri (Lille) focuses his research on a hybridization between the technologies of yesterday and the ones of today. From any type of media – old or young – he develops devices designed to root in a place and make it vibrate. His work on the diversion of electronic objects (hardware hacking, circuit bending) and the algorithmic allowed him to develop a reflection on the place of man in our time, that of the autonomisation of machines, and relations which unite them. From there, Valkiri offers both digital installations and electronic music concerts with his "Symphonic Toy Orchestra".

Selected in the framework of the program MAP of the European pepinieres of creation, he begins his second period of residency at Transcultures after having shown a first step of his environmental and meditative installation 'Mermedia', shown at Château Gilson (La Louvière) as part of the biennale of contemporary art and heritage ARTour. A second step of this variable geometry device will be presented at City Sonic, International Festival of Sound Arts, in Louvain-la-Neuve (and in Walloon Brabant) from  November 21 to December 1, 2019.
Production : Transcultures, Pépinières Européennes de Création.
Avec le soutien de/With the support of Fédération Wallonie-Bruxelles
Revue Inter #132
La disparition de l'exception artistique
Le dernier numéro de la revue d'art actuel québécoise Inter (dont Philippe Franck est correspondant pour la Belgique) a pour thématique la disparition de l'exception artistique, une lanterne rouge comme le fond de la couverture (dont la sentence au dos stimule la réaction contre les nouveaux conformismes) de cette 132ème livraison, qui à l"heure de la "startupisation" de la culture et de la confusion exponentielle des industries cultures et créatives où l'artistique est gommé par le "tout créatif".

Un dossier aux entrées très diverses est coordonné par l'écrivain québécois Michaël La Chance qui l'introduit, dans son éditorial, comme ceci : "Cela semble une fable : des individus, pour lesquels le monde est fait de statistiques, s'efforcent de vivre du bon côté des statistiques et de vilipender ceux qui ne partagent pas leur conception du progrès. Le monde n'est pas pour eux une organisation symbolique complexe, composée d'institutions fragiles, dont l'existence même est une énigme. Ils sont assez prudents pour ne pas exprimer leur mépris de l'art et les processus d'individuation à travers celui-ci, parce qu'ils ont encore besoin de l'art en tant que terrain de chasse pour débusquer des monstres".

The latest issue of Quebec contemporary arts magazine Inter (for which Philippe Franck is the correspondent for Belgium) is presented as a warning light, as red as its back cover (which sentence on the back stimulates the reaction against the new conformisms) . At the time of "startupization" of culture and exponential confusion of cultural and creative industries, this 132nd issue alarms us of the disappearance of the artistic exception, erased by the 'all creative'.

This very diverse file is coordinated by the Quebec writer Michaël La Chance who introduces it, in his editorial, like the following : "It seems a fable: individuals, for whom the world is made of statistics, strive to live on the right side of statistics and vilify those who do not share their view of progress. For them the world is not a complex symbolic organization, composed of fragile institutions, whose very existence is an enigma. They are cautious enough not to express their contempt for art and the processes of individuation through it, because they still need art as a hunting ground to flush out monsters".
La société d'aujourd'hui peut-elle se passer des innovations et des créations d'individus qui ne seraient pas irréprochables ? Il semble que oui. Il n'y a plus d'exception pour le talent, encore moins pour le génie. Mieux encore, nous assistons à un renversement de l'histoire : les avant-gardes sont dans le passé, nous parlons de certains artistes d'alors en disant qu'ils ne seraient pas possibles aujourd'hui.

Il ressort de cette enquête l'importance des individus atypiques dans l'économie symbolique d'une société. En 1921, à l'époque de l'« art officiel » soviétique, qui ressemble quelque peu au nôtre, Levgueni Zamiatine déclarait : « La vraie littérature ne peut exister que lorsqu'elle est créée, non pas par des fonctionnaires diligents et dignes de confiance, mais par des fous, des ermites, des hérétiques, des rêveurs, des rebelles et des sceptiques.».

Pointons la chronique du dernier et truculent recueil poétique d'Eric Therer (auteur/performer liégeois indisciplinaire), Le déficit des années antérieures (éditions Eastern Belgium at night) par Philippe Franck.

Can today's society do without the innovations and creations of individuals who would not be irreproachable? So it seems. There is no more exception for talent, and even less for genius. Better still, we are witnessing a reversal of history: the avant-gardes are in the past, we talk about some artists from then, saying that they would not be possible today.

This investigation shows the importance of atypical individuals in the symbolic economy of a society. In 1921, at the time of the Soviet "official art", which somewhat resembles ours, Levgueni Zamiatine declared: "True literature can only exist when it is created, not by diligent and reliable officials. but by fools, hermits, heretics, dreamers, rebels and skeptics".

We also uncover the chronicle of the last and truculent poetic collection of Eric Therer (indisciplinary author / performer from Liège) 'Le déficit des années antérieures" (published by Eastern Belgium at night editions) by Philippe Franck.
Soulignons également la qualité des contributions de / We emphasize the noteworthy contributions of : Chantal Bellavance, Julien Blaine, Louise Boisclair, Nathalie Côté, Silvio De Gracia, Étienne de Laberge, Mildred Durán, Giovanni Fontana, Jean Gagnon , Stvn Girard, Michel Giroud, Michael La Chance, Richard Lefebvre, Les Sabines, Myriam Lortie, Yann Merlin, Hugo Nadeau, Cai Qing, Alain-Martin Richard & Maxime St-Hilaire.
Jacques Donguy
CONFERENCE
Poésies numériques performées/Bruxelles
Cette présentation (modérée par Philippe Franck) de Jacques Donguy a eu lieu dans le cadre de l'événement Ecritures numériques et formes intermédiatiques et du cycle de conférences-rencontres Ecritures numériques – contexte, expériences et enjeux. Elle a été assortie d'extraits de performances et d'œuvres poético-(proto)numériques et a retracé cette expérience pionnière en la remettant en contexte historique, artistique et technologique.

Jacques Donguy (Fr), critique d'art, poète, traducteur (d'Augusto de Campos) et théoricien, fondateur de la galerie d'art contemporain J&J Donguy, pratique la poésie numérique et sonore, en collaboration avec Guillaume Loizillon, Laurent Mercier et Etienne Brunet. Il utilise l'ordinateur en faisant appel à des procédures aléatoires basées sur le hasard. Il est l'auteur de plusieurs ouvrages de référence dont « Poésies expérimentales-zone numérique » (2007 –reprenant des éléments de sa thèse) et récemment « Pd-extended 1 – Poésie numérique en Pure data » (2017), tous deux publiés par Les presses du réel.

This presentation of French multimedia artist-critic-publisher Jacques Dongy (moderated by Philippe Franck, in the framework of Digital Scriptures and Intermediate Forms.) was accompanied by excerpts of performances and poetic-(proto) digital works and has retraced this pioneering experience by putting it back in historical, artistic and technological context.
Partenariat/Partnership Transcultures, Lettres en Voix, Bibliotheca Wittockiana.
Avec le soutien de la/With the support of the Fédération Wallonie-Bruxelles (arts numériques).
Dans les cadre de/In the framework of « Reste la Lumière » – Journée internationale de la lumière – l'UNESCO
Isa Belle
PERFORMANCE
Massages sonores @ la Nuit des Musées/Tournai
Cette performance a eu lieu au Centre de la Marionnette de Tournai le 18 mai 2019 dans le cadre de la Nuit des Musées.

Pratiqué par les chamanes au Tibet avant le bouddhisme, redécouvert récemment en Occident à des fins thérapeutiques et réinventé, sous forme de performance, par Isa Belle (artiste sonore, du corps et des sens – Fr/Be), le massage sonore utilise les bols tibétains (de divers volumes et divers métaux produisant une variété de riches gamme harmonique), les bols en cristal, les clochettes, des mini carillons et mini cymbales, petits xylophones et gongs…

Ces instruments rituels sont frappés ou frottés sur et autour du corps allongé qui reçoit ces bonnes vibrations et en émet à son tour. De cet échange, naît une impression de bien être et d'harmonie. Le corps devient ici une partition qui reçoit et émet une musique intérieure.

This performance took place at the Centre de la Marionnette, in the framework of the 'Night of the museums' in Tournai (Be).

Practiced by shamans in Tibet before Buddhism, recently rediscovered in the West for therapeutic purposes and reinvented, in the form of performance by Isa Belle (sound and body artist – Fr/Be), the sound massage uses Tibetan bowls (various volumes and various metals producing a variety of rich harmonic range), crystal bowls, bells, mini chimes and mini cymbals, small xylophones and gongs…These ritual instruments are struck or rubbed on and around the lying body that receives those good vibrations and transmits it in return. The body here becomes a score that receives and transmits an inner music.
Production : Transcultures, dans le cadre de la Nuit des Musées, en partenariat avec le Centre de la Marionnette.
Appels à participation | Calls for participation
FOTTI, Centre d'art nomade Younouss Dialo
Pépinières Européennes de Création
Résidence – Écriture et production de série fiction
🇬🇧
NB : this residence is intended exclusively for French-speaking persons
Cette résidence-formation s'adresse aux scénaristes, réalisateurs et aux producteurs de niveau intermédiaire/avancé qui ont leur résidence principale au Sénégal.
Le travail sera réparti en deux axes : production audiovisuelle incluant un axe « circulation transmedia » et écriture de série fiction (modules communs et modules distincts selon les profils des candidats). La formation est orientée pratique, à l'issue de la session les participants ressortent avec un dossier artistique et un dossier de production des projets travaillés.
Période : du 12 au 24 juillet 2019 à Saint-Louis, Sénégal
production > FOTTI, en partenariat avec/in partnership with Ministère de la Culture du Sénégal, Wallonie-Bruxelles International et sa Délégation de Dakar, AMA (Arts Management Agency), Musée de la Photographie de Saint-Louis, Université Gaston Berger, Les Films de l'Ange,  Pépinières Européennes de Création.
École de danse contemporaine de Montréal (Qc)
Pépinières Européennes de Création
MAP residency program 2019
Dans le cadre de leur programme de mobilité, les Pépinières européennes de Création et le CALQ lancent un appel à candidatures pour une résidence d'artiste à Montréal au Québec. Pour sa programmation 2019-2020, l'École de danse contemporaine de Montréal accueille un.e artiste européen·ne pour une période de résidence d'une durée de deux mois.
Le Conseil des arts et des lettres du Québec (CALQ) offre une bourse d'un montant de 4 000$ (CAD) pour une période de résidence de deux mois (8 semaines) à l'artiste sélectionné·e.
As part of their mobility program, the Pepinieres europeennes de Creation and the CALQ are launching a call for applications for an artist residency in Montreal, Quebec. For its 2019-2020 program, the Contemporary dance school of Montreal hosts a European artist for a two-month residency period.
The Quebec Council for Arts and Letters (CALQ) is offering a $ 4,000 CAD scholarship for a two-month residency (8 weeks) to the selected artist.
Crossborder Living Lab
Wallonie-France-Flandre
Wallonië-Frankrijk-Vlaanderen
Particuliers, starts-ups, TPE/PME en croissance Vous désirez développer des projets artistiques, technologiques ou économiques dédiés des Industries Culturelles et Créatives ? Cet appel à projets est fait pour vous ! Le réseau transfrontalier (Wallonie-France-Flandre) Cross Border Living Labs lance un appel à projets autour des thématiques : Transmédia, Education, Ecologie/environnement connecté, Arts de la scène, Tourisme mobile, E-commerce…

Individuals, start-ups, small and medium size companies in growth Do you want to develop artistic, technological or economic projects dedicated to Cultural and Creative Industries ? The cross-border network (Wallonia-France-Flanders) Cross Border Living Labs launches a call for projects around the following themes: Transmedia, Education, Ecology / Connected Environment, Performing Arts, Mobile Tourism, E-commerce…

Particulieren, start-ups, kleine en middelgrote groeiende ondernemingen Wenst u artistieke, technologische of economische projecten te ontwikkelen, die gelinkt zijn aan de creatieve culturele industrieën? Dan is deze projectoproep iets voor u! Deze oproep is voor u bestemd! Het grensoverschrijdend netwerk (Wallonië, Frankrijk-Vlaanderen) Cross Border Living Labs lanceert een projectoproep rond de thema's : transmedia, educatie, ecologie/ecosystemen, podiumkunsten, mobiel toerisme en E-commerce.
Le  Cross Border Living Labs dans le cadre du projet transfrontalier C2L3PLAY, est composé d'une diziane de partenaires qui sont actifs dans les domaines de la recherche technologique, la mise en réseau à valeur économique ou encore la promotion de l'art, du design & de la culture
The Cross Border Living Labs (in the framework of the crossborder C2L3PLAY project) is made up of a dozen partners who are active in the fields of technological research, networking with economic value or the promotion of art, design & marketing.

culture.
Avec le soutien de / Met steun van / With the support of : Union européenne – programme Interreg V  France-Wallonie-Vlaanderen