21.05.2021 | Transonic Second Life Festival #2 @ Cat's Circus
Posted on

12/05/2021

in 2021, Agenda, All news, Artists, Arts Numériques, Belgium / FWB, Concerts, Creaconnections, International, NoLA, Pépinières, Production, Projects, Second Life, Soundart, Transonic
The 2nd edition of this online micro festival is part of the "Transonic Second Life Sessions" which regularly offer concerts and audio-visual performances in various Second Life venues, bringing together around a community. sound and multimedia artists, and visitors who, in a spirit both playful and adventurous, discover or follow the development of international talents who perform in various avatars.
This new series of performances by artists associated with the Transconic label in Second Life is part of the NoLA – No Lockdown Art initiative of Transcultures and European Pepinières of Creation since the first lockdown due to the health crisis since March 2020.
Bsukmet (Madrid, Es) - Performance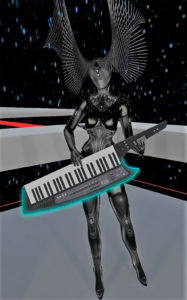 Bsukmet begins his musical journey at the age of 6, attending piano and musical language classes at an academy with exams through the Toledo Conservatory. Since he was little, he has traveled to various locations giving piano concerts with a classical repertoire. In 2006 he joined the Madrid gothic pop rock band Evil Thoughts, taking on the role of keyboardist and lead songwriter.
Together with them he writes 2 albums, the second of which is composed entirely by him. In 2010 he entered the virtual world of Second Life, where he began his career as a DJ, focusing on artistic events, such as the SL anniversary party, and other projects with diffusion in the real world such as the Nice Carnival. In 2019, he abandons his role as a DJ to start showing his own creations in Second Life.
Since then he has released 2 solo albums: "Zero" and "Third Demise". He is currently working on his third album "Shattered, Almost Detached" and collaborating on other projects such as soundtracks for video games and the Mind Binomy group with MorlitaM (Olga Martínez). Bsukmet mainly uses electronic and orchestral resources, but his style is eclectic, and his method consists in using exclusively free resources available to everyone and avoiding the use of sounds created by other composers.
Daddio Dow (Shingletown, USA)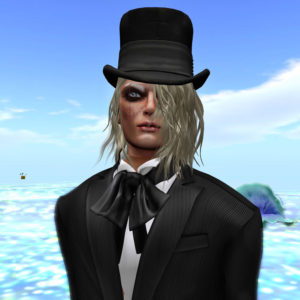 Gene Maruszewski is a university educated electronic musician operating out of Northern California. He's been dabbling in electronic music since 1973 and continues to this day.
His compositions cover the broad spectrum from techno to ambient and some genres that have yet to find a name. His most common tools are his massive modular synthesizer trendy grooveboxes, pedals, and effects.
Yadleen (Freiburg, De) - Performance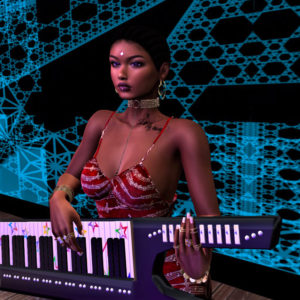 Yadleen started producing electronic music in 2012. She never had any musical education and learnt from the start how to play instruments. Since then she attended audio engineer classes. Her main tool for composing and producing music is a DAW (Digital Audio Workstation) – a PC program – to compose and produce music. She mixes very different styles in her songs: electronica, ambient, jazz, lounge, experimental, industrial, traditional music from all around the world… Even if some of them seem to be totally opposite, she always manages to combine them in a very harmonious way. Her music obeys only to her own rules.
She started Second Life concerts in 2015. Sometimes she performs improvised live sets. Many of her music sets are composed for special events, like exhibitions openings or visual performances. A few of these concerts have been a "cooperation" between events in the real world synchronized with Second Life events. Artists from both worlds could see and listen to each other. One of these events was the LIT UP poetry Festival of Singapore in 2018. She also produced musics for several "machinimas" (videos produced in virtual worlds).
Oehoe - Christophe Bailleau (Huy, Be) - Performance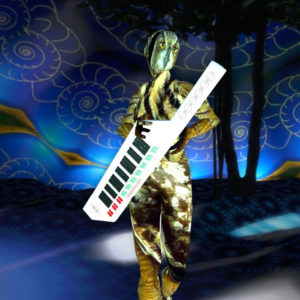 Oehoe (which means great owl or eagle owl in Dutch) is a side project by sound, visual and multidisciplinary creator Christophe Bailleau for whom the magical and "healing" side of music is highlighted. This new project is not, however, only peaceful or zen because noise and electro storms can arise at any time, ready to explode or in underlying tension. To this free mix, are added the sound contributions of friend musicians.
Christophe Bailleau develops musical landscapes with electronic materials but also guitar, percussion, voices and concrete sounds. His works play on expectation, silence and tension, but also seek a certain light. Since 2004, his compositions have been published on various European labels: Le cri de la harpe, Stilll, Postcard, Eglantine, Annexia, Soundscaping, Optical Sound, Transonic… He also regularly produces videos, installations, radio creations and has published two books of poetic fragments.
Livio Korobase (It) - Performance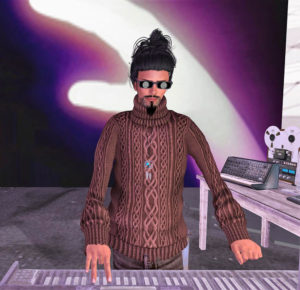 Livio Korobase is an old sound addicted country gentleman that loves music and vibrations, preferably the good ones. He began his career as a musician, playing with a bass of an unknown brand. After receiving the stigmata on the fingertips, he moved on to computers, Atari ST, and began to self-hypnotize with patterns and sequences.
His work explores the relationship between Bauhausian sensibilities and copycat violence. With influences as diverse as Rousseau and Joni Mitchell, new combinations are manufactured from both orderly and random layers. He is fascinated by the essential unreality of meaning. What starts out as contemplation soon becomes corrupted into a tragedy of lust, leaving only a sense of decadence and the unlikelihood of a new reality. As subtle replicas become distorted through diligent and critical practice, the viewer is left with a tribute to the inaccuracies of our culture.
He is also a frequent user of random artistic text generators…
kalyca McCallen - Visuals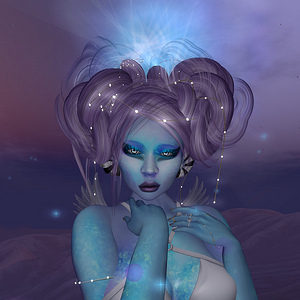 Originally from the Bay Area, Kalyca's creativity has always been colorful. As long as she can remember, she has been a performer, an artist, and an adventurer. In the late '80s/ early 90's she took to the road, going to many different music festivals throughout California, as well as following the Grateful Dead for some time, selling tie-dyes, jewelry and paintings she created while on the road. Once she settled down, she worked as a designer and painter at a rubber stamp company.
Kalyca has worked with many mediums over the years: dyes, paints, metals, and wood. As well as making incense and jewelry.
At the beginning of 2007, she joined her second life and found a new way to practice art. She started in Second life taking pictures and designing landscapes. In 2011, she opened Oogabooga: Art and Music, which featured many great artists and musicians, until it was closed in early 2013. In 2017, she and proton d-oo-b, created "Urban Light Explosion" at LEA8.
More recently, she has shown her art in several galleries, including Galley 23 (2019) and the Surreal Gallery (2019).
She and proton d-oo-b, formed Alchemelic: Music and Art (2017) They perform across Second Life, utilizing proton's music and Kalyca's art. They also are collaborating on new art projects.
Kalyca's is striving to learn and create continuously.
Barry Byfus - Video Stream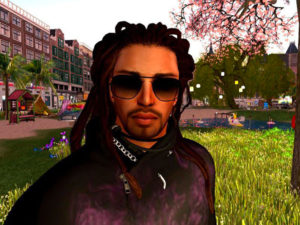 Barry started playing keyboard at 4 years old, then before his teens, was playing guitar, bass and drums. He performed in several bands during more than 40 years.
He formed Option Y in 2007, as an "art collective" bringing in several musician friends to contribute. They released their first album, "Rhetoric Circus" in 2016, then the follow up, "Step on No Pets"in 2019. Option Y is definitely one of the most important bands in Second Life, their concerts are always impressing.
Recently Barry has also shown an interest in machinimas. He's actually setting up a home base & production studio of A Million Pictures Media, his Second Life media company.
Cat C Boucher - Organisation Cat's Club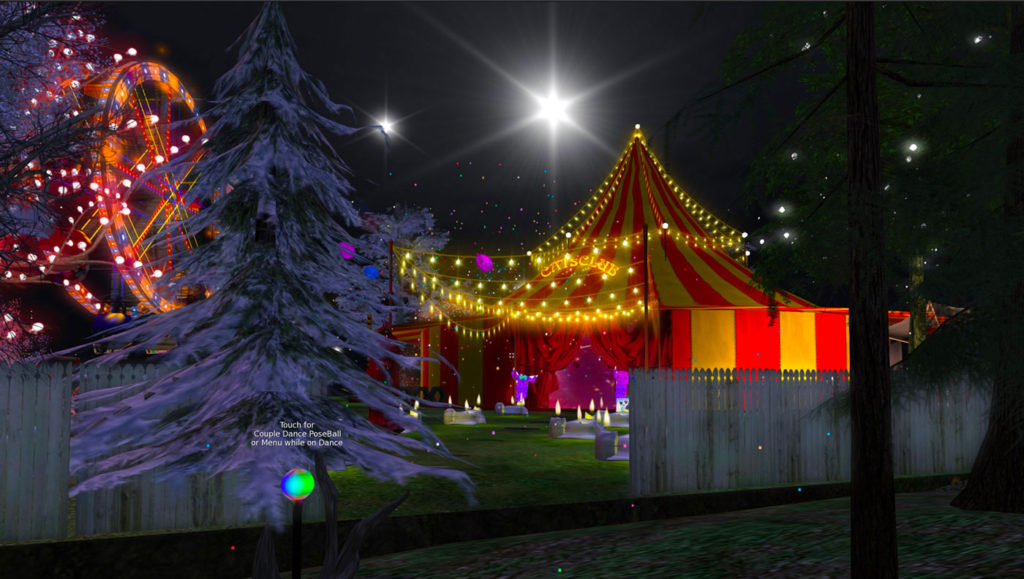 Cultural activist on Second Life regularly providing the Cat's Circus, a high place of dissemination and alternative creation for international sound, multimedia and visual artists. She is now a regular partner of Transonic Second Life sessions and festivals.
"In 2007 I started to organize live concerts when there were just a handful of music… most of them had more or less naked dancers and had commercial purposes… I decided to do mainly live music events… if possible original music, and I wanted to support talented musicians that just started in SL, or were too edgy for other clubs. lol.
And in 2008 I built the Circus… Hundreds of musicians performed at my venue, and many outstanding musicians started their SL carriere at my place, like A Limb or Yadleen… I love when someone is able to compose their own music, and, for me, it's fascinating to listen and discover musicians in SL I probably wouldnt hear about otherwise. This includes original music… I have tons of CDs and Mp3 at home ..I dont need to hear the same music in SL again. I don't need to recognize in Second Life the music i already hear in Real Life… If I go in a gallery I want to see the works of a certain artist and not many many copies of the same picture… What I like is when they are all completely different from each other. Same about music…
Many people asked me "why don't you invite well known musicians that bring their own fans " well… the answer is easy… there are enough venue owners to do such job… Why should I follow ? I want to attract an audience that is curious about new music, that is interested in supporting new talents and don't just consume music as background for their chat or flirt… Yes if you work like that you have to be patient and believe in what you do and in the artists you work with… and I do"
A LIMB - Organisation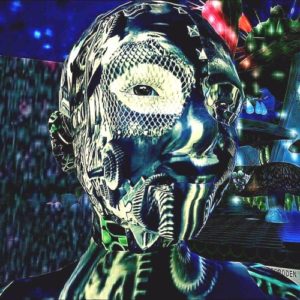 Didié Nietszche (Radio Prague, 48 Cameras, Lamaφ) solo project. A Limb (BE) is a kind of artistic Frankenstein, exhuming all sorts of music corpses from their graves, stitching an ambient body with funk legs, punk feet, experimental arms, jazz hands, a drone head, inserting a big ethnic music heart and krautrock lungs… then bathing the whole "body" in a dub bath, until an electro thunderbolt strikes him and he is… alive! Yes sometimes science goes too far, but it is too late to go back.
A Limb also likes to experiment on his own skin, changing regularly into a mutant monkey, a mirror ball, a dancing rabbit, an alien lizard… A Limb regularly plays at Cat's Circus, Burn 2 (official virtual version of Burning Man) and for several special events; it is often accompanied by a live visual of SaveMe Oh (PB).
How to attend the event ?
Please note: attending this event requires registration in Second Life, downloading a software and an introduction to its use (you will easily find a tutorial on the Web depending on the software you have downloaded). We advise you to do what is necessary at least one day before the event in order to familiarize yourself with the not very intuitive controls of this software.For those who would not be able to connect to Second Life, a Youtube streaming video solution is under consideration. It will also be possible to follow the concerts in audio streaming.
Second Life website: secondlife.com
Firestorm, the most used software to access Second Life: firestormviewer.org
Transonic Second Life Festival #1 (Winter 2020-21)
Informations
26.02.2021 | 21:00 (Central European time) – 00:00 (SL time)
Curators : Didié Nietzsche, Philippe Franck
Free
Production
In the framework NoLA – No Lockdown Art, programme Creaconnection

Venue organisation and hosting: Cat C. Boucher

credits visuel : Jules Nerbard
Transcultures/Transonic, Pépinières européennes de Création. With the support of the Minister-President of the Federation Wallonia-Brussels