Newsletter avril 2012
Et si on regardait un peu le bleu du ciel en ces temps de grisaille tout azimut? Avril nous sourit avec, entre autres, la seconde soirée Transnomades (après l'encourageant succès de la première à la Maison des Cultures de Saint-Gilles) à Bruxelles, la résidence et workshop de Joseph Hyde dans le cadre du projet européen MADE (Mobility for Digital Art in Europe) à Mons ou encore les rencontres APREM à Frameries auxquels nous serons heureux de participer.
The sky is blue at last and April smiles at us with the second Transnomades hybrid event in Saint-Gilles/Brussels, the residency-workshop of Joseph Hyde in the framework of the European programme MADE in Mons, the debates of APREM in Frameries to be followed.
09.04.2012
Gauthier Keyaerts + Margarida Guia
Bruxelles > Bar du matin > 19:00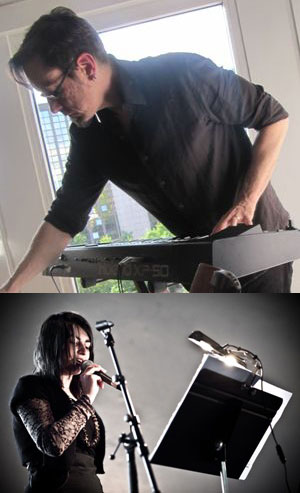 Headfaun est une série de concerts à savourer au casque chaque lundi du moi au Bar du Matin (Bruxelles). Gauthier Keyaerts (Sub Rosa, Quatermass,…) et Margarida Guia (voix et interventions auio poétiques) s'y rencontrent musicalement pour la première fois ; ils proposent un parcours audio éclectique avec une certaine dose d'improvisation. Sans se soucier des carcans d'usage, Gauthier Keyaerts (The Aktivist, Very Mashta) établi un dialogues intermusical avec Margarida Guia, expérimentatrice tout terrain dont les nombreuses collaborations (notamment avec Serge Teyssot-Gay / Noir Désir) lui ont tracé un chemin singulier à travers l'univers de la poésie sonore.
Gauthier Keyaerts (aka The Aktivist and Very Mashta, on the Sub Rosa, Quatermass, Transonic labels) and Margarida Guia (voice, performer, audio objects, recently collaborator of Serge Teyssot-Gay / Noir Désir)) will play together for the first time at Bar du Matin in the framework of their headphones concerts series. Poetic and organic treatments, singing, whispering..and many good surprises!
Le Bar du Matin, 172 Chaussée d'Alsemberg, Bruxelles
entrée libre – free entrance
18.04.2012
TRANSNOMADES #2
Valérie Cordy + Christophe Bailleau + videos Paracommandart
Bruxelles (Saint-Gilles) > Maison des Cultures > 19:00
Les Transnomades sont un projet issu d'un partenariat entre Transcultures et le service Culture de Saint-Gilles. Avec un programme chargé en évènements originaux interdisciplinaires et transculturels, ces soirées sont une ouverture sur les nouvelles pratiques numériques et plus généralement sur les cultures électroniques.
Les astronautes immobiles de Valérie Cordy, conférence/performance autour de l'expérience spatiale Mars 500. Entre juin 2010 et novembre 2011, durant 520 jours, six hommes ont fait l'aller-retour vers la planète Mars. Une expérience sans précédent qui n'était qu'une… simulation! Aucun de ces six astronautes n'a jamais quitté la plateforme de simulation basée à Moscou. Valérie Cordy à partir des tweets de Diego Urbina, un des astronautes et à l'aide d'images, de textes, de sons, de témoignages glanés sur Internet, retrace avec poésie et humour l'histoire de ces astronautes immobiles.
Le projet Constellations dans lequel s'inscrit cette création est produit par le Cri asbl et soutenu par l'Observatoire de l'Espace du Centre National des Etudes Spatiales (CNES – France) et Transcultures.
http://www.asteroide.sitew.com
Christophe Bailleau : Surrounded by stars
Christophe Bailleau (artiste pluridisciplinaire, du son et de l'image) présentera un nouveau set solo qui sera en quelque sorte une première ébauche de son prochain album, Nervous bird hypnose club. Il nous emmène vers un psychédélique actuel avec des embryons de funk, des fantomes de dub,.. une démarche cosmique (avec images vidéo a l'appui) en route vers une forme de transe minimale…
Production : Transcultures
Vidéos paracommand'art
Paracommand'art, en association avec le RIA, présente une série de courtes vidéos réalisées dans leurs laboratoires «nomades» à Bruxelles, Namur et Liège, et invite à s'inscrire dans une aventure socio-artistique au cours de laquelle les spectateurs sont amenés à devenir émetteurs de leurs propres formes qui seront présentées lors des journées sur «l 'accueil» au programme de Connectic'arts, les 31 mai et 1er juin à la Maison des Cultures de Saint-Gilles.
Une expérience socio-artistique Paracommand'art / RIA avec le soutien du FSE. Direction artistique/réalisation: Werner Moron
Transnomades is a new series of intercultural and interdisciplinary events launched by Transcultures and the Commune of Saint-Gilles(Brussels). For this second edition, Valérie Cordy will present a lecture/performance (using tweets, sounds, images live) called Immobile astronauts inspired by the true story of 6 astronauts who pretended to go to Mars and in fact never leaves Moscow… Christophe Bailleau will perform a new solo live AV cosmic/psychedelic/dub/trance minimal set called Surrounded by stars and Paracommandart will present a selection of socio-artistic short videos shot in Brussels, Namur and Liège.
Maison des Cultures, rue de Belgrade, 120, Bruxelles (Saint-Gilles)
25.04.2012
Sonic Kids
Margardi Guia : Les champs de la voix
(atelier jeunes publics lecture à voix haute / poésie sonore)
Mons > Maison du jazz > 14:30 > 17:00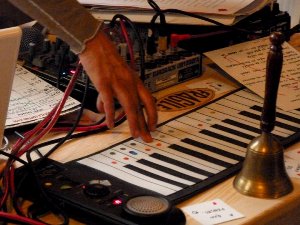 «Partir à la découverte du poème par des jeux de voix. Entrelacements de matières vocales : voix parlée, voix chantée, onomatopées. Une approche des mots pour une dégustation sonore et poétique en mettant en relief les notions de musicalité, d'écoute, de sonorité et d'expression. Entendre et dire la poésie pour son contenu, sa forme et pour sa musicalité. Approche de la scène, présence et interprétation. Interaction entre le chœur de voix et un enfant qui mixe un choix de sons.»  
M. Guia
For this Sonic kids workshop (for the youngsters), Portuguese performer/vocalist/comedian Margardi Guia explores the possibilities of the voice (sung, spoken, onomatopoeia,…) and poetry.
Dans le cadre du projet Espace(s) Son(s) Hainaut(s), plate-forme transfrontalière pour les musiques innovantes et la création sonore, co-organisateurs : Art Zoyd, le Phénix, le manège.mons en partenariat avec Transcultures. Avec le soutien de la Commission européenne (Intereg IV).
Maison du Jazz, 51 , Boulevard Dolez, Mons
Entrée libre, réservation nécessaire
Contactez lucie.transcultures@gmail.com
Tel : 065 590889
26.04 > 28.04.2012
APREM
(Ateliers, Partages et Rencontres des Écritures en Mutations)
Exploration #1
Frameries > La Fabrique de Théâtre > 14:30 > 22:30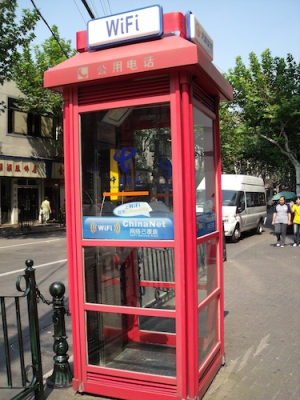 APREM qui aborde la thématique de "L'art et téléphone", est un dispositif d'expérimentation qui vise à réunir des artistes numériques, de la scène, plasticiens, des scientifiques, chercheurs, théoriciens créé par Franck Bauchard (directeur de La Panacée, Ville de Montpellier), Jean-Claude Dargeant et Valérie Cordy (association Le Cri, Bruxelles) en partenariat avec La Fabrique de Théâtre. Le jeudi 26 sera l'occasion de partager avec des participants aux « Sondes » de la Chartreuse de Villeneuve-lez-Avignon. Le retour de leurs expériences, « Sondes » dans le prolongement desquelles APREM/Exploration(s) se situe. Durant les deux autres journées, Exploration #1 deviendra Le Labophone et sera centré sur les transformations induites par le téléphone depuis son invention : instrument de communication, prothèse, support des échanges informatiques, le téléphone est devenu un instrument peu banal de nos écritures nouvelles.
Three days of debates and lectures on the theme of art and telephone proposed by Franck Bauchard (director of La Panacée, Montepellier), Jean-Claude Dargeant (multimedia artist) and Valérie Cordy (theatre director and multimedia artist, Le Cri) inviting several researchers, critics, digital, visual and living arts creators. In French only.
Une coproduction Le Cri et La Panacée, Art et culture contemporaine, Ville de Montpellier en partenariat avec La Fabrique de Théâtre / Service Provincial des Arts de la Scène avec le soutien de la Fédération Wallonie-Bruxelles, Commission des arts numériques, du Centre des arts scéniques et de Transcultures.
Fabrique de Théâtre, 128 rue de l'industrie, Frameries
entrée libre – réservation souhaitée
Un autocar effectuera tous les jours l'aller et retour entre Bruxelles, Mons, Frameries (sous réservation). Pour partager un moment convivial, un repas vous sera proposé chaque jour (8€/repas).
Réservation nécessaire par mail : aprem.explorations@gmail.com ou par téléphone au 065/61.34.60
Résidence-workshop/Residency-workshop
Joseph Hyde : me and my shadow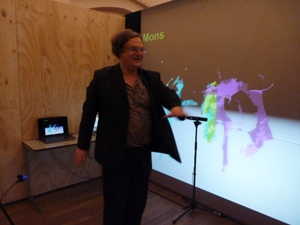 Dans le cadre du projet MADE (mobilité pour les arts numériques), Joseph Hyde (compositeur, artiste numérique et professeur à l'Université de Bath) et le programmeur/concepteur Phil Tew ont été accueilli du 26 mars au 6 avril en résidence par Transcultures à la Chapelle du Bélian (Faculté d'Architecture et d'Urbanisme de Mons) pour leur projet de portail interactif-téléprésence me and my shadow dont la version finale sera montrée en première simultanée le 9 juin à Galeries (Bruxelles, Galerie de la Reine, dans le cadre des Transnumériques), aux Bains numériques (Enghien-les-Bains), au National Theatre (Londres) et à Istanbul.
In the framework of the European project MADE (Mobility for Digital Arts), Joseph Hyde (composer, digital artist and professo at the University of Bath, UK) and the programmer Phil Tew have been in residency-workshop from March 26th to April 6th in Mons at Chapel of Belian (at the Faculty of Architecture and Urbanism of the University of Mons) for their project me and my shadow, an innovative, interactive telepresence portal which will be premiered simultaneously at Galeries (Brussels, as part of Les Transnumériques), National Theatre (London) and in Instanbul on June 9th.
Une co-production CDA Enghien-les-Bains, body>data>space, Bodig, Transcultures. Avec le soutien de la Commission européenne (programme Culture)
Bientôt
Coming soon
02.05 > 15.07.2012
Les Transnumériques#4
Bruxelles + Mons + Liège
Les Transnumériques, biennale des arts et des cultures numériques en Fédération Wallonie-Bruxelles est conçue par Transcultures. Nouvelle formule : Valérie Cordy sera l'artiste associée de cette quatrième édition qui entend contaminer positivement divers lieux partenaires à Bruxelles, à Mons et à Liège et ouvriront le 2 mai à Galeries, Bruxelles avec l'exposition SPAMM pop up et une performance de Scanner/Cotentin. Les Transnumériques désirent proposer une scène engagée et ouverte pour les cultures numériques en Wallonie-Bruxelles et en lien avec l'international. C'est également un "alter festival" connectif qui affiche sa singulière différence dans notre société de l'hyperspectacle.
Avec entre autres participants : The Aktivist, Isabelle Bats, Be Benedik, Bobvan, Damien Bourniquel/Dadadata, Theodore Boermans, Hubert Bouttiaux, Léa Belooussovitch Catach + Joao Freitas, Gregory Chatonsky, Thomas Chesneau, Valérie Cordy, Pieter Coussement, Régis Cotentin, Jean-Claude Dargeant, Jean-Paul Dessy+Nicolas D'Alessandro, Thierry De Mey, Lea Mayer, Manu di Martino, Arnaud Eeckout+Sébastien Herickx, Jean-Luc Fafchamp, Joseph Hyde, Leo Kupper, Killing Screen, Benjamin Lew, Logos,Phil Maggi, Paracommandart, Margarida Giua, Natalia de Mello, Rafael Munoz Gomez, Robert Normandeau, Werner Moron, Loïc Reboursiere, Natacha Roussel, Scanner, Systaime, Silencio, Todor Todoroff + Laura Colmerales Guerra, Impala Utopia, Jacques Urbanska, Very Mashta, Wendy Van Wynsberghe, Monica Weissel… + partenariats avec Numediart, Artem, Art Zoyd, L'Arché-Type, ENSA La Cambre, Arts2/Mons, SPAMM, CNAP, Archipel/La Médiathèque…
The fourth edition of Les Transnumériques initiated by Transcultures, will reunite several partner locations in Brussels, Mons and Liège. Valérie Cordy will be the guest artist. This "alter festival" works to give some visibility to the diversity of the digital arts and cultures, with Belgian and international emerging and mature artists (see the list above) committed against the society of the hyperspectacle. Opening on May 2nd at Galeries, Brussels with the exhibition SPAMM Pop up and Echoes, a performance by Scanner versus Régis Cotentin.