16.06.13 – Transcultures @ Supervoisins – Halles de Schaerbeek
14:30 to 16:30
Isa Belle + Paradise Now : Sound massages
In the context of the « Supervoisins » event (super neighbours) organised by Les Halles de Schaerbeek in Brussels," Isa Belle + Paradise Now propose their sweet sound massages introducing to the organic body-sound relationship. One can discover the benefits and physical properties of sound and the use of "singing bowls" (ancestral Tibetan bowls et crystal bowls) and essential oils…a sacred moment!
(NO TRADUCTION FOR THIS PART)
Ateliers Sonic kids : Voyage dans les airs d'Arnaud Eeckhout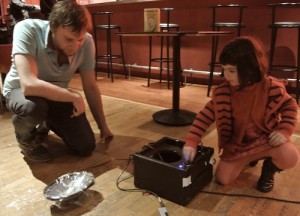 Faire son show, voilà la proposition de l'artiste montois Arnaud Eeckhout. Le temps de
quelques heures, les enfants sont invités à disséquer les principes physiques du son pour les
détourner. On apprend à appréhender le son différemment et on sort de l'écoute classique de la
musique.
Les enfants détournent certains objets du quotidien pour se les approprier comme instrument
de musique ou pour réaliser de fabuleux monstre mouvant au rythme des ondes.
L'imagination est à l'honneur pour cet atelier débridé qui se joue des techniques et propose un
réel concept de concert visuel et sensoriel.
Déroulé de l'atelier :
1. Test de la vibration avec un élément simple (par exemple: riz). Arnaud pose des questions
sur les raisons du mouvement de l'élément.
2. Toucher le baffle pour prendre conscience de la vibration.
3. Mettre une ficelle pour voir l'effet de vibration que cela engendre sur celle-ci.
4. Tester la vibration du baffle avec un instrument: Ipod, piano, pièces de monnaie ou voix
5. Atelier cuisine pour préparation des monstres
6. Répartir les enfants: 2 enfants/baffles : présentation du monstre par Arnaud, chaque enfant
peut créer son monstre en modifiant le son de sortie.
7. Chaque enfant choisi un poste: voix, piano, monstre, pièces de monnaie, ficelles pour créer
le concert
8. Présentation d'un concert d'environ 5 minutes
Production : Transcultures
Free
Les Halles de Schaerbeek 22 rue Royale Sainte-Marie B-1030 Bruxelles
T +32 (0)2 218 21 07 – info@halles.be