Newsletter août 2014
CITY SONIC | AOÛT / AUGUST 2014
City Sonic approche à grand pas et l'équipe de Transcultures se consacre pleinement, avec ses partenaires, à son organisation et à accueillir, à Mons, début septembre 25 artistes pour Park in progress qui pour la seconde fois, sera associé à City Sonic et à son ouverture avec la Nuit européenne de la jeune création le 11 septembre (save the date !) composé des projets audio interdisciplinaires réalisés pendant le temps de résidence. Outre le site des anciens abattoirs réservé à ce projet européen itinérant, celui des arbalestriers accueillera d'autres « émergences sonores » avec une sélection de travaux d'étudiants d'écoles d'art partenaires et les lauréats de l'appel à projet Espace(s) Son(s) Hainaut(s). Vous trouverez ci-dessous un premier résumé de ce que nous réserve cette édition 2014 (programme complet sur citysonic.be) orientée jeunes artistes. Bel été sonique !
City Sonic#12 will be coming soon and Transcultures team, with its partners, is fully dedicated to its organisation, ready to welcome in Mons from beginning of September 25th artists for the European project Park in progress which for the second time, will be associated with City Sonic. On September 11th (save the date!), the European Night of young creation featuring audio interdisciplinary projects developed during the time of residency will be the great opening event of both Park in progress#10 and City Sonic#12. In addition to the site of the former slaughterhouse where Park in progress@Mons takes place, the site of the Arbalestriers will show other "sound emergences" (check the full program on citysonic.be – English version soon online) with a selection of students of the Art Schools and the winners of the call for proposals/sound installations Espace(s) Sound(s) Hainaut(s). We wish you a great sonic Summer 2014!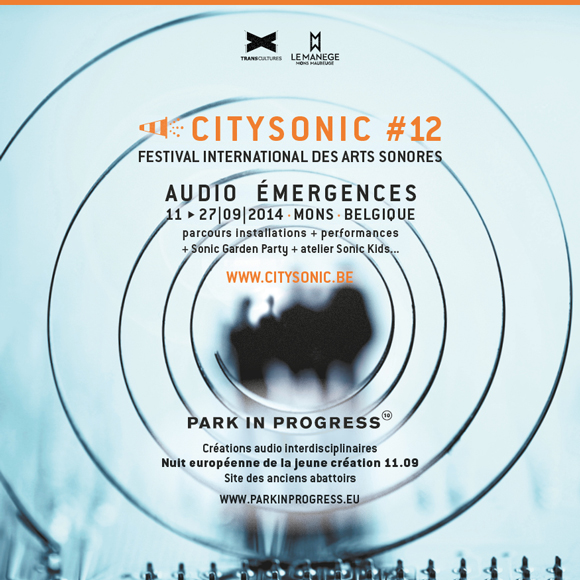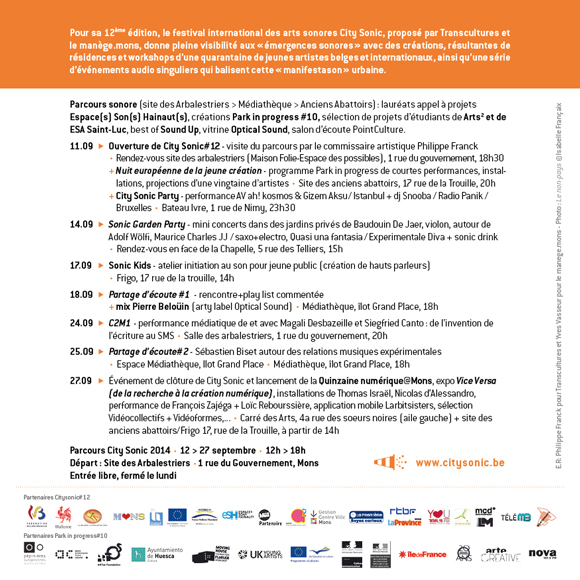 ---
Résidence artistique / artist in residency
---
11.08.2014 > 22.08.2014


Stéphane Kozik : Echo System
Espace(s) Son(s) Hainaut(s)/City Sonic
Mons

> Transcultures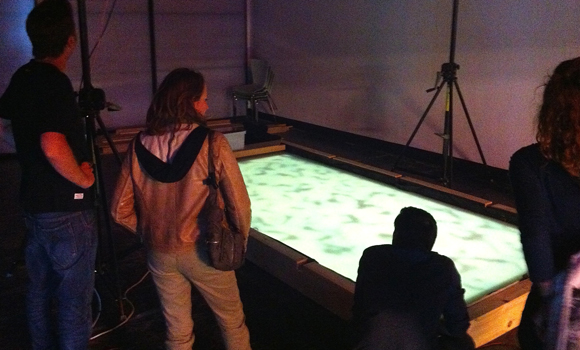 Lauréat de l'appel à projet installation sonore lancé par la plate-forme transfrontalière pour les musiques innovantes Espace(s) Son(s) Hainaut(s) (initiée par Art Zoyd, le Phénix de Valenciennes, manège.mons en collaboration avec Transcultures) avec Nicolas Tourte (Arktos <> Gê accueilli en résidence au Phénix à partir du 25 août) et Nicolas Gaillardon (Boxe to boxe, bénéficiant de l'assistance technologique de Art Zoyd), Stéphane Kozik (Livescape, Digital Breakfast,…) développe chez Transcultures, à Mons, au Frigo, son nouveau projet Echo System qui interroge les rapports entre les ondulations de l'eau et les ondes sonores. Pour ce faire, il construit un grand bassin qui incorpore des haut-parleurs permettant au son d'épouser le déplacement des ondes graphiques dans l'eau. A découvrir à partir du 11 septembre à 18h30, dans City Sonic#12, dans l'Espace des possibles sur le site des arbalestriers.
Winner of the call for proposals for sound installations launched by the platform for innovative music Espace (s) Son(s) Hainaut s) (initiated by Art Zoyd, le Phénix in Valenciennes, manège.mons in collaboration with Transcultures) with Nicolas Tourte (with his project Arktos <> Ge) in residency at le Phénix from August 25th and Nicolas Gaillardon (with Boxe to Boxe) supported technically by Art Zoyd, Stéphane Kozik (Mons – founder of Livescape, Digital Breakfast, …) working on his new 'Echo System' project that questions the relationship between the water ripples and sound waves. In order to do this, he had built a pool incorporating loudspeakers allowing the displacement of the waves in the water. Opening on September 11th – from 6.30pm, at Espace des possibles (site des arbalestriers) – City Sonic#12.
Production : t.r.a.n.s.i.t.s.c.a.p.e en coproduction avec le Manège Scène nationale de Maubeuge, le Manège.mons / La Maison Folie, le manège.mons, TechnocITé, Transcultures. Présenté dans le cadre de RE:space, avec le soutien du Service culturel de la Commune d'Ixelles, de l'agence WBTD Wallonie Bruxelles Théâtre Danse et de l'entreprise BELLAS pour le sponsor en transport.

---