Newsletter septembre 2014 – #1

CITY SONIC | SEPTEMBRE / SEPTEMBER 2014
City Sonic, douzième! Démarre un beau jeudi 11 septembre avec une Nuit européenne de la Jeune création qui ouvre également la dixième édition du projet européen itinérant Park in progress. La visite démarre sur le site des arbalestriers avec les installations réalisées dans le cadre de la plate-forme transfrontalière Espace(s) Son(s) Hainaut(s) ainsi que lors de workshops menées avec des étudiants des écoles d'art (Arts² et ESA Saint-Luc-Bruxelles) puis on passe à la Médiathèque de Mons découvrir la vitrine Optical Sound avant d'arriver sur le site des anciens abattoirs pour le parcours performances de la Nuit européenne de la jeune création. Des événements made in City Sonic complètent le parcours sonore en ville dont la Sonic Garden Party le dimanche 14 septembre après-midi dans des jardins privés du quartier du Beffroi et un atelier Sonic Kids le 17 septembre au Frigo ou encore les Partages d'écoute dont le premier de cette édition aura lieu le 18 septembre à la Médiathèque où sera lancé le nouveau numéro de la revue Optical Sound. La suite des événements du festival sur citysonic.be (également sur Radio Sonic, la web radio temporaire du festival animée cette année par Gilles Malatray et Zoé Tabourdiot) et plus en détail dans notre prochaine newsletter.
Happy City Sonic & Park in progress@Mons 2014 !
On a peacefull September 11th City Sonic#12 will be lauched with the European Night for Young Creation, which also opens the tenth edition of the European nomadic project Park in progress. Before that great event, we'll start the guided visit of the City Sonic itinerary on the site of the Arbalestriers featuring new installations created between Mons and Valenciennes within the platform for innovative music Espace(s) Son(s) Hainaut(s) and during workshops conducted with students of art schools (Arts²-Mons and ESA Saint-Luc, Brussels). We will also have a look at the Optical Sound window at La Médiathèque of Mons. Other made in City Sonic events are part of a unique programme starting with the Sonic Garden Party in private gardens the Belfry neighborhood, a Sonic Kids workshop and the first of this edition will be held Sept. 18 at the Library that will launch the new issue of Optical Sound. The rest of the special events of the festival are unveiled on citysonic.be (also broadcast online on Radio Sonic animated by Gilles Malatray & Zoé Tabourdiot) and in our next newsletter. Happy City Sonic & Park in progress 2014!
11.09.2014 – Mons

---
14.09.2014


Sonic Garden Party
Baudouin de Jaer + Maurice Charles JJ
+ Quasi una fantasia
Mons

> Jardins privés, rue des compagnons > 15:00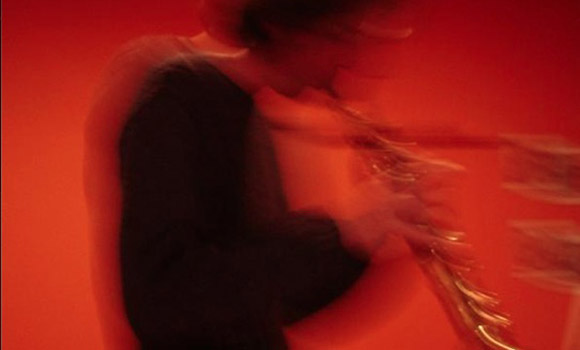 Pour ces trois concerts intimes proposés dans de jolis jardins privés (ouverts au public spécialement pour l'occasion) dans la rue des compagnons (quartier du Beffroi-Mons), le compositeur Baudouin de Jaer propose un concert de violon solo à partir de pièces autour du célèbre créateur visionnaire suisse d'Art Brut Adolphe Wölfi (1864-1930) auquel Baudouin de Jaer a consacré un très beau livre-CD The heavenly ladder (paru chez Sub Rosa en 2011). Maurice Charles JJ est un instrumentiste (sopranino et sax bariton), travaillant principalement la pâte sonore, le souffle, les sons multiphoniques, la richesse de timbre, les sons non orthodoxes et modes de jeux contemporains. Pneuma 4, la pièce solo qu'il crée à l'occasion de la Sonic Garden Party fait partie du cycle Mutation. Il s'agit d'une suite de différents solos au saxophone sopranino. Elle fait intervenir le "live electronic" résultant d'une bande-son organique et synthétique créée spécialement pour l'occasion. Dans le dernier jardin et avant un apéro offert, Quasi Una Fantasia, insolite duo belgo-autrichien met en scène La Diva Christina qui chante sur la musique électrique et éclectique composée par Pierre-Jean Vranken, (piano, guitare). Notamment influencé par la musique de Morton Feldman, le minimalisme est à la fois le médium et le message porté à notre attention par ce duo mêlant le rock au cabaret et à la musique contemporaine, avec une touche de Sprachgesang.
Three intimate concerts in private gardens of the Mons Belfry historical district (rue des compagnons). First composer Baudouin De Jaer proposes a solo violin performance based on pieces inspired by Swiss art brut visionary Adolphe Wölfli (1864-1930), upon whom he based his 2011 Sub Rosa a beautiful release 'The heavenly ladder'.Maurice Charles JJ a.k.a. Jean-Jacques Duerinckx is a musician mostly interested in timbral diversities, unorthodox sounds, sonic pastes and contemporary approaches to music: intuitive by nature, he likes to dwell in a universe crowded with strange sound entities, in which sound becomes matter and matter becomes sound. He also develops collaborations with other artistic forms, making use of the unique color of the sopranino saxophone. 'Pneuma 4', the solo piece he created for City Sonic in the context of this Sonic Garden Party, is part of his 'Mutation' cycle, and is composed of a series of sopranino saxophone solos. It makes use of the "live electronics" resulting from an organic and synthetic soundtrack specially created for this occasion. Before a drink offered to the public,the third private garden will welcome Quasi Una Fantasia , a Belgo-Austrian duet composed featuring 'La Diva Christina' who sings along to electric and eclectic music composed by Pierre-Jean Vranken (piano/guitar). Influenced by Morton Feldman, among others, Quasi una fantasia makes minimalism both its medium and its message, mixing rock with cabaret and contemporary music (with a touch of Sprachgesang).
Entrée libre / free
Rendez-vous/meeting point: 5 rue des Telliers devant/in front of la Chapelle – 15:00
---
17.09.2014


Sonic Kids
Void – Construire son propre haut-parleur/buid your own speaker
Mons

> Frigo > 15:00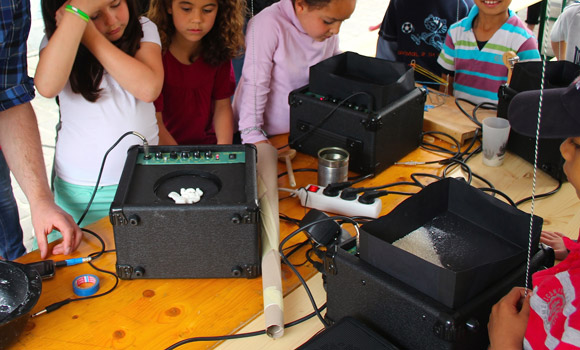 La maison haut-parleur est un atelier donné par le collectif Void (Arnaud Eeckhout + Mauro Vitturini) au cours duquel les enfants apprennent à fabriquer leurs propres haut-parleurs avec des objets quotidiens. Que ce soient une bouteille en plastique, une brosse à cheveux, une boîte en carton, une feuille de papier ou une branche d'arbre, les matériaux deviennent des membranes vibrantes qui amplifient les ondes sonores et modifient notre écoute. Cet atelier ludique et créatif s'adresse aux enfants dès 8 ans. Il sensibilise aux techniques de diffusion du son. La fabrication d'un objet technologique, d'une étonnante simplicité, leur permet de comprendre le fonctionnement de cet objet universel, qui symbolise souvent le premier contact avec le son et la musique.
La maison haut-parleur ("The speaker house") is a workshop given by sound and visual artists Arnaud Eeckhout+Mauro Vitturini (under the name of Void) in the context of which children learn to build their own sound speakers with everyday objects: plastic bottles, hairbrushes, cardboard boxes, sheets of paper or tree branches will become vibrating membranes which amplify sounds and modify the way we perceive them. This fun and creative workshop is open to children of 8 years of age and older, and introduces them to amplification techniques. Building such an electronic device is surprisingly easy, and will allow them to understand how such universal object function, constituting one of their first hands-on approaches with sound and amplification.
4€ (+free snack gratuit)
Frigo, site des anciens abattoirs, 17 rue de la Trouille, Mons
Réservation obligatoire : +32(0)65 59 08 89 lucie.transcultures@gmail.com
---
18.09.2014


Pierre Beloüin
Partages d'écoute + lancement de la revue/lanch of the review Optical Sound#2
Mons

> Médiathèque > 18:00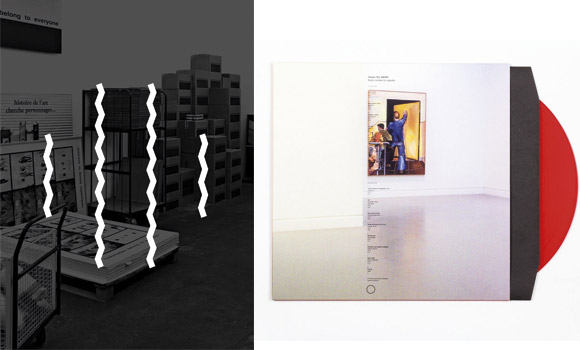 Les « partages d'écoute » sont des rencontres avec des personnalités mélomanes (musiciens, critiques, artistes, responsables de structures culturelles…) qui, pendant environ une heure, partagent leur passion sur des thématiques en lien avec les pratiques sonores illustrées par des extraits audio commentés. Pierre Beloüin (artiste sonore/visuelle français, directeur artistique du label indépendant Optical Sound qui propose également une Optical Sound Window à la galerie 7m³ de la médiathèque) propose une rencontre lié tant à son côté mélomane amoureux des aventures sonores des 80s à aujourd'hui, que producteur/éditeur indépendant, parcours au travers de paysages sonores poétiques et singuliers. Un drink est offert après cet « Optical Mix » qui sera aussi le lancement du second numéro de la revue Optical Sound (avec la participation, entre autres, de Michel Chion, Tony Conrad, Rainier Lericolais, Isabelle de Maison Rouge, Franck Marguin, Nicolas Moulin, Guillaume Ollendorff, Jacques Rivet, Thibaut de Ruyter, David Sanson, Jim Thirlwell,…)
Launched during the previous edition of the City Sonic festival, these shared listening sessions are meetings with professionals from the music world (musicians, critics, artists, curators…) who spend about an hour sharing their passion for music as well as sound art practices and commenting on chosen excerpts. For this first City Sonic 2014 "Partage d'écoute" ("shared listening session") Pierre Beloüin (artist/producer/art director of the French label and review Optical Sound) is invited to share both his love of music sound adventures, from the 80s till today, through soundscapes inhabited by his great musical sensitivity. This 'listening meeting' will be also the perfect occasion to launch the second issue of the Optical Sound magazine, (featuring, among others, Michel Chion, Tony Conrad, Rainier Lericolais, Isabelle de Maison Rouge, Franck Marguin, Nicolas Moulin, Guillaume Ollendorff, Jacques Rivet, Thibaut de Ruyter, David Sanson, Jim Thirlwell,…) which will be presented by Pierre Beloüin.
Entrée libre / free
Médiathèque de Mons, Ilot Grand'Place, Mons
---
14.09.2014 > 27.10.2014


Parcours sonore/Sound itinerary
Mons


Départ Site des Arbalestriers, 1 rue du gouvernement,
Médiathèque, îlot Grand'Place,
Site des anciens abattoirs, 17 rue de la Trouille
(fermé le lundi/closed on Monday)
Entrée libre/free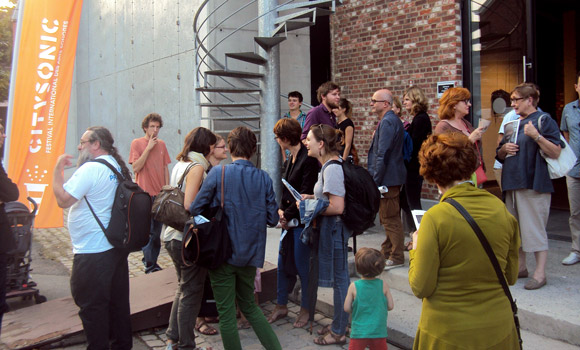 Info complète sur le festival + Sonic Radio (interviews, pièces audio, reportages, play listes…)/More info + Sonic Radio (interviews, audio creations, special reports, play lists…) on www.citysonic.be
Production City Sonic#12 : Transcultures, le manège.mons Avec le soutien de la Fédé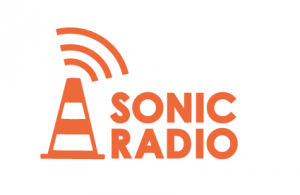 ration Wallonie-Bruxelles (pluridisciplinaire), en partenariat avec la Ville de Mons. Remerciements à TechnocITé. Park in progress est soutenu par l'Union Européenne – Programme Culture DG EAC. Espace(s) Son(s) Hainaut(s) reçoit le soutien de l'Union européenne – Fonds FEDER – Interreg IV France-Wallonie-Vlanderen.
---