Newsletter december 2014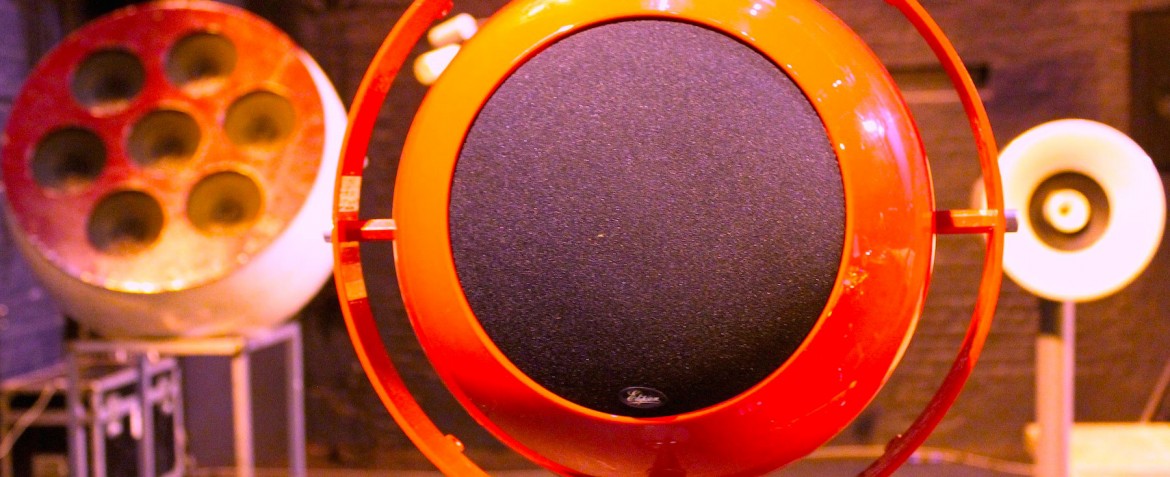 DÉCEMBRE / DECEMBER 2014
Après un mois de novembre effréné qui a vu, entre autres événements, la tournée les artistes belges et québécois des Duos Transatlantiques – projet bilatéral mené avec Rhizome – parcourir avec bonheur la Fédération Wallonie-Bruxelles et le festival Ars Musica accueillir, à la Raffinerie, des installations made in City Sonic et un concert de Supernova, nous clôturons en décembre le projet européen itinérant Park in progress qui sera à nouveau accueilli par nos partenaires des Pépinières européennes pour jeunes artistes, cette fois à Montreuil dans les anciens studios Méliès pour finir joyeusement cette année particulièrement riche en créations avec une soirée alter électronique à Bruxelles.
Merci encore pour votre précieux soutien à cette transculture des différences créatives ! Notre trans staff vous souhaite des joyeuses fêtes et déjà un happy arty 2015 qui s'annonce également intense avec Mons2015, Capitale européenne de la culture.
After this frantic November which saw, among others, a tour with Belgian and Quebec sound artists and poets (for the 'Transatlantic Duos' bilateral project with Rizhome) and the Ars Musica festival hosting, at the Refinery, installations made in City Sonic and a Supernova concert, we'll close in December the Park in progress itinerant European project that will again be hosted by our partners of the European Pépinières for young artists, this time in Montreuil in the ancient Méliès studios. After some workshops, residiencies and presentations, we will happily finish this particularly creative year with a special 'Alter Brussels electronics' evening.

Thanks again for your support to this transculture of creative differences. Our trans staff wish you a happy arty 2015 year which already promises to be equally intense with Mons2015, European Capital of Culture.
---
13.12.2014


Park in progress#13
Nuit européenne de la jeune création – European night of the young creation
Montreuil

> La Maison de l'Arbre > 20:00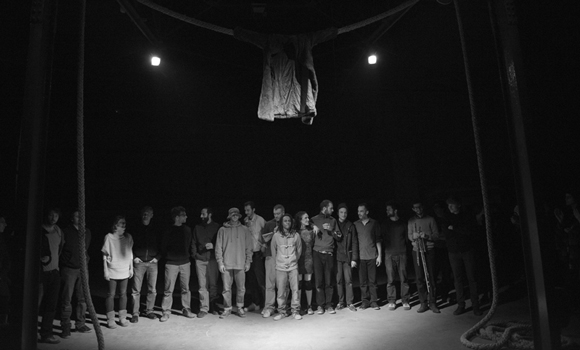 Une vingtaine d'artistes investissent la Maison de l'Arbre à Montreuil pour cette treizième édition « indoor » du projet européen Park in progress. Une soirée de rencontres, d'échanges et de projets transdisciplinaires, partagés avec un public diversifié, et qui se terminera par un moment convivial autour d'un buffet original, accompagné par des vidéo-projections et des live musicaux.
Park in Progress est un programme de mobilité itinérant qui rassemble des jeunes artistes et professionnels des métiers de la création et de la culture qui interviennent dans les différentes étapes de la production d'une œuvre, autour d'un projet commun qui sollicite l'expérience transdisciplinaire. Park in Progress s'est déplacé à travers l'Europe passant par la Belgique, l'Espagne, Chypre et enfin la France en 2014. Ce projet dont Transcultures est co-organisateur a été organisé deux fois à City Sonic-Mons en 2013 et 2014.
Cette treizième édition présentera lors de la Nuit européenne de la jeune création qui conclut, avec ce parcours de courtes créations, une semaine de résidence, les œuvres de Voici les lauréats de cette année: Laurence Moletta (Be), Sebastian Belmar (It), Chelsea Leventhal (USA), Belen Paton (E), Anni Küpper (All), Dario La Stella & Valentina Solinas (It), Anna Gaïotti (Fr), Mauro Paccagnella (It), Stéphane Broc (Fr), Audrey Louwet (F), Julien Poidevin (Be), Eliane Edou (Fr), Pepso Stavinsky (Fr), Sebastian Rivas (Arg), Paolo Vignaroli (It), Spyros Kouvaras & Korina Kotsiri (Gr).
A souligner également la sélection de la vidéo audio chorégraphique « Strange meeting in an empty space » de Stéphane Kozik (créeé lors d'un workshop Park in progress à Huesca et présentée à Park in progress@City Sonic Mons 2014) pour le programme Jeune création vidéo cinéma dans le cadre du FIPA ( projection prévue entre le 20 et le 25 janvier 2015 à Biarritz).
Park in progress is a nomadic mobility program initiated by the European Pépinières for young artists, supported by the European Commission (Culture programme), which gathers young artists and professionals from the creative and cultural world who work on the different steps of the crea-tion, production and dissemination of a project in which transdisciplinary experience is developed.

For the 13th edition of Park in progress organised by the European Pépinières for young artists, 20 artists invest the Tree House in Montreuil.An evening of meetings, exchanges and transdisciplinary projects, shared with a diverse audience, which will culminate in the a convivial moment around an original buffet, accompanied by video projections and live music.

This project was organized by Transcultures twice at festival City Sonic in Mons in September 2013 and 2014. This thirteenth edition will present at the European Night of young artists who concludes a week of residence, the works of Laurence Moletta (Be), Sebastian Belmar (It), Chelsea Leventhal (USA), Belen Paton (E), Anni Küpper (Ge), Dario La Stella & Valentina Solinas (It), Anna Gaïotti (Fr), Mauro Paccagnella (It), Stéphane Broc (Fr), Audrey Louwet (F), Julien Poidevin (Be), Eliane Edou (Fr), Pepso Stavinsky (Fr), Sebastian Rivas (Arg), Paolo Vignaroli (It), Spyros Kouvaras & Korina Kotsiri (Gr).

Another Park in progress positive outcome is the « Strange meeting in an empty space » audio-dance video directed by Stéphane Kozik which was created at a Park in progress workshop in Huesca and presented in Park in progress@City Sonic – Mons 2014, is selected for the young video creation programme of the FIPA in Biarritz end of January 2015.
Avec le soutien de l'Union européenne – programme Culture
Entrée libre / free
Pépinières européennes pour jeunes artistes – La Maison de l'arbre 5, rue François Debergue – Montreuil
---
16.12.2014


Conférence + concert + workshop
Stefan Prins
Mons

> Arts² > 10:00 (conférence+performance) – 13:30 (workshop)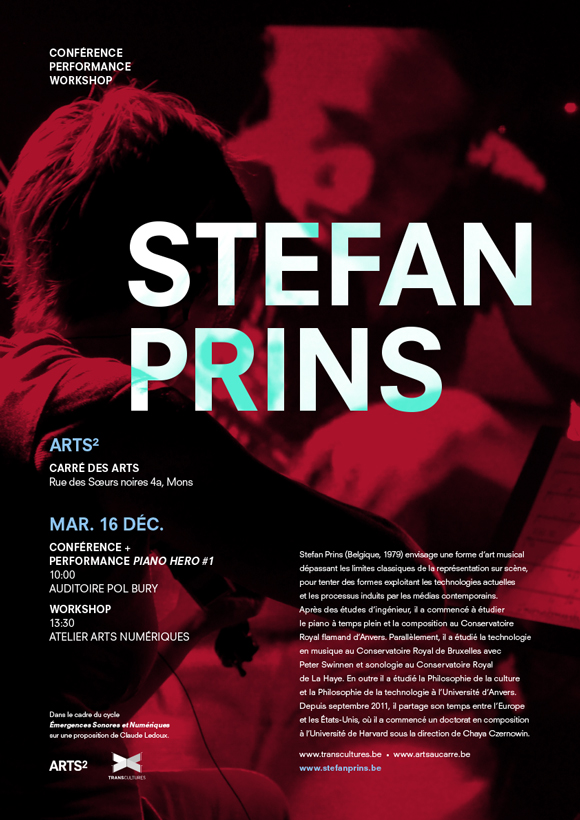 Dans le cadre du cycle de conférences et workshops Emergences numériques et sonores initié par Transcultures en partenariat avec l'Ecole des Arts Visuels de Mons Arts², est invité, sur une proposition de Claude Ledoux, le compositeur belge Stefan Prins pour une conférence avec une performance Piano hero#1 (pièce pour clavier midi et vidéo live) suivi par un workshop pour les étudiants.
Auteur notamment du double CD Fremdkörper chez Sub Rosa, Stefan Prins qui mêle dans ces créations explorations sonores et intermédiatiques, travaille sur un art musical dépassant les limites classiques de la représentation sur scène, pour tenter d'autres formes exploitant les technologies actuelles et les processus induits par les médias contemporains.
In the context of the digital and audio conferences and workshops Emergences cycle initiated by Transcultures in partnership with the School of Visual Arts of Mons Arts², Claude Ledoux has invited his fellow composer Stefan Prins is invited for a lecture featuring a performance 'Piano hero # 1' ( for midi keyboard and live video) followed in the afternoon by a workshop for the students.

Author of double CD 'Fremdkörper' released on Sub Rosa, Stefan Prins mixes in these creations sonic and intermedia explorations. He works on music beyond the traditional limits of representation on stage, to try other forms using the current technologies and processes induced by contemporary media.
Partenariat Arts²-Transcultures
Entrée libre / free
Arts², Carré des Arts, 4 a rue des Sœurs noires, Mons
---
16.12.2014
Présentation du film
Bernard Heidsieck, la poésie en action
Reims >

Comédie > 19:00
La Comédie de Reims consacre une belle soirée d'hommage vivant à Bernard Heidsieck, poète/performeur français majeur, inventeur de la poésie-action décédé ce 22 novembre 2014, à l'âge de 86 ans, avec la projection du film documentaire Bernard Heidsieck, la poésie en action (co-produit par a.pr.e.s production, CHAM projects, Solang Production Paris Brussels & Transcultures), rempli d'archives précieuses et de commentaires de contemporains, réalisé par Anne-Laure Chamboissier et Philippe Franck, en collaboration avec Gilles Coudert (2014, durée 55 mn) qui présenteront ce documentaire qui fait aussi l'objet d'un livre-DVD « Variations sur Bernard Heidsieck » qui vient de sortir (une co-édition a.p.r.e.s – CNAP).
Cette projection/présentation sera suivie, à 20h30, par la performance Respirations et brèves rencontres un texte balise écrit par Bernard Heidsieck interprété par Laurent Poitrenaux qui dialogue avec les souffles enregistrés d'artistes disparus.
La Comédie of Reims proposes a great tribute evening to the late Bernard Heidsieck, major French poet/performer, inventor of the action-poetry in the mid 50s, died on November 22th 2014 at the age of 86, with the screening of the documentary film 'Bernard Heidsieck, poetry in action', filled with valuable comments and contemporary archives, directed by Anne-Laure Chamboissier and Philippe Franck, in collaboration with Gilles Coudert (2014, 55 min duration). they will present this documentary (co-produced by a.pr.e.s production, CHAM projects, Solang Production Paris Brussels & Transcultures), which is also the subject of a book-DVD "Variations on Bernard Heidsieck" (also in English) which comes out (a co-edition of a.pr.e.s editions and CNAP).

This projection/presentation will be followed at 20:30 by the performance 'Respirations et brèves rencontres' a major text written by Bernard Heidsieck performed by Laurent Poitrenaux who dialogues with the breaths of recorded missing artists.
Comédie de Reims, 3, chaussée Bocquaine, Reims
---
27.12.2014


Alter BXL Electronics
Pak Yan Lau + Supernova + Ethereal
+ AlonE + Anal+
Bruxelles >

Cellule 133a > 20:00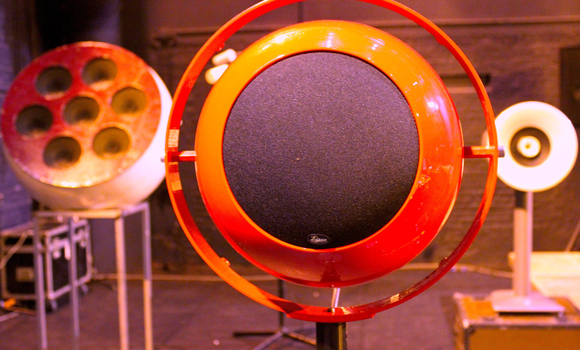 Découvrez avant la grande fête de l'an nouveau, des artistes alter électro, aventureux et hybrides de la capitale dans une ambiance conviviale propice à l'écoute et à la rencontre des différences créatives.
Au programme : Pak Yan Lau, alliant délicatement piano préparé et de l'électronique mais aussi des objets et des jouets pour nous dessiner des paysages sonores pleins de poésie un peu à la manière d'un John Cage ou d'un Morton Feldman ; Supernova (Philippe Frank + Gauthier Keyaerts)distillant des fragments poétiques, post pop songs et paysages électro organiques ; Ethereal+AlonE duo mixant le live electronic et les guitares électriques qui proposera un set noise ambient expérimentale et… étherée ; Anal+, une version soft psyché électronique de ce duo (Pierre-Jean Vranken + Maurice Charles JJ) quelque part entre l'EBM, l'indie dub et la no wave inspiré par la révolte littéraire d'Antonin Artaud.
Discover before the new year's even in a friendly atmosphere a selection of Brussels alter avant electro hybrid adventurous artists.

Featuring Pak Yan Lau playing the treated piano but also electronic items and toys somewhat in the manner of John Cage or Morton Feldman ; Supernova (Philippe Gauthier Frank + Keyaerts) distilling poetic fragments, post pop songs and organic electro landscapes; Ethereal + Alone, a young duet mixing the live electronic and electric guitars that will propose a experimental ambient noise set and ethereal and finaly Anal +, a soft psyche electronic version of this duo (Jean-Pierre Maurice Charles Vranken + DD) somewhere between EBM, alternative dub and no wave inspired by literary revolt of Antonin Artaud.
Une proposition Nuits Du Beau Tas en partenariat avec Transcultures et le label Transonic
7€
Cellule 113a -133a, Avenue Ducpétiaux, Saint-Gilles/Bruxelles
---
WORKSHOP
---
20 > 24.12.2014


Stéphane Kozik + Julien Poidevin
Workshop Emergences sonores –
Sound Emergences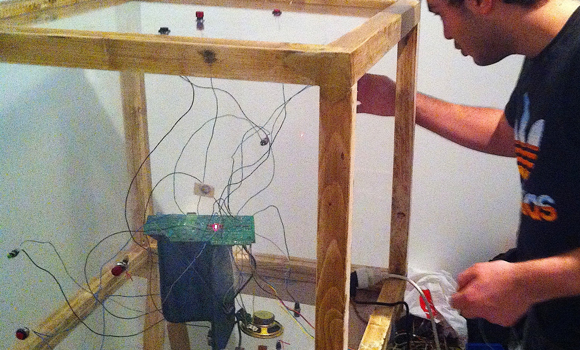 Transcultures et Arts² proposent un workshop coordonné par les artistes sonores et numériques Stéphane Kozik et Julien Poidevin (sélectionnés pour de nombreuses manifestations internationaux dont récemment City Sonic et Park in progress) dans le cadre du projet Emergences sonores et numériques et du programme Espace(s) Son(s) Hainaut(s). Les participants sont invités à créer une installation sonore interactive.
Au programme de ce workshop ouvert en priorité aux étudiants d'écoles d'art de Wallonie et du Nord-Pas de Calais : apprentissage de techniques d'interactivité, initiation à des logiciels de traitement sonore, techniques d'exposition d'installations sonores…
L'occasion de bénéficier de l'expérience d'artistes confirmés et d'appréhender les arts sonores par la pratique à la fois créative et technologique.
Transcultures and the Visual Arts School of Mons, Arts² propose a sound art workshop coordinated by sound and digital artists Stéphane Kozik and Julien Poidevin (selected for many international events including recent Sonic City and Park in progress) as part of the project sound and digital Emergences with the support of the transborder platform for innovative music Espace(s) Son(s) Hainaut(s).

The program of the workshop opened primarily to art school students from Wallonia and North of France is about learning interactive techniques, introduction to sound processing softwares, sound installations devices & technologies… an opportunity to benefit from the experience of established artists and apprehend sound art through a creative and technological practice.
Partenariat Transcultures, manège.mons, Arts²
Dans le cadre de Espace(s) Son(s) Hainaut(s), projet soutenu par les fonds FEDER-Interreg IV France-Wallonie-Vlanderen
Participation gratuite (limitée à une dizaine de participants) – inscription obligatoire lucie.transcultures@gmail.com

---
Résidences / Residencies
---
Pao Paixao
Fukushima, a Web Story
Mons >

Transcultures – Pépinières européennes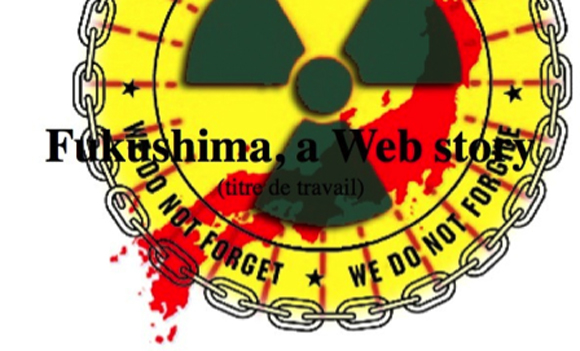 En décembre, Pao Paixao, réalisateur, performer et artiste intermédiatique terminera sa résidence Pépinières européennes pour jeunes artistes de trois mois chez Transcultures. Le but de cette résidence est l'exploration d'une matière de base et la construction d'une trame narrative pour la réalisation d'un Web documentaire sur la catastrophe nucléaire de Fukushima.
Cette matière de base est puisée dans les innombrables documents (audios-visuels-textuels) présents sur le Web et référencés par la veille automatisée twitter @Fukushima_Actu crée par Jacques Urbanska en 2011 et qui est actuellement une des plus importante source d'information et une référence sur le Web pour tout ce qui concerne ce sujet. L'exploration de cette immense matière se fait au travers d'une nouvelle version du programme DRush.
Alors que la version précédente se contentait de projeter aléatoirement les différents rushs, la nouvelle version fera une analyse préalable des rushes et sera capables de les classer automatiquement suivant différents critères (ex. : valeurs HSV, la vitesse interne de la vidéo…). Ce travail est assuré en collaboration avec l'Institut Numediart (Université de Mons) et son projet MediaCycle framework.
Un travail sur la projection multiprojecteurs est également prévu pour uniformiser l'écran géant et faire disparaître la séparation visible due aux projecteurs physiques. Une recherche sur un l'élaboration d'un corpus textuel est également prévue ainsi qu'un Web documentaire qui serait finalisé en 2016.
In December, Pao Paixao, film director, performer and intermedia artist complete his 3 months residency European Pépinières for young artists at Transcultures. The purpose of this residency in Mons is the exploration of the material and the construction of a narrative framework for the creation of a web documentary on the Fukushima nuclear disaster.

This essential material is drawn from the innumerable web documents (audio-visual-textual) and referenced by the automated standby twitterFukushima_Actu created by Jacques Urbanska in 2011 which is currently one of the most important source of information and reference on the web for everything about it. The exploration of this vast field is through a new version of Drush program.

While the previous version would just randomly throw various rushes, the new version will make a preliminary analysis of the footage and will be able to classify automatically according to different criteria (eg. HSV values, internal speed video …) .dropoff window This project is developed in collaboration with the Numediart Institute (University of Mons) and its MediaCycle project.

A work on the Multi projector projection is also planned to standardize the giant screen and eliminate the visible separation due to physical projectors. A research on the development of a textual corpus is also planned as well as a Web documentary due to be finalized in 2016.
---