14 > 27.11 – Sonic Rising Sun exhibition @ Festival Ars Musica
Posted on

05/11/2016

in 2016, Agenda, All news, Artists, Arts Numériques, Belgium / FWB, City Sonic, Distribution, Exhibitions, Jacques Urbanska, Paradise Now, Partners, Philippe Franck, Production, Soundart, Transcultures team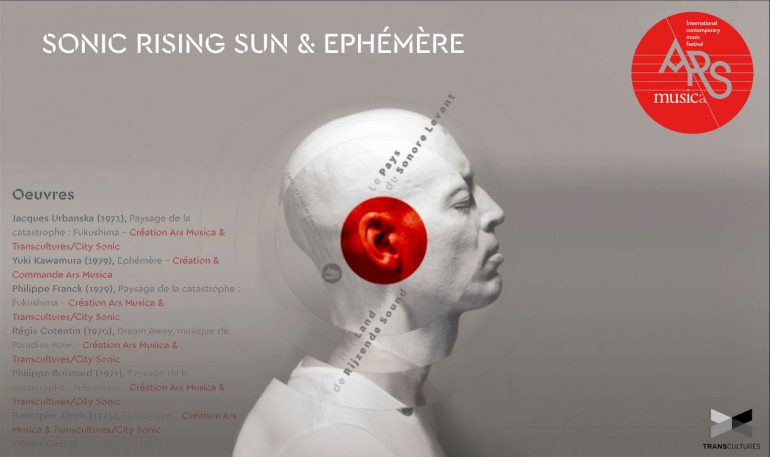 For the new edition of the festival Ars Musica titled "The country of rising sound" Transcultures presents an exhibition of digital and sound installations called "Sonic Rising Sun" highlighting various inspirations from Japan in recent works of Western artists.
Philippe Boisnard generates the 'Paysage de la catastrophe' (Landscape of the disasterà that is Fukushima, a "poetic reflection of a land that no consciousness can no longer witness", associated with Jacques Urbanska and its twitter @ fuskushima_actu and Philippe Franck who composed a bank of sounds that are associated with the twitter words appearing on this historic post-digital topology.
Rodolphe Alexis presents a new version of its generative 'Flower Bed' installation with sounds recorded recently in Japan.
With 'Let there be light', Olivier Gain make meditative candles sing.
Régis Cotentin starts from the haiku form to create, with 'Dream Away,',an organic and digital diptych, dialoguing with the soundtrack by Paradise Now using only Japanese sources.
Also associated with this exhibition and Ars Musica, Japanese flmmaker Yuki Kawamura unveils his new creation 'Ephemeral', featuring a short-lived firefly, exploring the relationship between sound and light through the exacerbated prism of his eyes.
Ars Musica 2016 - présentation
Informations
14 > 27.11

Halles de Schaerbeek

Rue Royale-Sainte-Marie 22, 1030 Bruxelles

free
Production
Opening 14.11 – 19.00
Transcultures in partnership with Ars Musica, with the support of the Fédération Wallonie-Bruxelles.