Transcultures/Transonic Label @ La Semaine du Son 2019
Posted on

18/01/2019

in 2019, Agenda, All news, Artists, Belgium / FWB, Concerts, Distribution, Exhibitions, Isa Belle, Paradise Now, Partners, Pastoral, Philippe Franck, Production, Projects, Soundart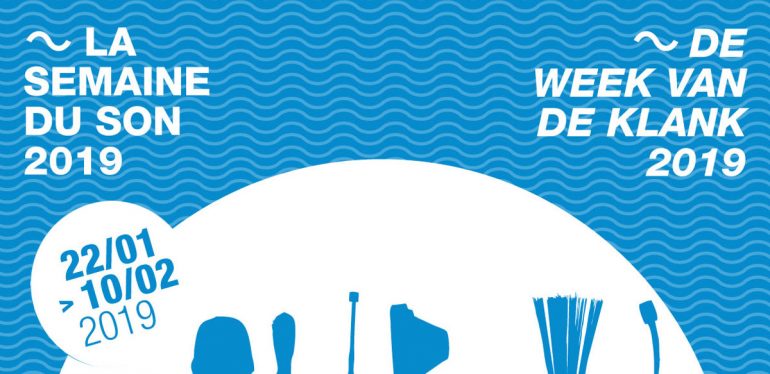 Created in Brussels in 2011, the Week of Sound is part of an international movement that aims to make the public aware of the sound in all its aspects and to raise the awareness of all the players in society about the importance of the quality of the environment. sound. This year, a special focus will be made on the link between sound and image with a whole day devoted to film music by Belgian composers.
On 27.01, Flagey will welcome Jean-Luc Fafchamps, Stéphane Orlando and Walter Hus for film concerts with the ensembles Musiques Nouvelles and Fractales. The prize will also be awarded for the sound reinforcement of a silent film, in co-production with Cinematek. Walter Hus will have carte blanche from 25.01 to 02.02 to present a selection from his filmography, while from 27.01 to 01.02 a series of screenings in the form of exhibition-installation of films of all kinds will be presented with music by composers of electroacoustic music ( Charo Calvo, Stephan Dunkelman, Daniel Florian Pascal, Hajdu Perez, Todor Todoroff & Manuel Viallet). Two films will be screened at the Cinema Palace on Tuesday, January 29: The Loving Testament of Nel (André Dartevelle, music Stephan Dunkelman & Patricia Hontoir) and State of Digs (Peter Brosens, music Charo Calvo). Also note the installation of Michel Lorand and Jean-Luc Fafchamps at MIM.
Transcultures is an important partner of this 2019 edition: concerts + exhibition / videos Transonic with Pastoral (launch of the album / booklet photos / poems 'L'échappée belle') and Julien Demoulin on February 2 in Brussels at Project(ion) Room and February 10 in Huy (Le lieu moderne), the sonic nap of the duo Unda on February 3rd at Project(ion) Room and the installation of Alain Wergifosse at Mixtape Factory, a lecture by Alexandre Castant at the Royal Academy of Fine Arts on February 7th and the installation 'Spectacle' by Philippe Franck (in complicity with Zoé Tabourdiot) featuring Charles Pennequin during the week of February 8 in Charleroi.
Informations
26.01 > 03.02.2019
Entrée libre / Free entrance
Réservation obligatoire / Reservation required
+32 (0) 472 640 299 – reservation@lasemaineduson.be
Production