Newsletter January 2020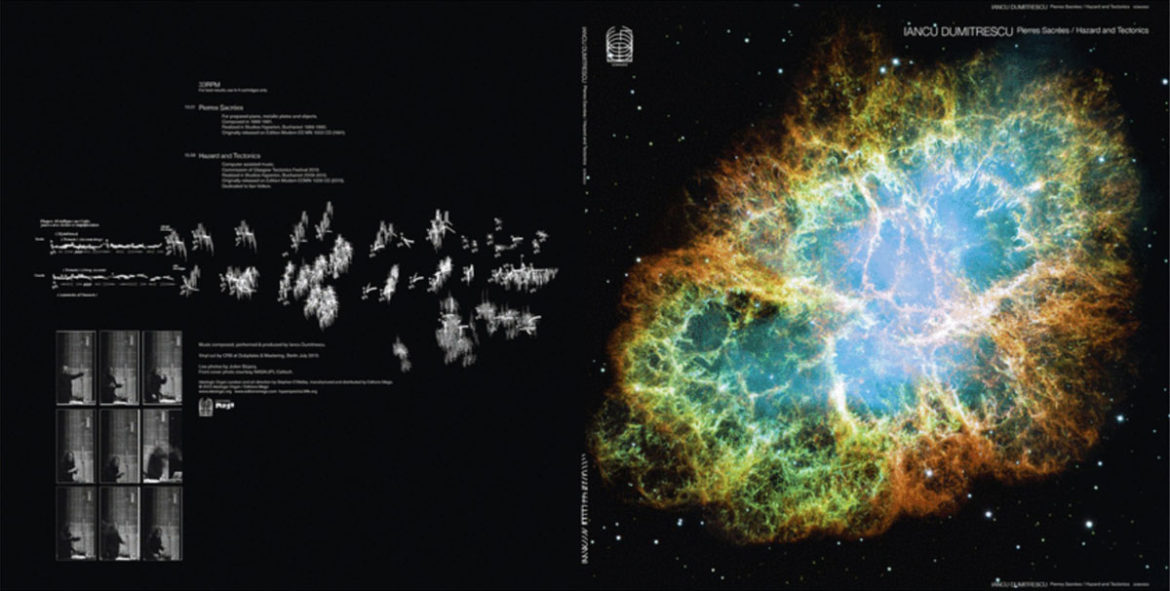 A peine le temps d'envoyer des bonnes ondes et un peu d'espoir combattif au milieu du chaos planétaire et nous voici happer à nouveau par le flot d'événements. Après Louvain-la-Neuve (dont une exposition-épilogue à l'hôtel Martin's Agora prend fin ce mois-ci) et Braine-L'Alleud en décembre dernier, le festival City Sonic atteint Bruxelles pour un programme d'écoute, de projection et de performances Sonopoetics à l'Académie royale des Beaux Arts et un événement important autour de la musique spectrale roumaine et du compositeur/pionnier Iancu Dumitrescu à l'Espace Senghor.

C'est aussi le moment de reprendre le programme Emergences sonores et numériques en partenariat avec Arts2 (Mons) avec un premier workshop qui sera bientôt suivi de conférences/rencontres tandis que la diffusion des projets et artistes soutenus par Transcultures continue à leur permettre de rencontrer d'autres publics notamment cette semaine à la faveur de le Semaine du Son dont Transcultures est heureux d'être à nouveau partenaire.

"L'union fait la force", en ces temps d'individualisme vorace et de solidarité frileuse, nous croyons encore dans la devise trop peu appliquée de notre internationaliste Belgitude !

Barely time to send good waves and a little fighting hope in the midst of planetary chaos and here we are again caught up in the flood of events. After Louvain-la-Neuve (including an epilogue exhibition at the Martin's Agora hotel ends this month) and Braine-L'Alleud last December, the City Sonic festival reaches Brussels for a listening and projection program and Sonopoetics performances at the Royal Academy of Fine Arts and an important event around Romanian spectral music and the composer / pioneer Iancu Dumitrescu at Espace Senghor.

It is also the moment to resume the program Sound and digital emergences in partnership with Arts2 (Mons) with a first workshop which will soon be followed by conferences / meetings while the dissemination of projects and artists supported by Transcultures continues to allow them to meet other audiences, especially this week thanks to the Sound Week, in which Transcultures is happy to be a partner again.

"Union is strength", in these times of voracious individualism and cautious solidarity, we still believe in our Belgian (inter)national motto (too often not applied).
27 > 31.01.2020
---
Arba-Esa
Bruxelles
Salons d'écoute + vidéos + installation sonore
@ City Sonic #16
---
La Semaine du Son 2019
Avec la participation de / featuring Alexandre Castant/Philippe Franck + étudiants ENSA Bourges  | Christophe Bailleau | Antoine Boute + Vincent Matyn | Ordinaire | VTGK – Gauthier Keyaerts + Vincent Tholomé | Philippe Franck + Zoé Tabourdiot, Catrine Godin, Richard Martel, Eric Therer | Stéphane Kozik, Tamara Laï , Kika Nicolela, Paradise Now featuring Jacobleu, Pastoral, Petermfriess, Alain Wergifosse.
Salon d'écoute Atelier sonore d'esthétique ENSA Bourges
The workshop of sound aesthetics of the National Art School (ENSA) of Bourges is an aesthetic research seminar in sound creation directed by Alexandre Castant, professor of aesthetics and history of contemporary arts. The sound pieces produced in this context go beyond the issue of registers and genres: radio drama, documentary creation or musical compositions, so they participate in a very open sound writing. The recent Station#23 (To make curatorial albums) of the workshop is dedicated to Philippe Franck (featuring various City Sonic pieces) starting from the question: "why sound?".
Salon d'écoute Sonopoetics
Sonopoetics est la division de City Sonic et de son alter label Transonic dédié aux croisements entre poésies sonores/littératures vivantes et création sonore. Cette sélection d'oeuvres récentes d'artistes aux multiples talents est présentée sous forme de borne d'écoute, au casque sur un bon fauteuil.

Sonopoetics is the division of City Sonic and its alter label Transonic dedicated to the crossings between sound poems / living literatures and sound art/experimental music. This selection of recent works of artists with multiple talents is presented in the form of a terminal, listening to the headphones on a good chair.

| Christophe Bailleau (Fr/Be) | Crac Crac
Création Avez-vous déjà été dérangé par des voisins trop bruyants lors de leurs ébats sexuels? Crac Crac, la nouvelle création audio de Christophe Bailleau (ici diffusée en plusieurs courtes sections aux ambiances différentes), s'intéresse à la question à partir d'interviews diverses sous un angle poétique et grâce également à une création sonore ad hoc.

Have you ever been disturbed by noisy neighbors during their sexual activities? Crac Crac, the new creation by Christophe Bailleau (broadcast in several short sections, with different atmospheres) takes interest in this delicate question. It starts with various interviews from a poetic angle and an ad hoc sound creation.

| Antoine Boute (Be) + Vincent Matyn (Be) | Télé Banque Hypnose Ce projet bicéphale est né de la rencontre entre Antoine Boute – écrivain et performeur – et Vincent Matyn-Wallecan – réalisateur et artiste du son. Croisant la poésie sonore, le manifeste politique et la musique concrète, ce conte philosophico-burlesque questionne notre rapport aux médias, à la politique et à l'engagement. Le texte aborde les collusions entre pouvoir politique, pouvoir économique et pouvoir médiatique. Production : Radio panik, avec le soutien du FACR.

Voix et texte : Antoine Boute. Composition sonore et réalisation: Vincent Matyn

This two-headed project was born from the meeting between Antoine Boute – writer and performer – and Vincent Matyn – director and sound artist. Combining sound poetry, political manifesto and concrete music, this philosophical-burlesque tale questions our relationship to the media, politics and engagement.

| Ordinaire (Fr/Be) – Stephan Ink (Fr) + Eric Therer (Be) |

Tales of… > Tales of fluvial highways | relevés d'avaries de péniches et de transports fluviaux, statistiques sur le transport fluvial, sons de terrains de débarquement de la cargaison d'une péniche enregistrée dans une darse couverte à l'île Monsin à Liège.

> Tales of literacy | extraits de manuels administratifs et de consignes sur la langue administrative telle qu'elle doit se pratiquer dans l'administration, voix d'une magistrate reprenant la portée de ces consignes…

Tales of fluvial highways : reports of damage to barges and inland waterways, statistics on inland waterway transport, sounds of landing sites for cargo of a barge that is recorded under a covered dock on Monsin Island (Liège).Tales of literacy : extracts from administrative manuals and instructions on the administrative language, as it should be practiced by the administration. Voice of a magistrate is taking up the scope of these instructions…

| VTGK – Gauthier Keyaerts (Be) + Vincent Tholomé (Be) | Mon épopée Création Une sélection de pièces spontanées entre poésie sonore et ambiances audio électroniques matiéristes tirées du récent projet commun Mon épopée de Vincent Tholomé (auteur/performeur) et Gauthier Keyaerts (artiste sonore et interdisciplinaire). No overdub !
Chant 10 : How to ne pas embrasser un chien sur la bouche.
Chant 20 : How to glisser un mot dans la main de quelqu'un.
Chant 26 : How to ne pas dormir à Bali.
A selection of spontaneous pieces at the crossroad of sound poetry and electronic/organic sound creation, from the recent joint project Mon épopée of Vincent Tholomé (author/ performer) and Gauthier Keyaerts (sound and interdisciplinary artist). No overdub !
Poévies #1, 2, 3 par Philippe Franck (Be/Fr) + Zoé Tabourdiot (Fr/Be)
Sonic Scapes – sélection audio-vidéo Pépinières européennes/Transcultures
Espace Résonnant – Alain Wergifosse (Be) – installation interactive
Alain Wergifosse propose une mise en résonnance d'un espace public par traitement numérique en temps réel du son à travers d'un dispositif de microphones, senseurs et haut-parleurs stratégiquement distribués dans l'espace et calibrés pour réagir aux subtiles variations de pression du vent et de la lumière qui évoluent dynamiquement au long de la journée permettant recrée une espèce d'organisme sonore vivant et sensible conformé par l'espace lui même.
Alain Wergifosse proposes a resonance of a public space by real-time digital sound processing through a system of microphones, sensors and loudspeakers strategically distributed in the space and calibrated to react to the subtle variations in wind and light pressure that evolve dynamically throughout the day, recreating a sort of living organism shaped by the space itself. By choosing to calibrate the sensors to act especially on slower times, the resonant organism evolves less on biological rhythms than on times close to that of plants or that of rocks and mountains, by eroding itself.
27 > 30.01.2020 – 12:00 > 17:30
Programmes diffusés en continu – programme played in a loop
Gratuit/Free
Arba-Esa / Académie royale des Beaux-Arts de Bruxelles
Rue du Midi 144, Bruxelles
Dans le cadres de / In the framework of : Semaine du Son 2019 & Festival City Sonic#16
Production : Transcultures, Pépinières européennes de Création
29.01.20
---
Arba-Esa
Bruxelles
Performances Sonopoetics
@ City Sonic #16
---
La Semaine du Son 2019
Margarida Guia (Pt/Fr) – performance
A performance by Margarida Guia will be an intimate and singular encounter. Singer, performer and sound artist, she takes us between light and dark to a cabaret of curiosities full of poetry and imagination.
Mon épopée – VTGK (Vincent Tholomé + Gauthier Keyaerts – Be)
Mon épopée est une performance créée autour d'un livre éponyme, un ouvrage composé de 22 chants constituant le volume 13 des 38 volumes recueillant les propos tenus au jour le jour par Konstantin Peterzhak à la cafétéria du centre atomique de Dubna il y a plus de cinquante ans en Union Soviétique. Georgy Flyorov, ami et collègue de Peterzhak, note au jour le jour dans de somptueux carnets les propos un peu fous tenus par ce dernier, les adaptant ensuite -on ne sait  pourquoi- en plusieurs langues.
Le duo Tholomé/Keyaerts en donne une mise en sons et en voix partielle et partiale de sa version française. Il y voit une élégante façon de lancer une bouteille à la mer, de redonner corps aux voix singulières.
Tex/te : Georgy Flyorov et Konstantin Peterzhak. Gauthier Keyaerts : electronics + sound design. Vincent Tholomé : electronics + voix/voice.
Mon épopée (My Epic) is a performance created around an eponymous book, a book consisting of 22 songs constituting volume 13 of the 38 volumes gathering daily comments made by Konstantin Peterzhak in the cafeteria of the Atomic Center of Dubna which is dated more than fifty years, in the Soviet Union. Georgy Flyorov, a friend and colleague of Peterzhak, notes each day in sumptuous notebooks the somewhat crazy remarks made by the latter, then adapting them – we do not know why – in several languages. The duo VTGK gives sound structure and partial voice of its French version. He sees this as an elegant way of throwing a bottle into the sea, and of giving body to singular voices.
29.01.2020 – 19:00
Gratuit/Free
Arba-Esa / Académie royale des Beaux-Arts de Bruxelles
Rue du Midi 144, Bruxelles
Dans le cadre de / In the framework of : Semaine du Son 2019 & City Sonic festival #16
Production : Transcultures en partenariat avec l'ArBA-ESA
31.01 > 07.02.2020
---
La Comédie
Reims
Transcultures @ Festival FARaway
Kika Nicolela – Zone d'échange
---
A la proposition de Transcultures, Césaré présente dans le festival FARaway, une exposition de l'artiste brésilienne Kika Nicolela, avec trois œuvres – qui tout en étant très diverses dans leurs approches – proposent des variations sur l'idée d'échange et de partage. Blindly (installation audio vidéo créée en réaction à la journée du 17 avril 2016, lorsque les membres du Congrès brésilien ont voté en faveur du processus de "impeachment" de Dilma Roussef, première femme présidente du pays), une nouvelle édition de l' Exquisite Corpse Video Project (ECVP) inspiré de la méthode de création surréaliste, le « cadavre exquis », pour lequel Kika Nicolela (également curatrice) invite une vingtaine d'artistes du monde entier à participer sur le thème des artistes agitateurs, et une création avec les habitants du quartier Croix-Rouge de Reims qui fait suite à une résidence avec Césaré pour un projet de création, qui implique la participation d'habitants de ce quartier.

At the suggestion of Transcultures, Césaré presents in the FARaway festival, an exhibition by the Brazilian visual artist Kika Nicolela, with three works – which while being very diverse in their approaches – offer variations on the idea of exchange and sharing . 'Blindly' (audio visual installation created in response to April 17, 2016, when members of the Brazilian Congress voted in favor of the "impeachment" process of Dilma Roussef, the country's first female president), a new edition of the 'Exquisite Corpse Video Project' (ECVP) inspired by the surrealist creation method, the "exquisite corpse", for which Kika Nicolela (also curator) invites twenty artists from around the world to participate on the theme of agitating artists, and a creation with the inhabitants of Red Cross district of Reims which follows a residency with Césaré for a creation project, which involves the participation of residents of this district.
31.01 > 07.02.2020
Vernissage/opening 04.02 -19.30
Festival 13:00 > 19:00 (mardi >samedi) – 13:00 > 18:00 l(dimanche) / fermé le lundi – closed on Monday
Entrée libre / Free
La Comédie – 3 Chaussée Bocquaine, Reims – France
Production : Césaré, Kika Nicolela, Transcultures
01.02.2020
---
Le Senghor
Bruxelles
Autour de la musique spectrale roumaine
@ City Sonic #16
---
La Semaine du Son
Transcultures (et son festival international des arts sonores City Sonic), l'Espace Senghor et La Semaine du Son s'associent pour proposer un événement à plusieurs volets autour de la musique spectrale roumaine avec son représentant historique Iancu Dumitrescu, également pionnier des musiques électroniques et contemporaines expérimentales roumaines.
Ce programme présente des nouvelles créations de musique hybride (électronique et instruments acoustiques) du compositeur ainsi qu'une pièce de la défunte compositrice, musicologue roumaine et co-directrice, avec Iancu Dumitrescu, de l'ensemble Hyperion Ana-Maria Avram (1961-2017), également représentante de la musique spectrale roumaine et une autre – création – du jeune collaborateur de Iancu Dumitrescu, Octav Avramescu.
Transcultures (and its festival City Sonic), Espace Senghor, and Semaine du Son, join forces to offer a multi-faceted event revolving around Romanian spectral music with its historical representative Iancu Dumitrescu, who is also a pioneer of electronic music and Romanian experimental contemporaries.
This program presents new creations of hybrid music (electronics and acoustic instruments) of the composer. There will also be a piece by the late composer Ana-Maria Avram (1961- 2017), Romanian musicologist, member of the ensemble Hyperion, and co-director with Iancu Dumitrescu. Also representing Romanian spectral music with another creation is a young collaborator of Iancu Dumitrescu, Octav Avramescu.
17:00 | Sound Archives (projection)
A selection of archives filmed on Iancu Dumitrescu and the Hyperion ensemble brought together specially for this occasion and presented by the composer. Taking its source from Romanian popular music, spectral music is based on the discovery of the nature of timbre in music and 'spectral decomposition' of musical sounds, at the origin of the perception of this timbre. With composer, Horatiu Radulescu, whom Iancu Dumitrescu is a precursor, and whom he defended ardently, they worked closely with late companion Ana-Maria Avram and the whole Hyperion, in Romania and internationally.
18:00 | Rencontre avec Iancu Dumitrescu (conversation avec Philippe Franck)
Cette rencontre avec le compositeur et chef d'orchestre Iancu Dumitrescu (modérée par Philippe Franck/historien de l'art et critique musical) abordera des grands enjeux qui ont guidé son écriture musicale et son approche exploratoire : le principe phénoménologique, l'approche cosmologique et orphique du son, l'esthétique hyper spectraliste et ses origines en Roumanie, l'exploitation mystique du phénomène acoustique comme « alchimie cryptique de la source sonore ».

This conversation with the composer and conductor Iancu Dumitrescu (moderated by Philippe Franck / art historian and music critic) will address the major issues that guided his musical writing and his exploratory approach: the phenomenological principle, the cosmological approach and Orphic sound, the hyper spectralist aesthetic and its origins in Romania, the mystical exploitation of the acoustic phenomenon as 'cryptic alchemy of the sound source'.

20:30 | Concert de musique spectrale roumaine par l'Ensemble Hyperion
Après des études de composition à l'Université de Musique de Bucarest, ayant étudié avec Alfred Mendelsohn, Iancu Dumitrescu suit des cours de phénoménologie et de direction d'orchestre avec Sergiu Celibidache dont il applique les enseignements à la composition musicale.

En 1976 il fonde l'Ensemble Hyperion proposant une nouvelle esthétique dans la musique d'aujourd'hui, esthétique hyper-spectraliste, centrée sur la force irradiante du son, avec sa complexité micro-cosmique – qui est interrogé, analysé, re-composé du point de vue spectral. La musique de Iancu Dumitrescu est hyper-spectrale, acousmatique, transformationnelle et phénoménologique. Il a, entre outre, développé un nouveau projet rythmique non métrique basé sur le Nombre, sur les rythmes vitaux dans la nature, et sur un rapport entre action et détente.

Son œuvre, très vaste, comportant environ 300 œuvres, comprend de la musique pour instruments solistes, musique de chambre, électroacoustique ou mixte, musique assistée par ordinateur, musique pour orchestre et solistes.

Programme :  Sound images (I) (création mondiale – Iancu Dumitrescu)
, New natural harmonics (création mondiale-Octav Avramescu), Sound images (II) (création mondiale-Iancu Dumitrescu), Sound images (III) (création mondiale-Iancu Dumitrescu), Nouvelle Arche (III) (1999 – première belge-Anne Maria Avram)
Ensemble Hyperion international :  Iancu Dumitrescu (direction, piano préparé, électronique), Diana Miron (voix, violon), Tim Hodgkinson (clarinette basse), Catalin Matei (aka Silly Conductor – ipad), Octav Avramescu (piano préparé, électronique, objets)

After studying composition at the University of Music of Bucharest, having studied with Alfred Mendelsohn, Iancu Dumitrescu takes courses in phenomenology and conducting with Sergiu Celibidache, whose lessons he applies to musical composition.

In 1976, he founded the Ensemble Hyperion, proposing a new aesthetic in today's music. Hyper-spectral aesthetics is centered on the radiating force of sound, with its micro-cosmic complexity – which is questioned, analyzed, and re-composed from the spectral point of view. The music of Iancu Dumitrescu is hyper-spectral, acousmatic, transformational and phenomenological. He has, among other things, developed a new non-metric rhythmic project based on Number, on vital rhythms in nature, and on a relationship between action and relaxation. He bases his creation on the phenomenological principle – that made him discover Sergiu Celibdache, which Dumitrescu applies to creation itself – and the idea of ​​acousmatic – which in his vision is not only "the art of disguise a sound source "in the concrete sense", but that of the "metaphor of sound, in its infinite cryptic alchemy of materials ".

Iancu Dumitrescu is considered one of the leaders of the global spectralist current. He is also the founder and artistic director of the Acousmania International Music Festivals, Musica Nova, Musica Viva and Spectrum XXI (with Ana-Maria Avram). His vast work, comprising some 300 pieces, includes music for solo instruments, chamber music, electroacoustic and mixed music, computer-assisted music, orchestral music and soloists.
01.02.2020 – 17.00 Sound Archives (video), 18.00 Rencontre/meeting, 20.30 Concert
Le Senghor

Chaussée de Wavre 366,

 Bruxelles
Production : Transcultures, Espace Senghor, Semaine du Son
Jusqu'au/until
12.01.2020
---
Martin's Agora Hotel
Louvain-la-Neuve
City Sonic Hotel
Exposition collective / group exhibition
---
Giovanni Fortenio, Gauthier Keyaerts, Sarah Lecomte, Isa Belle + Paradise Now + Stephan Dunkelman
L'exposition Hotel City Sonic lancée en prologue de la seizième édition du festival City Sonic continue dans différents espaces du rez-de-chaussée Martin's Agora City Resort de Louvain-La-Neuve. Six artistes soutenus par Transcultures/City Sonic d'esthétique et pratique différentes ont conçu des créations à dimension sonique ou évoquant le son.
'City Sonic Hotel' exhibition is still open at Martin's Agora City Resort of Louvain-la-Neuve featuring visual and sound creations (in various spaces of the groundfloor of the hotel) by 6 artists supported by Transcultures/City Sonic.
☛ Giovanni Fortenio (It) | Interazione con le onde
céramiques – ceramics
☛ Gauthier Keyaerts (Be) | L'Oeil Sampler #3-4
tableaux photo+bandes-sons, poèmes, vidéos – photographic pictures+soundtracks, poems, videos
☛ Sarah Lecomte (Be) | Nuances
dessins de créatures hybrides / drawings of hybrid creatures
☛ Isa Belle + Paradise Now (Fr/Be) | Gamana
en collaboration avec – in collaboration with Stephan Dunkelman (Be)
environnements sonore – soundscape
commissariat artistique-curator : Philippe Franck
> 12.01.2020
Hotel Martin"s Agora Louvain-la-Neuve
Rue de l'Hocaille, 1 Louvain-la-Neuve – rez-de-chaussée
entrée libre / free
Production : Transcultures en partenariat avec l'hôtel Martin's Agora
citysonic.be
20 > 24.02.2020
---
Arts2 – Mons
Emergences numériques & sonores 2020
Alain Wergifosse & Julien Poidevin
---
Workshop/Atelier Emergences
Ce premier workshop de la série Emergences numériques et sonores de 2020, partenariat entre Transcultures et l'école des arts visuels de Mons Arts2 initié depuis plusieurs années, est coordonné par les artistes numériques/audio/intermédiatiques Alain Wergifosse et Julien Poidevin. Il propose aux étudiants (issus de différents ateliers dont principalement Image dans le milieu/IDM et Arts numériques) de développer une création originale – installation ou une performance – ayant recours aux outils numériques. Ils sont aussi encadrés techniquement par l'équipe de Transcultures qui met également à disposition son équipement complétant celui de l'Ecole d'arts visuels Arts2 (Mons).
This first workshop of the series Emergences digital and sound of 2020, a partnership between Transcultures and the school of visual arts of Mons Arts2 initiated for several years, is coordinated by digital / audio / intermedia artists Alain Wergifosse and Julien Poidevin. II offers students to develop an original creation – installation or performance – using digital tools and sonic devices.
20 > 24.02.2020
Arts2 – Carré des Arts – Mons
Gratuit/free – sur inscription
Partenariat Transcultures – Arts2
10.01.2020
---
Cinémathèque
Bruxelles
Guy-Marc Hinant
---
Le plaisir du regret un portrait de Léo Kupper + courts métrages + Charleroi, le pays aux 60 montagnes
 Cette soirée consacrée au cinéaste belge Guy-Marc Hinant (également co-fondateur du label Sub Rosa) permet de découvrir Le plaisir du regret, un portrait de Léo Kupper, son premier film rarement montré réalisé, en 2003, avec son défunt complice Dominique Lohlé dans la série OME#1 consacrée à la création musicale qui ici s'intéresse au compositeur belge pionnier des musiques électroniques depuis les années 60.  Au même programme, un court portrait de Jonas Mekas réalisé à la même époque et La balustrade, film-circulaire inédit, originellement ultime plan d'un autre film documentaire du tandem Hinant/Lohlé RAGE autour de l'Acid Music (2017). Ce programme est suivi, à 21h, dans la grande salle de la Cinémathèque, de Charleroi, le pays aux 60 montagnes (2018), portrait-hommage d'une cité industrielle avec ses effondrements, ses mutations, ses paysages et sa langue, un film où se côtoient René Magritte, un campement de SDF, les acteurs d'un renouveau, l'inventeur du Big Bang, Les Zèbres, le socialisme et les sidérations vécues dans l'enfance.
This evening dedicated to the Belgian filmmaker Guy-Marc Hinant (also co-founder of the Sub Rosa label) allows you to discover 'The Pleasure of Regret, a portrait of Léo Kupper', his first and rarely shown film made in 2003, with his late accomplice Dominique Lohlé in the series OME #1 devoted to musical creation, which here is interested in the Belgian composer, a pioneer of electronic music since the 1960s. In the same program, a short portrait of Jonas Mekas produced at the same time and 'La balustrade', an original, unpublished film-circular ultimate shot of another documentary film -'RAGE'  (2017) by the duet Hinant / Lohlé  around acid music. This program is followed, at 9 p.m., in the great hall of the Cinémathèque, by the the his recent film 'Charleroi, the country of 60 mountains' (2018), a portrait-tribute of his industrial city with its collapses, its mutations, its landscapes and its language, a film featuring René Magritte, a homeless encampment, the actors of a revival, the inventor of the Big Bang, socialism and the siderations experienced in childhood.
10.01.2020 – 19.00
Cinematek, 9 rue Baron Horta, Bruxelles
4€
28.01 > 02.02.2020
---
Flagey
Bruxelles
Maxime Coton Living Pages
Installation RV
---
Dans le cadre de la Semaine du Son
Imaginez votre corps littéralement plongé dans un livre. Pages Vivantes est un poème original qui s'énonce en même temps qu'il se contemple. C'est une oeuvre de réalité virtuelle, une expérience sonore, visuelle et spatiale qui repose sur une interactivité inconsciente. Cette forme nouvelle matérialise, en temps réel, les images mentales générées par l'utilisateur et véhiculées par les mots.
Imagine your body being literally immersed in a book. 'Living Pages' is an original poem that speaks at the same time as it is looked upon. It is a work of virtual reality, a sonic visual and spatial experience, that relies on interactivity of the unconscious. This new form materializes mental images produced by the user, which are then conveyed by words, in real time. Murmured verses interact with the sound environment to explore how technology transforms us on the one hand, and on the other hand how we can still be enchanted in a world dominated by algorithms.
20.01 > 19:00 | Vernissage/opening
28.01 > 10.02.2020 – 17:00 > 20:00 | Exposition
Gratuit/Free
Flagey – Place Sainte-Croix, Bruxelles
Production : SACD, PILEN, Transcultures, La Semaine du Son avec le soutien de la Fédération Wallonie-Bruxelles (arts numériques)
lasemaineduson.be
29.01.2020
---
C.C Jacques Franck
Bruxelles
Atelier carte postale sonore
---
Zoé Suliko et Matthieu Charray
Entre expérimentation sonore, bruitage et musique, l'atelier de création sonore radiophonique invite les jeunes curieux à tester divers objets et instruments pour créer, en collectif, l'univers imaginaire et sonore d'un tableau.À partir d'une image, les enfants sont amenés à interpréter un univers sonore à l'aide d'instruments de musique, d'objets divers et de matières. . Ils pourront ainsi s'amuser à tester les sons, élaborer des phrases musicales, rechercher des sons, imaginer une histoire sur base de l'image et ainsi composer une carte postale sonore commune.

Between sound experimentation, sound effects and music, this workshop proposed by ACSR (atelier de création sonore radiophonique) invites all the young curious to test various objects and instruments to create, collectively, the imaginary and sound universe of a painting. From an image, the children are led to interpret a sound universe using musical instruments, various objects and materials. They can thus have fun testing sounds, developing musical phrases, searching for sounds, imagining a story based on the image and thus composing a common sound postcard.
29.01.2020 – 14:00 > 17:00
8 enfants à partir de 6 ans
gratuit – Réservation obligatoire : reservations@lasemaineduson.be
C.C Jacques Franck – Chaussée de Waterloo 94, 1060, Bruxelles
Est-Nord-Est
Québec (CA)
---
Résidence | Pepinieres Européennes de Création
Deadline 17.11.2019
Résidence/residency- 2 mois/months
Bourse / Grant : 4000$ CAD
Prix Dauphine pour l'Art Contemporain
France
---