06-03 > 24-05-2020 | Digital Icons – Transnumeriques #7 Festival | La Louvière
Posted on

10/02/2020

in 2020, Agenda, All news, Artists, Belgium / FWB, Distribution, Exhibitions, Festivals, Jacques Urbanska, Mediation, Partners, Production, Projects, Transcultures team, Transnumeriques, Video Arts, Young artists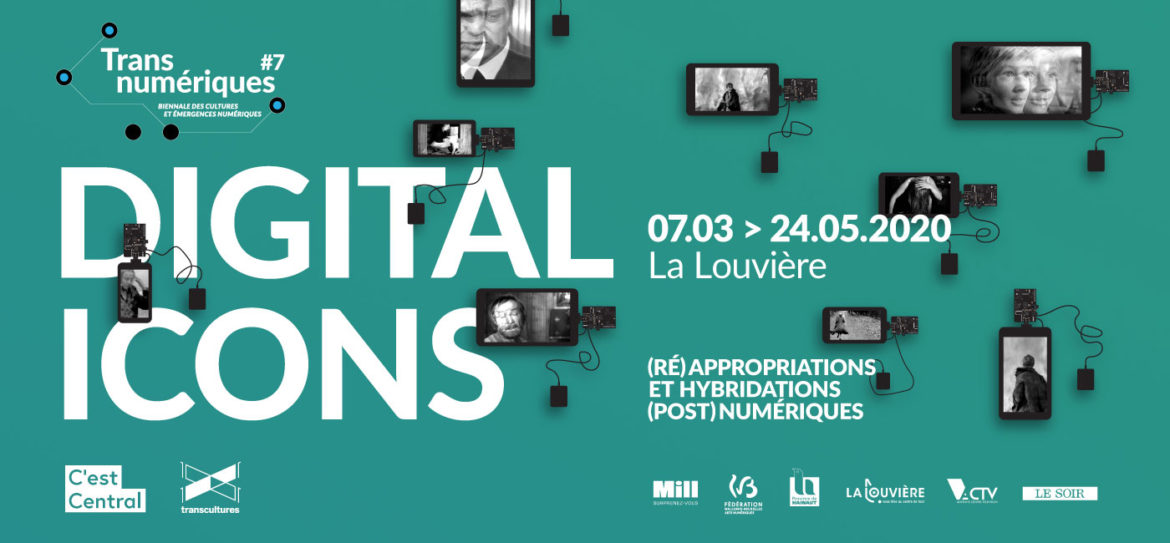 Transnumeriques – platform for (post)digital cultures and emergences
Since its launch by Transcultures, in 2005 in Brussels and Mons (and subsequently in other cities in the Federation Wallonia-Brussels, sometimes with variations in France), Transnumériques has worked, first as a festival then as a biennial, for the introduction of digital arts (and very often for the first time) in places or events of which it was not the primary object, allowing them to connect, as well as their audiences, with its new practices and to reinforce cross-cultural transversalities and connectivities.
This 7th edition of Transnumeriques includes a thematic exhibition – 'Digital Icons' – but also, depending on the opportunities and contexts, residences, workshops, conferences / meetings, workshops (for different audiences, therefore the youngest with 'Digital Kids') 'Transdemos' (presentation of works in progress with direct feedback to public and professional designers) or, other activities likely to bring together, in the unifying spirit that drives Transcultures, various cultural partners as well as scientific, social, educational … communities, individuals and singularities while provoking a real encounter with supported creators who benefit from qualitative insights and can possibly, also for the sake of accompaniment to the dissemination of projects, find " other development opportunities in Belgium and abroad.
These seventh edition of Transnumeriques, this time in the province of Hainaut (Belgium), questions the digital images/icons – notably via modes of artistic re-appropriation and poetic diversions – which are now proliferating, which have become, via our small and large prosthetic screens, our daily environment and which nourish – or, it depends, colonize – our mental landscapes.
Program : + art2.network (FR/BE) + Stephan Balleux (BE) + Lucas Bambozzi (BR) + Antoine Boucherikha (FR) + Christophe Bruno (FR) + Damien Bourniquel (FR) + Gregory Chatonsky (FR) + Fred Chemana – (FR/BE) + Régis Cotentin (FR) + Alexandra Dementieva (RU/BE) + Jacques Donguy (FR) + R. Luke DuBois (EU) + Aki Ito (JP) + Jean-Philippe Lambert (FR) + Francesc Martí (ES/GB) + Kika Nicolela (BR) + Stéphanie Roland (Be) + Laure Prouvost (FR) +Thomas Rouvillain (FR) + Yacine Sebti (BE) + Filip Sterckx (BE) + Alain Wergifosse (BE) + …
With 'Digital Icons' (as part of the seventh edition of the biennal Transnumériques), Transcultures, at the invitation of Central, (cultural centre of La Louvière) is offering an exhibition (+ associated events) in the museum exhibition spaces around mutations and translations of the various signs-images, data-images, networks-images which proliferate in our hypersphere and contaminate, for better and worse, our gaze and our imagination.
If we can usually say that the image is a representation, a setting in the present of an absent object, with the information revolution that we are experiencing, this actualization of a virtuality that is both always close together and always pushed back, explodes mutant and turbulent manner.
How do contemporary multi-creators decipher / divert / reinvent these multiple imaginary shifts? 'Digital Icons ' (curated by Philippe Franck & Jacques Urbanska) offers us some visions (poetic, committed, offbeat, …), the fruit of various modes of artistic re-appropriation, which question and stimulate our critical gaze.
Informations
06-03.2020 | 18:00 – Opening
07-03 > 24-05-2020 | Festival
Tuesday > Friday : 11 > 17:00 | Week-end : 14 > 18:00
1,25€ > 3€ | Free 1st Sunday of each month <12 years old.
Mill – Place communale 21 – 7100 La Louvière