Newsletter March 2020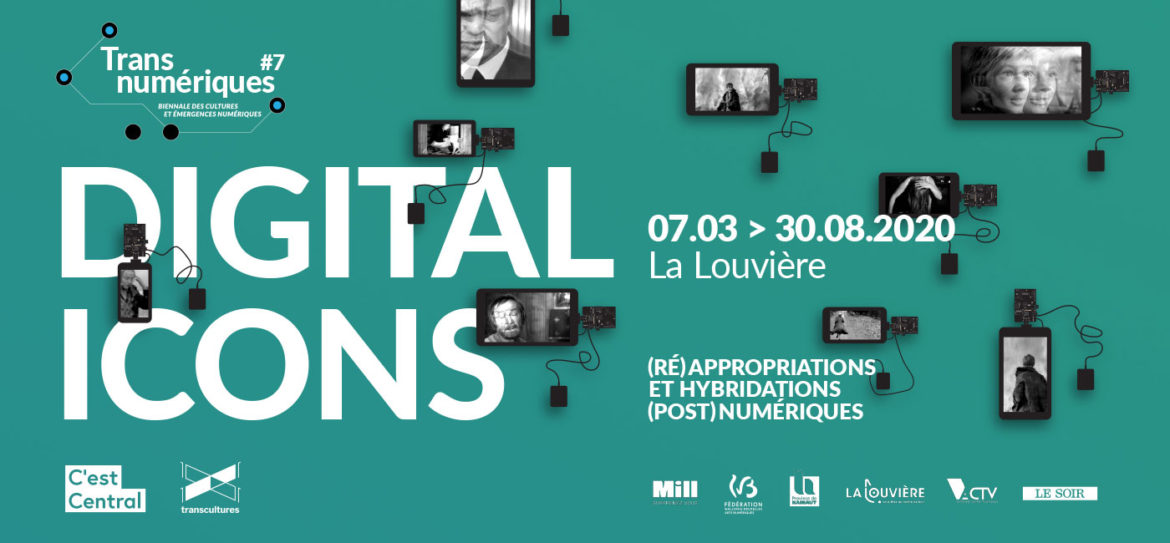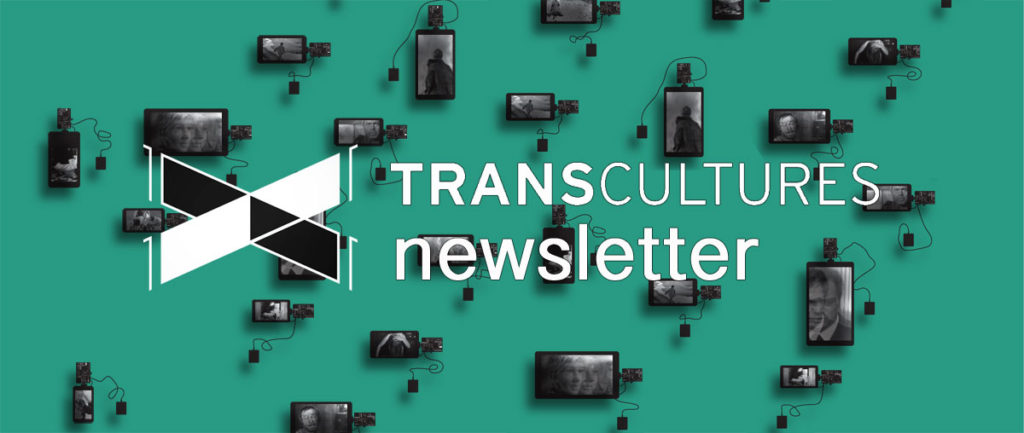 Nos intenses City Sonic #16 Winter Sessions à peine terminées, voici que commence Transnumériques, biennale des cultures et émergences numériques, articulée autour de l'exposition Digital Icons – ré/appropriations et hybridations (post)numériques , avec une quinzaine d'artistes belges et internationaux de premier plan – organisée au MiLL (La Louvière – ville où est installé Transcultures depuis peu).

A cette manifestation, est associée plusieurs événements dont la performance d'ouverture de poésie numérique du pionnier intermédiatique Jacques Donguy ainsi qu'en amont, une conférence-rencontre avec le créateur sonore Thomas Rouvillain autour des nouvelles formes d'immersion à Arts2 (Mons).

Transcultures est également associé à une nouvelle édition de l'événement transatlantique Ecritures (hybrides) initié avec Productions Rhizome avec plusieurs créations audio poétiques d'artistes du Québec et de la Fédération Wallonie-Bruxelles cette fois à Québec et à Montréal

Signalons aussi une belle alter soirée performative en perspective à Liège, le 27 mars, célébrant 12 ans de singularité poétique du duo Ordinaire (suivi par Transcultures depuis leur début) avec de nombreux invités sonnants et décapants.

Our intense City Sonic # 16 Winter Sessions barely finished, here begins our other biennial Transnumeriques (dedicated to the prospective diversity of digital arts & cultures) articulated this time around the exhibition 'Digital Icons – re / appropriations and (post) digital hybridizations' – with around fifteen interesting Belgian and international artists, organized at the Museum MiLL (La Louvière – city where Transcultures has recently been installed).

Several events are associated with this other itinerant estival including the opening performance of digital poetry by the French intermedia pioneer Jacques Donguy and, upstream, a conference-meeting with the sound creator Thomas Rouvillain around new forms of immersion at the Visual Arts School of Mons – Arts2.

Transcultures will honor this month its nomadic name  with a new edition of the transatlantic event 'Ecritures (hybrides)' initiated with Productions Rhizome featuring several Quebec, Belgian and intersecting audio poetic creations  in Quebec City and Montreal.

Let us also note a great performative alternative evening in Liège, on March 27, celebrating 12 years of poetic singularity of the duet Ordinaire (followed by Transcultures since their beginning) with many interesting guest artists.
Thomas Rouvillain (Fr)
Immersion sonore, réalité virtuelle et expériences audio
---
Conférence + rencontre – Transnumériques #7
Les films et les expériences en réalité virtuelle placent le spectateur au centre de l'espace. Comment appréhender la création sonore de ces espaces à 360°?

Quel est le rôle du sound designer et quels sont les étapes de création? Lors de cette intervention, Thomas Rouvillain, fondateur du studio Next Sound Lab, partage son expérience. Les technologies audio utilisées en réalité virtuelle peuvent être également servir à la création d'expériences audio dans des lieux réels. Sont présentés les axes de développement choisis par le projet Listen & See*, à destination des lieux culturels.

Thomas Rouvillain est ingénieur du son et fondateur de Next Sound Lab, un studio qui crée du son spatialisé pour les contenus immersifs: films en réalité virtuelle, installations.
Movies and VR experiences put the viewer at the center of the space. How to understand the sound creation of these spaces at 360 °?
What is the role of the sound designer and what are the stages of creation? During this intervention, Thomas Rouvillain, founder of the studio Next Sound Lab, shares his experience. The audio technologies used in virtual reality can also be used to create audio experiences in real places. The development axes chosen by the Listen & See * project are presented, intended for cultural places.
Thomas Rouvillain is a sound engineer and founder of Next Sound Lab, a studio that creates spatialized sound for immersive content: films in virtual reality, installations.
03.03.2020 | 11:30
Gratuit/Free
Arts² – 4a rue des Soeurs Noires (auditorium) – Mons
Partenariat ARTS2, Transcultures (dans le cadre des Emergences numériques et sonores)
*Le projet Listen&See est accompagné dans le cadre du projet transfrontalier
C2L3Play – Cross Border Living Labs
(programme de coopération transfrontalière Interreg France-Wallonie-Vlaanderen cofinancé par l'Union Européenne). Avec le soutien du Fonds européen de développement régional / Met steun van het Europees Fonds voor Regionale Ontwikkeling.
06.03 >
25.05.2020
---
La Louvière
Festival Transnumériques #7
Digital Icons
---
Exposition, performances, conférences, rencontres, ateliers…
Transnumériques – plate-forme pour les cultures et émergences (post)numériques 
Depuis son lancement par Transcultur, en 2005 à Bruxelles et à Mons (et par la suite dans d'autres villes en Fédération Wallonie-Bruxelles, parfois  avec des déclinaisons en France), Transnumériques a oeuvré, sous forme de festival d'abord annuel puis biennale, pour l'introduction des arts numériques (et bien souvent pour la première fois) dans des lieux ou des manifestations dont ça n'était pas l'objet premier, leur permettant de se connecter, ainsi que leurs publics, avec ses nouvelles pratiques et de renforcer les transversalités et connectivités transculturelles.La biennale Transnumériques #7 comprend une exposition thématique –Digital Icons- mais aussi, selon les opportunités et les contextes, des résidences, des workshops, des conférences/rencontres, des ateliers (pour différents publics donc les plus jeunes avec les Digital Kids) des ​Transdémos​ (présentation d'oeuvres in progress avec un retour direct aux concepteurs du public et des professionnels) ou, d'autres activités susceptibles de réunir, dans l'esprit fédérateur qui anime Transcultures, divers partenaires culturels mais aussi scientifiques, sociaux, pédagogiques…des communautés, des individualités et des singularités tout en provoquant une vraie rencontre avec les créateurs/concepteurs soutenus qui  bénéficient d'un éclairage qualitatif et peuvent éventuellement, également dans un souci d'accompagnement à la diffusion des projets, trouver d'autres opportunités de développement en Belgique et à l'international.Ces septièmes Transnumériques cette fois hennuyères s'interrogent -notamment via des modes de réappropriations artistiques et de détournements poétiques- sur ces images numériques aujourd'hui proliférantes, qui sont devenues, via nos petits et grands écrans prothèses, notre environnement quotidien et qui nourrissent -ou, c'est selon, colonisent – nos paysages mentaux.
Transnumeriques – platform for (post)digital cultures and emergences
Since its launch by Transcultures, in 2005 in Brussels and Mons (and subsequently in other cities in the Federation Wallonia-Brussels, sometimes with variations in France), Transnumériques has worked, first as a festival then as a biennial, for the introduction of digital arts (and very often for the first time) in places or events of which it was not the primary object, allowing them to connect, as well as their audiences, with its new practices and to reinforce cross-cultural transversalities and connectivities.
This 7th edition of Transnumeriques includes a thematic exhibition – 'Digital Icons' – but also, depending on the opportunities and contexts, residences, workshops, conferences / meetings, workshops (for different audiences, therefore the youngest with 'Digital Kids') 'Transdemos' (presentation of works in progress with direct feedback to public and professional designers) or, other activities likely to bring together, in the unifying spirit that drives Transcultures, various cultural partners as well as scientific, social, educational … communities, individuals and singularities while provoking a real encounter with supported creators who benefit from qualitative insights and can possibly, also for the sake of accompaniment to the dissemination of projects, find " other development opportunities in Belgium and abroad.
These seventh edition of Transnumeriques, this time in the province of Hainaut (Belgium), questions the digital images/icons – notably via modes of artistic re-appropriation and poetic diversions – which are now proliferating, which have become, via our small and large prosthetic screens, our daily environment and which nourish – or, it depends, colonize – our mental landscapes.
06.03.2020 – 18:00 | Opening Digital Icons @ Mill
Place Communale 21, La Louvière
Exposition/Exhibition >  art2.network (FR/BE) | Stephan Balleux (BE) | Lucas Bambozzi (BR) | Christophe Bruno (FR) | Damien Bourniquel (FR) | Gregory Chatonsky (FR) | Régis Cotentin (FR) | Alexandra Dementieva (RU/BE) | Jacques Donguy (Fr) | R. Luke DuBois (EU) | Francesc Martí (ES/GB) | Kika Nicolela (BR) | Laure Prouvost (FR) | Stéphanie Roland (Be) | Filip Sterckx (BE) | Alain Wergifosse (BE)…
curators > Philippe Franck + Jacques Urbanska (BE)
Avec Digital Icons (dans le cadre de la septième édition de  Transnumériques – biennale des cultures et émergences numériques), Transcultures, à l'invitation de Central, propose, dans les espaces d'exposition muséaux du Mill, une exposition (+événements attenant) autour des mutations et des traductions (d'un médium à l'autre) des images-signes, images-données, images-réseaux qui prolifèrent dans notre hypersphère et contaminent, pour le meilleur et le pire, notre regard et notre imaginaire.

Si d'ordinaire on peut avancer que l'image est une représentation, une mise au présent d'un objet absent, avec la révolution informationnelle que nous vivons, cette  actualisation d'une virtualité à la fois toujours rapprochée et toujours repoussée, explose de manière mutante et turbulente.

Comment les multi créateurs contemporains décryptent/détournent/réinventent-ils ces multiples mues imaginales  ? Digital Icons (sous le commissariat artistique de Philippe Franck et Jacques Urbanska) nous en propose quelques visions (poétiques, engagées, décalées…), fruits de divers modes de ré/appropriation artistique, qui interrogent et stimulent notre regard critique.
With 'Digital Icons' (as part of the seventh edition of  the biennal Transnumériques), Transcultures, at the invitation of Central, (cultural centre of La Louvière) is offering an exhibition (+ associated events) in the museum exhibition spaces around mutations and translations of the various signs-images, data-images, networks-images which proliferate in our hypersphere and contaminate, for better and worse, our gaze and our imagination.
If we can usually say that the image is a representation, a setting in the present of an absent object, with the information revolution that we are experiencing, this actualization of a virtuality that is both always close together and always pushed back, explodes mutant and turbulent manner.
How do contemporary multi-creators decipher / divert / reinvent these multiple imaginary shifts? 'Digital Icons ' (curated by Philippe Franck & Jacques Urbanska) offers us some visions (poetic, committed, offbeat, …), the fruit of various modes of artistic re-appropriation, which question and stimulate our critical gaze.
06.03.2020 – 18:30 | Performance Opening – Jacques Donguy Pd extended 1
Mill – Place Communale 21, La Louvière
Cette performance poétique et multimédiatique s'articule autour d'un ordinateur portable utilisant le programme Pure Data et d'une rétroprojection de fragments verbo-visuels fonctionnant sémantiquement comme des mots, qu'il s'agisse de mots typographiés ou d'images fixes ou animées. La lecture rythmique dialogue avec les logiciels de sons mis en boucle, qui peuvent aussi être des fragments de voix d'artistes (Kaprow, Deleuze, Filliou, Gysin, Burroughs, etc.). Il s'agit ici de produire des prototypes d'écriture qui fonctionnent sur deux sens (la vue, l'ouïe) au lieu d'un seul sens.
Depuis 1983, Jacques Donguy utilise l'aléatoire pour un texte infini, d'abord avec de la typographie, comme dans son installation avec l'Atari Poem qu'il présente dans l'exposition Digital Icons, puis des images 2D, 3D ou de courtes séquences vidéo et des sons mis en boucle, à partir de bibliothèques de textes, d'images, de sons choisis par lui-même.
Voir aussi l'article : Digital Icons, icônes numériques, vers une hybridation de tous les sens
This poetic and multimedia performance revolves around a laptop using the Pure Data program and a rear projection of verb-visual fragments functioning semantically as words, whether typographical words or still images or animated. Rhythmic playback dialogues with looped sound software, which can also be fragments of artist voices (Kaprow, Deleuze, Filliou, Gysin, Burroughs, etc.). The idea here is to produce writing prototypes that work in two directions (sight, hearing) instead of only one sense.
Since 1983, Jacques Donguy has used randomness for an infinite text, first with typography, as in his installation with the Atari Poem, (shown at 'Digital Icons') then 2D, 3D images or short video sequences and sounds looped, from libraries of texts, images, sounds chosen by itself.
06.03.2020 | 18:00 > Vernissage/Opening Digital Icons + Drink
Gratuit/Free
Mill – Place Communale 21, La Louvière
06.03 > 24.05.2020 > Exposition + Festival Transnumériques
Mill + Bois-du Luc + Mons
Production : Transcultures – Central.
Avec le soutien de la Fédération Wallonie-Bruxelles (arts numériques, arts plastiques) et de la Province du Hainaut. En collaboration avec le Mill.
Partenariats : Pépinières Européennes de Création – Le Château Ephémère – Bois-du-Luc. Musée de la Mine et du Développement Durable.
12.03 + 17.03.2020
---
Québec + Montréal
E-critures hybrides 2020
Drone / poésie / vision / vibration
---
Mois de la poésie Québec 2020 + Montréal
Initiée, en 2016, conjointement par Transcultures (La Louvière) et Productions Rhizome (Québec), E-critures (hybrides) est une manifestation transatlantique  qui promeut les nouvelles formes d'écritures poétiques intermédiatiques et les rencontres créatives entre artistes, chercheurs et organisateurs de la Fédération Wallonie-Bruxelles et du Québec. Pour cette nouvelle édition organisée à Québec (au Centre Horizon dans le quartier de Limoilou et à Montréal dans une formule salon accueille par l'auteur Jonathan Lamy), Transcultures propose deux créations audio poétiques belgo-québécoises avec le duo formé par la poétesse montréalaise Catrine Godin et l'artiste sonore Paradise Now et la vocaliste/performeuse/auteure Maja Jantar associée, pour une résidence, à la jeune et prometteuse auteure québécoise Maude V. Veilleux.

D'autres artistes québécois et auteurs de la Fédération Wallonie-Bruxelles seront également de la partie Bertrand Laverdure et Pascal Leclercq feront l'objet de nouvelles publications livresques aux éditions Rhizome.

Avec/With Mathieu Arsenault, Nicole Brossard, Érick d'Orion, Philippe Franck, Catrine Godin, Maja Jantar, Carl Lacharité, Bertrand Laverdure, Pascal Leclercq, Yannick Renaud, Paradise Now, Bertrand Perignon et Érika Soucy, Virginie Beauregard D., Sébastien Dulude, Maude V. Veilleux, Rachel McCrum et l'Ordre de l'Infiniment Nada…
Initiated jointly by Transcultures (La Louvière) and Productions Rhizome (Québec), E-critures (hybrides) is a transatlantic event that promotes new forms of intermedia poetic writing and creative meetings between artists, researchers and organizers of the Wallonia Federation- Brussels and Quebec.
For this new edition organized in Quebec (at the Horizon Center in the Limoilou district and in Montreal in a lounge formula hosted by the author Jonathan Lamy), Transcultures offers two Belgian-Quebec creations with the duo formed by the Montreal poetess Catrine Godin and sound artist Paradise Now and vocalist / performer / author Maja Jantar associated, for a residency, with the young Quebec author Maude V. Veilleux. Other Quebec artists and authors from the Wallonia-Brussels Federation (Bertrand Laverdure, Pascal Leclercq) will also be participating, which will be the subject of new book publications by Rhizome editions.
12.03.2020 | 17:00
Centre Horizon – 801 4e Rue # 204, Québec (Limoilou)
17.03.2020
Salon Jonathan Lamy – Montréal (détail info voir site Web)
Partenariat : Productions Rhizome, Transcultures
Avec le soutien du Conseil des arts et des lettres du Québec, de l'Entente de développement culturel intervenue entre le ministère de la Culture et des Communications et la Ville de Québec, de la Commission mixte permanente Québec/Wallonie-Bruxelles soutenue par le Ministère des Relations internationales du Québec et Wallonie-Bruxelles International, et du Conseil des arts du Canada.
jusqu'a/untill
14.03.2020
---
École des Beaux-Arts
Wavre
City Sonic #16 @ Beaux-Arts Wavre
Sonic Scapes, Cassette Art#3, Nuances
---
Exposition/Exhibition
Sonic Scapes


Selection audio video Transcultures + Pépinières européennes de Création
Avec/WithChristophe Bailleau, Gauthier Keyaerts, Stephane Kozik, Tamara Laï, Kika Nicolela, Paradise Now featuring Jacobleu, Pastoral, Alain Wergifosse.
Les Pépinières européennes de Création (réseau international de soutien à la mobilité et à la diffusion des arts contemporains, des créations pratiques émergentes et intermédiatiques) et Transcultures proposent une sélection audio-vidéod'artistes hybrides de générations et d'origines variées. Elle souligne le lien dynamique entre les dimensions visuelle et sonore d'un "paysage" (entendu comme le résultat d'une construction et d'une vision humaine et culturelle).

Sonic Scapes est une nouvelle sélection composée de 8 vidéos d'artistes sonores, vidéastes et intermédiatiques de générations et d'origines variées.
The European Pepinieres of Creation (international network of promotion and exchange for contemporary arts and intermedia creation) present, an audio-video selection that highlights the link between visual landscape and 'soundscape' (acknowledging that the landscape is always the result of a human and cultural construction).
'Sonic Scapes' is a new audio-video selection featuring 8 short works by international sound/visual/intermedia artists of various generations and origins.
Cassette Art#3


divers artistes/various artists
Cette micro-expo « Cassette Art » (la troisième dans des lieux et avec des contenus différents d'une série lancée lors de City Sonic 2015) qui investit la Bibliothèque de l'Académie des Beaux-Arts, rend un hommage vivant et vibrant à la cassette audio en tant que médium créatif, sonique, graphique et relationnel avec des archives datant du début des années 80 (quand la création audio expérimental et la "cassette culture" ont explosées), ainsi que des objets plus récents, complétés par une mise en écoute d'une sélection de pièces sonores expérimentales réalisées sur ou avec des cassettes.
This micro exhibition, 'Cassette Art' (the third in different places and with different contents from a series launched at City Sonic 2015) which sets up in the Library of the Academy of Fine Arts, pays a living and vibrant tribute to the audio cassette as a creative, sonic, graphic and relational medium with archives dating back to the early 80's (when the audio experimental creation and the "cassette culture" were hyper active) as well as more recent objects. It is completed by a listening of a selection of experimental sound pieces made on or with cassettes
Sarah Lecomte – Nuances
dessins/drawings
Pour cette commande de Transcultures/City Sonic d'œuvres plastiques autour du son, Sarah Lecomte (actuellement étudiante à l'écoles des arts visuels de Mons ARTS² – Atelier Image dans le milieu) a travaillé de deux façons: une partie des dessins rejoint le son à proprement parler dans sa physicalité (un cri, un élastique…), tandis que dans d'autres oeuvres, elle explore les femmes hybrides avec des instruments ou des supports musicaux.
À l'image de sa propre perception des phénomènes sonores et des artefacts musicaux, elle a opté pour conserver une simplicité en résonance directe ou indirecte avec ceux-ci.
For this Transcultures/City Sonic visual work which revolves around sound, Sarah Lecomte worked in two ways: a part of the drawings connects to the actual physicality of sound itself (a scream, a rubber band…), while in other works, she explores hybrid women with instruments or other musical supports.
With her own perception's image of 'sound phenomena and musical artifacts', she opted to maintain a simplicity, whether the resonance of these is a direct or indirect one.
jusqu'a/untill – 14.03.20
mardi, mercredi, jeudi : 15 > 19:00 | samedi : 10 > 16:00
Gratuit/Free
École des Beaux-Arts – Rue du Chemin de fer, 17 – Wavre
Production : Transcultures avec le soutien de la Fédération Wallonie-Bruxelles, de la Ville de Wavre et de la Province du Brabant wallon. En partenariat avec l'Ecole des Beaux-Arts de Wavre et les Pépinières européennes de Création.
27.03.2020
---
L'anvert
Liège
Ordinaire + guests
Concert/performance
---
Eric Therer, Stephan Ink + Zoé Pireaux, Pavel Tchikov, Eric Doppagne, eRno, Henri Dethier, Bertrand de Lamalle, Johana Beaussart
Depuis 2012, Eric Therer (textes actés) et Stephan Ink (basse, traitements/paysages électroniques) jouent ensemble, dans divers contextes (le premier était dans le festival international des arts sonores City Sonic) sous le nom de Ordinaire.

Dans ce bouillonnant laboratoire audiophile liégeois et internationaliste qu'est L'an vert, le duo a convié d'autres artistes singuliers : Zoé Pireaux (chant), Pavel Tchikov (thérémine), Eric Doppagne (échelle), eRno (piano), Henri Dethier (basse), Bertrand de Lamalle (sax), Johana Beaussart (voix),… pour une soirée extra-ordinnaire déclinée en deux set d'une trentaine de minutes chacun mêlant nouvelles pièces et reprises d'un répertoire à la poésie sur-réelle et décapante qui nous plonge dans un univers où le quotidien conventionné révèle toute son étrangeté.

Since 2012, Eric Therer (spoken texts) and Stephan Ink (bass, electronic sondscapes & traitements) have been playing together, in various contexts (the first was at the international sound arts festival City Sonic) under the name of Ordinaire ('ordinary').

In this bubbling Liège and internationalist audiophile laboratory that is L'An Vert , the duet invites other unique artists: Zoé Pireaux (vocals), Pavel Tchikov (theremin), Eric Doppagne (scale), eRno (piano), Henri Dethier (bass), Bertrand de Lamalle (sax), Johana Beaussart (voice),… for an extra/ordinary evening  in two sets of about thirty minutes each mixing new and old pieces. A powerful sur/real poetry, which immerses us in a universe where the daily conformism reveals all its strangeness.
27.03.2020 | 20:30
8 € / 6 € (demandeurs d'emploi) / 5 € (étudiants)
L'An Vert
Rue Mathieu Polain 4, Liège