AGORA(-OFF)-ON – Cultural space and festival for confined arts | #Nola2020
Posted on

18/06/2020

in 2020, Agenda, All news, Artists, Creaconnections, Exhibitions, International, NoLA, Pépinières, Production, Projects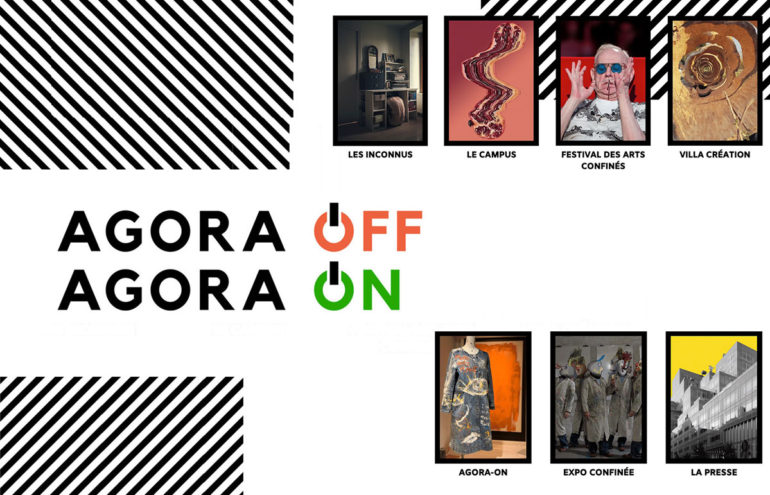 In the framework of their "Creaconnections' online program and the call for proposals/creation/distribution 'NoLA (No Lockdown Art)" project, Transcultures and the European Pepinieres of Creation are happy to support the cultural space project « AGORA-OFF », imagined and designed by the artists Antoine Méthivier, Pierre-Marie PEM Braye-Weppe and Arnaud NANO Méthivier. This project will ensure cultural continuity during the lockdown period imposed by Covid-19 despite the cultural institutions' temporary closing down in France and abroad.
This dematerialized cultural space aims to be an infinite place which explores and experiences collective processes to inhabit the world and build in common. An open place that implies spaces of freedom and seeks alternatives, a place, which is difficult to define because its main point is a doorway to the unexpected in order to build endlessly the possibilities to come. Finally like an Agora, it is a place of international exchange which is located in all the cities of the world. It is an experience that may seem precarious but above all concrete, joyful and inclusive, a multi-disciplinary space where all the universes get mixed up and where everything is possible.
From March 16 until May 10, 2020, AGORA-OFF hosted the first edition of the Festival des Arts Confinés, the 1st festival dedicated to original confined creations, as well as a Campus for students and speakers in art schools, and other events. More than 300 unpublished works created in confinement, from Japan to the United States, from Tunisia to England which are still available online today.
Monday May 11 at 00:00, AGORA-OFF open AGORA-ON, a place dedicated to all creators permanently or temporarily confined (in remand centers, prisons, internment, immigration or refugee camps, in administrative detention center in medium or long-stay hospitals, psychiatric hospitals, nursing homes) and Isolated creators, confined, cut off from the world, etc.
Informations
Antoine Méthivier, Pierre-Marie PEM Braye-Weppe et Arnaud NANO Méthivier