07.02.2020 | Transonic Second Life Sessions #2 – Performances (Web)
Posted on

05/02/2021

in 2011, Agenda, All news, Artists, Arts Numériques, Belgium / FWB, Concerts, Creaconnections, Distribution, NoLA, Production, Projects, Second Life, Soundart, Transonic, Transonic Sessions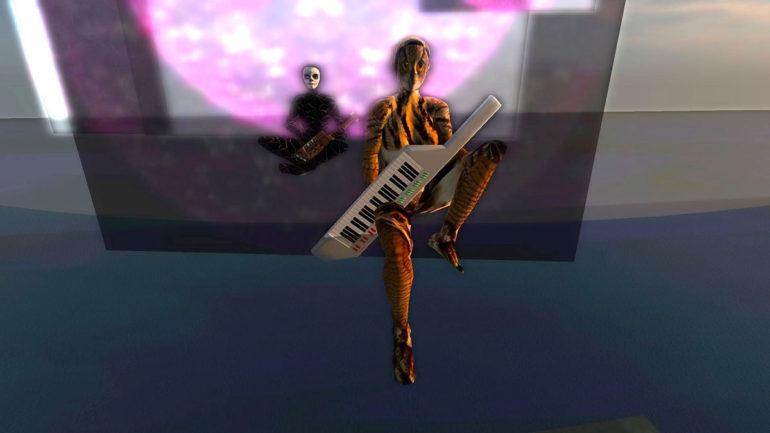 Christophe Bailleau versus A Limb - Approaching Silence
This Transonic Second Life Session #2 brings together musicians Christophe Bailleau (also visual artist – FR / BE) and A Limb (Didié Nietzsche's solo project also involved in the audio multimedia collectives Radio Prague and Lamaphi – BE) for an electro, cinematic set, sometimes swaying, always contrasting, each one here reacting / improvising on the other's piece. The two accomplices were already involved in the 11:60 project – a title in homage to French filmmaker Quentin Dupieux – whose eponymous album, released in 2016, on the American cassette label Sacred Phrases featured long, throbbing sequenced tracks).
Christophe Bailleau
Since the 90s, Christophe Bailleau (French born artist, based in Wallonia) has developed a singular sound work with electronic landscapes enhanced by post-folk guitar, percussions, voices and concrete sounds. His works play on waiting, silence and tension but also seek a certain light. Since 2004, his works have been published on different Europea indie labels: Le cri de la harpe, Stilll, Postcard, Eglantine, Annexia, Soundscaping, Optical Sound, Transonic…
He also collaborates regularly with other cotemporary artists (most recently with the plastic artist Claire Ducène ) and musicians (including Philippe Franck with whom he founded the audio-video combo Pastoral, Didié Nietzsche for electro duet 11:60 and also more recently Billy Hasni in the electro-industrial project Prism).
As a mulit/interdisciplinary creator, he's been regularly also made videos, installations, radio creations, drawings and published two books of poetic fragments.
A Limb - Didié Nietzsche
A Limb (Didié Nietzsche solo project – BE) is a kind of artistic Frankenstein, exhuming all sorts of music corpses from their graves, stitching an ambient body with funk legs, punk feet, experimental arms, jazz hands, a drone head, inserting a big ethnic music heart and krautrock lungs… then bathing the whole "body" into a dub effects bath, until an electro thunderbolt strikes it and it's… alive! Hmm.. sometimes science goes too far, but it's too late to back-pedal…
A Limb also enjoys experimenting on his/her own skin, changing regularly into a mutant monkey, a mirror ball, bunny dancer, a lizard alien… A Limb plays regularly at Cat's Circus, Burn 2 (official virtual version of the Burning Man) and for several special events, and is often accompanied by SaveMe Oh's (PB) for the visual performance.
A LIMB @ Cat'S CIRCUS - Second Life (2018)
Informations
18.12.2020
7:00 am SLT > 16:00 (Paris/Brussels/Berlin)
Free
Production
Coordination : Didié Nietzsche, Philippe Franck
Transonic Label – Transcultures – Pépinières Européennes de Création – With the support of the Minister-President of the Federation Wallonia-Brussels
In the framework of NoLA – No Lockdown Art – Creaconnection program
credits visuel : Jules Nerbard