06 > 10.07.2021 | Transcultures – Pepinieres of Création @ Zone Libre 2021 – Bastia (Fr)
Posted on

01/07/2021

in 2021, Agenda, All news, Artists, Conferences, Creaconnections, Distribution, International, Mediation, NoLA, Paradise Now, Partners, Pépinières, Philippe Franck, Projects, Soundart, Transcultures team, Video Arts, Young artists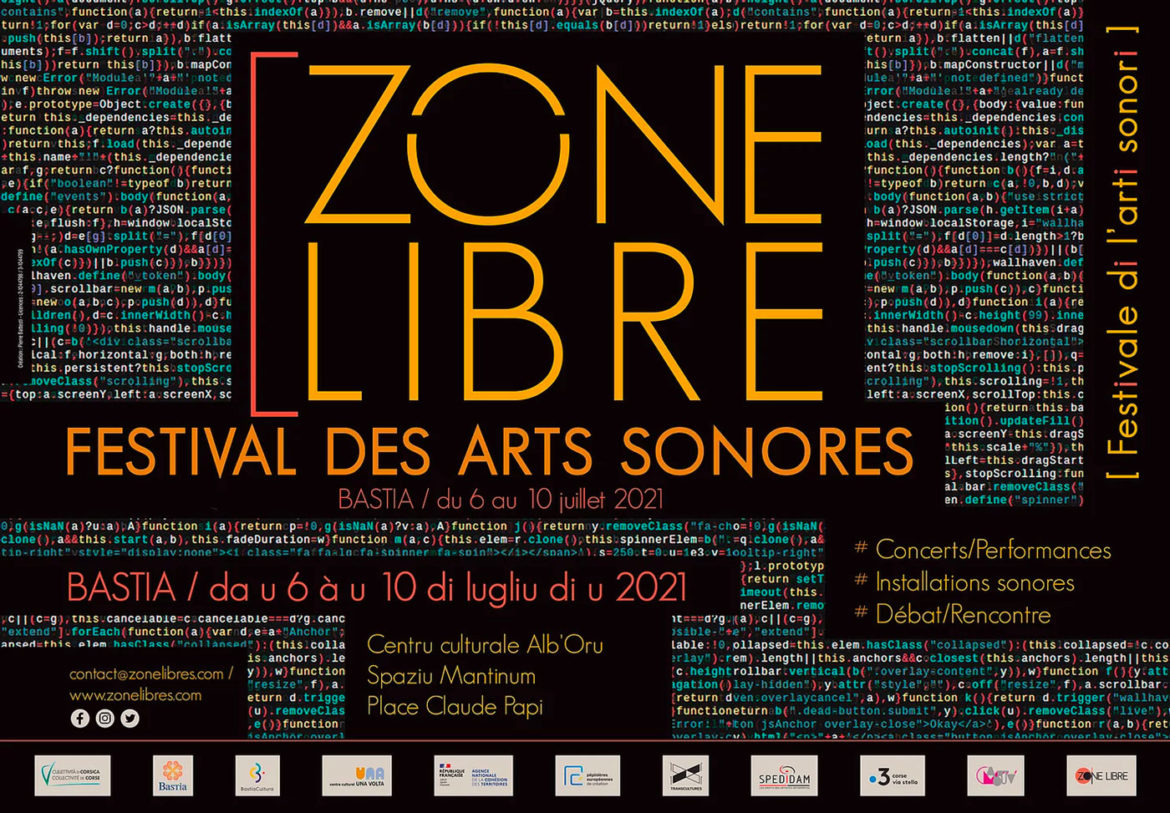 The Sound Arts Forum, renamed Zone Libre (Free Zone), from the name of the Corsican association that initiated it, asserts itself as a sound arts festival which, as Tommy Lawson (its artistic director, also sound creator) specifies, "offers forms adapted (a rich program of concerts, performances, sound installations) to current and forward-looking constraints, forms reinvented around new stories and more generally digital writing ".
Zone Libre brings together, over five days, several places in the city of Bastia and presents both island, national and international talents. Transcultures and the European Pepinieres of Creation are pleased to be associated with this Summer edition (also with a time more focused on reflection and debate – sound arts forum – scheduled for October 2021 followed in November, at the Una Volta cultural center, by the presentation of the sound installation PHASME) to present a selection of "No Lockdown Art" videos bringing together around fifteen international visual and sound artists, an evening of sonic performances with Paradise Now playing a live soundtrack on a video by Régis Cotentin and Christian Vialard in an organic audio solo set; the latter, professor of digital arts at the Villa Arson / National Center of Contemporary Art and National School of Art (Nice) also participates in a round table around various issues related to digital and sound emergence (named after program initiated by Transcultures in 2007 in connection with a network of Belgian and French art schools, of which Villa Arson is a partner and which Zone Libre will join), and presents a sound installation (also supported by the European Pepinieres) by one of his students.
These different activities fully participate to a new festival formula which celebrates the sound art(s), in its most creative and diverse expressions and privileges, in its programming and its production line, creation and performance. discovery, in a demanding way.
Yann Van Der Meer (Fr) - Trois petites percées ambulatoires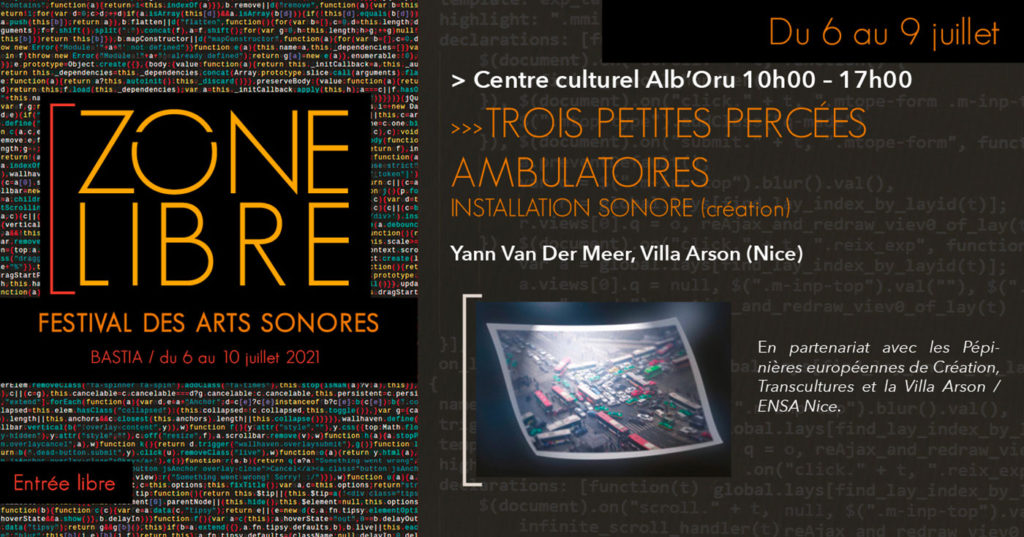 From the standpoint of selfless walking, the city and its surroundings reveal themselves in a strange way. What does the temporality of wandering in an environment prohibiting improvisation imply?
Yann Van Der Meer is a 5th year student at Villa Arson (Nice)
Three-channel musical installation. Duration: 15 min
Co-production: European creation nurseries, Transcultures and Villa Arson / ENSA Nice.

As part of the "Digital and Sound Emergences" program initiated by Transcultures Belgium
No Lockdown Art Audio video selection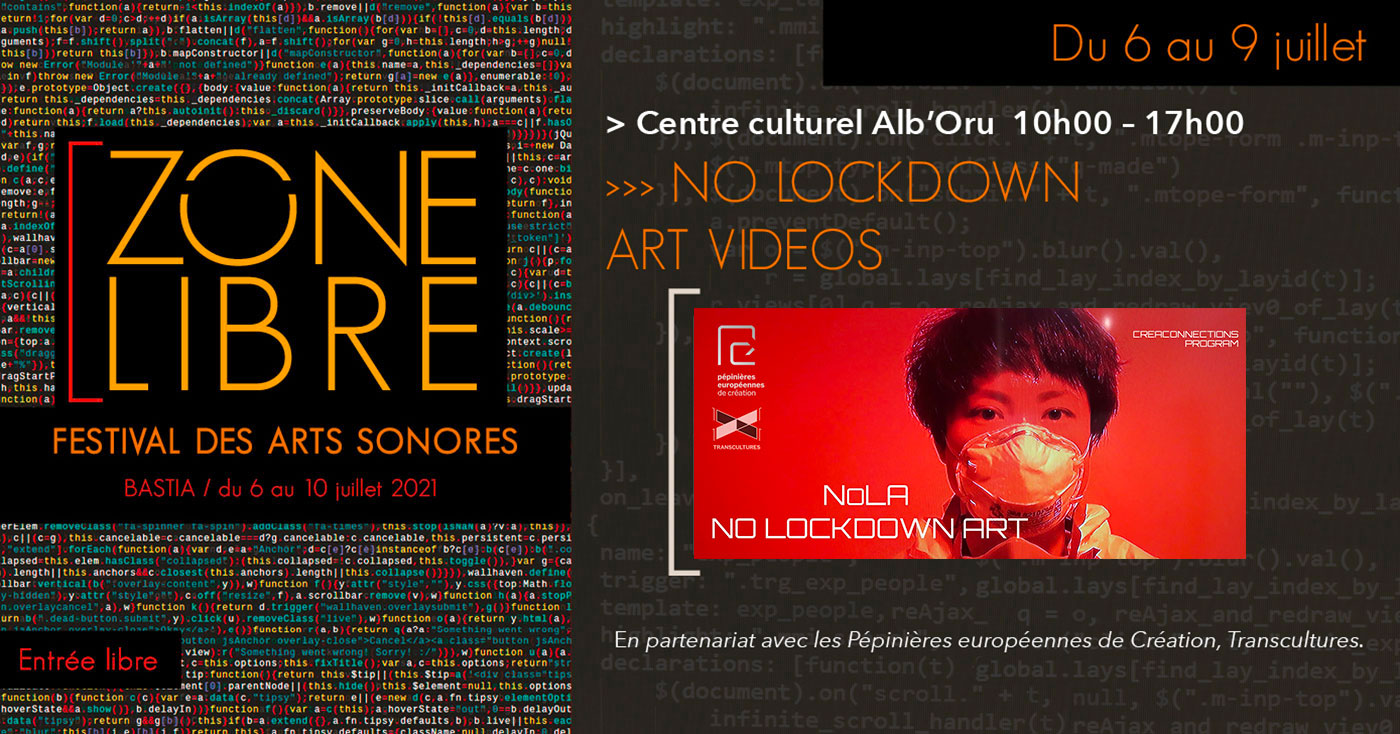 As part of the No Lockdown Art ongoing project initiated by Transcultures and the European Pepinieres of Creation during the first lockdown linked to the Covid-19 to support contemporary artistic projects likely to be broadcast online, several videos have been produced by artists (visual, sound, multimedia…) integrating the sonic and experimental dimensions in creations of various aesthetics, which escape traditional classifications and offer a poetic and alternative look on our mutant world.
For Zone Libre 2021, the videos are grouped into 3 thematic chapters with exploring metavers and cyber spaces, others which are the result of collaborations / exchanges as well as those with a more directly poetic aspect in the text or the treatment of images.
Meeting-Debate | Sound and digital emergence - The challenges of supporting creation in art schools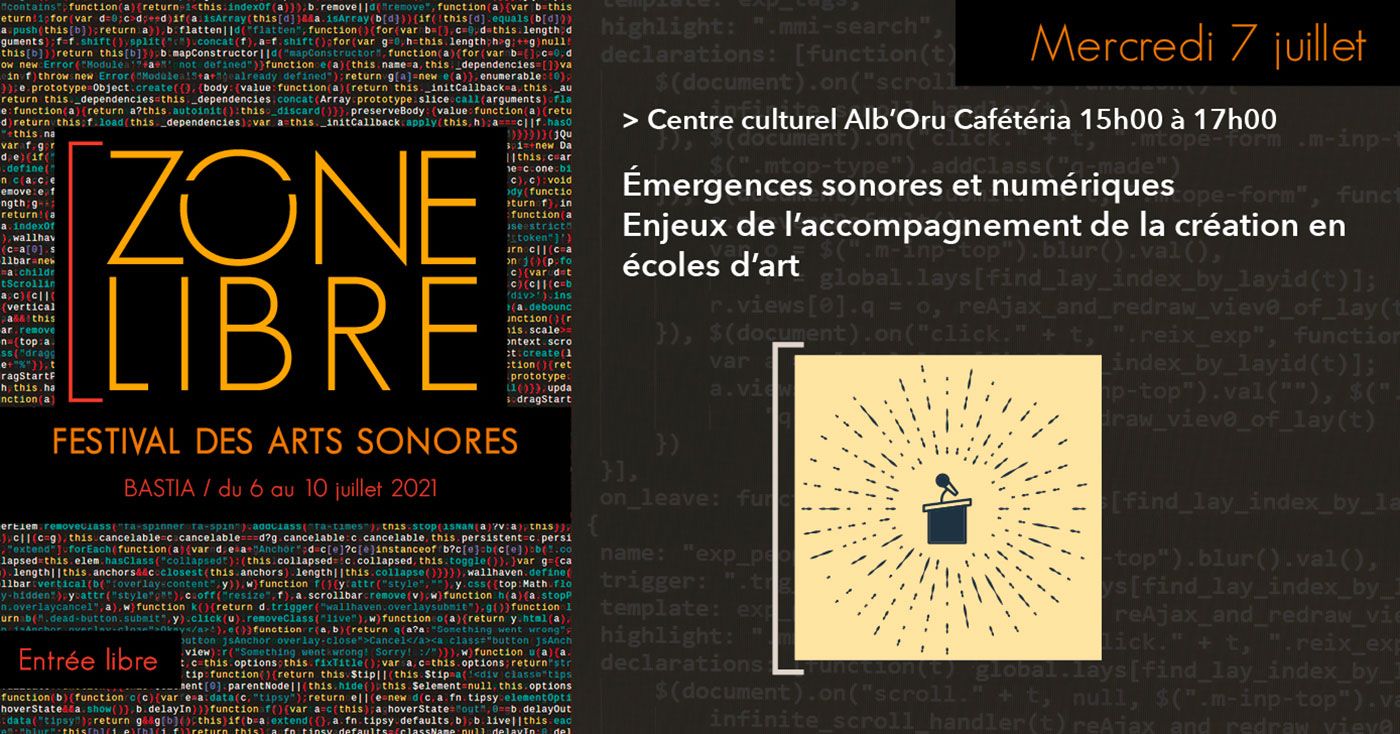 Zone Libre is inaugurating this year the 'Sound and Digital Emergences" section intended to develop in future editions. Thanks to a partnership with the international network of European Pepinieres of Creation and with Transcultures (Centre for digital and sound cultures – Belgium) which since 2007 has successfully developed a year-round support program for creation and dissemination as well as technological and critical support for young talents from French art schools (including Villa Arson-Nice) and abroad and promoting exchanges of skills and artistic collaborations.
What are the challenges, pitfalls and horizons of such collaborative initiatives today? How do the dimensions of awareness, creation and professionalization come together in concrete terms?
With Philippe Franck (director of European Pepinieres of Creation and Transcultures – Centre for digital and sound cultures/Belgium), Christian Vialard (artist and professor at Villa Arson – ENSA Nice), Yann Van Der Meer (artist / student at Villa Arson), Tommy Lawson (sound artist and artistic director of Zone libre).
In partnership with the European Pepinieres of Creation and with Transcultures.
Paradise Now (Mons) + Régis Cotentin (Lille) | Performance audio-visuelle (première française)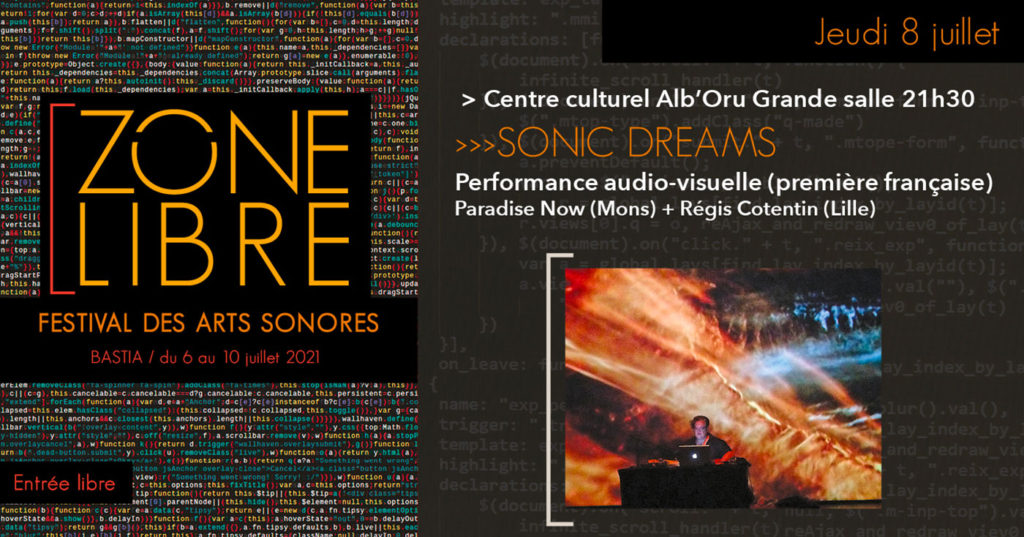 On phantasmagorical, sumptuous and dreamlike images by French videographer / director Régis Cotentin, Paradise Now, Belgian sound and intermedia creator offers a transonic and cinematic journey through vaporous and enveloping atmospheres punctuated by poetic fragments to sensitive post-songs or even to throbbing grooves.
Dureation : 45 min
In partnership with European Pepinieres of Creation and with Transcultures.
Informations
06 > 10.07.2021

Centru culturale Alb'Oru – Spaziu Mantinum

Place Claude Papi 20600 Bastia – France
Free – booking : +33 6 08 07 47 86
Production
Zone Libre is supported by the Collectivité de Corse, the city of Bastia and SPEDIDAM
In partnership with the European Creation Nurseries, Transcultures, the Una Volta Cultural Center and the Cie Art Mouv '.