30.12.2022 | Senis ir Jūra – Kotryna Žilinskaitė (Lt) – Sonopoetic performance | Ideas Block (Lt)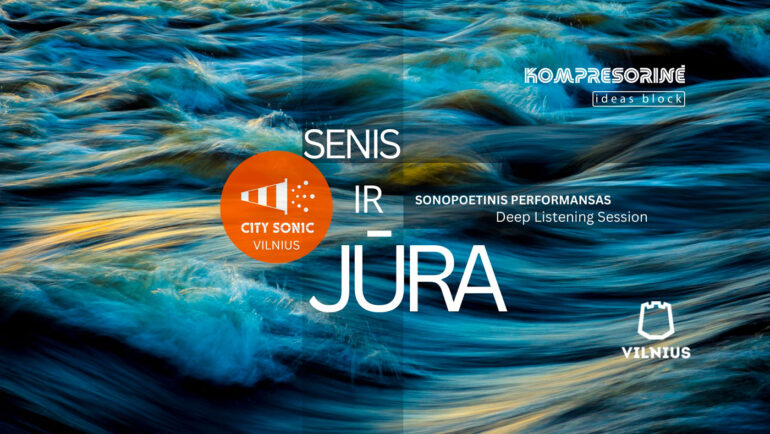 The "Senis ir Jūra" sonopoetic performance is the third and last event of this year's "City Sonic – Vilnius" – a sound experiential composition based on Ernest Hemingway's novel "The Old Man and the Sea" written in 1951 when the writer/journalist was living in Cuba.
This Hemingway' epic novel  is loved by a range of readers all over the world, as it is very simple, realistic and close to human everyday life, but at the same time embracing a wide range of philosophical and psychological questions and symbolic meanings.
The performers reveal human emotions, feelings, and states woven into this fight between Man and Nature: determination, joy, triumph, exhaustion, depression, despair, loneliness, rage, regret, resignation…
The audience is invited to participate in this performance as an active listening session, which will be followed by a discussion about the experiences and feelings of the listeners and the anxieties, experiences, and long-term hardships experienced by the person revealed in the literary work of the main novella character, Santiago, the old fisherman.
The ambisonic sound system is used for an sonopoetic performance that enhances the experience of active listening and immersion into sound.
Directed by Kotryna Žilinskaitė
The texts are read by Kotryna Žilinskaitė
Sound composition – Jokūbas Preikša
Kotryna Žilinskaitė (Lt)
Interdisciplinary artist based in Vilnius, Kotryna Žilinskaitė combines theatre, contemporary and butoh dance, along with sound and litterary performances. Kotryna organizes festivals, and concerts, directs films and plays, creates and participates in artistic projects, performances, and happenings, and leads various creative workshops. She is studying for a Master's degree in Music Therapy at Vilnius University and working with the cultural organizations "Užiateka" and "Oasis – art therapy" (which she initiated) on various sound art and intermedia events and projects.
Jokūbas Preikša (Lt)
Now a doctoral student at the Center for Physical and Technical Sciences, Jokūbas has been a DJ in many Lithuanian festivals and pubs. In 2017, the artist left Lithuania to study in Poland, he bought his first synthesizers and began to understand the free software VCV Rack, a virtual analog modular synthesizer. He created the electronic music group "El Chico Fuendre" with composers Domantas Pūras and Ignas Šoliūnas.
Today, Jokūbas integrates its modular synthesis systems with VCV software, which it uses for group and solo performances.
Although formed by computer algorithms which give great richness and an assertive complexity to its production, the sound of Jokūbas Preikša remains strongly analogical. With a purely live approach to his sound creation, Preikša wants, in a way, to present himself as the conductor of his ensemble of instruments.
Informations
30.12.2022 |19:00
Ideas Block
A. Goštauto g. 11, 01108 Vilnius, Lituanie
The event is free, donations are welcome
Production
Ideas Block, City Sonic Vilnius
Supported by – Vilnius City Municipality, Transcultures, European Pepinieres of Creation, Užiateka, Menų Oazė