27.02 > 26.03.2023 | Fabien Maheu / Animo Plex (Fr/Be) Residency | Transonic Lab (Be)
Posted on

17/02/2023

in 2023, Agenda, All news, Artists, Belgium / FWB, Poetry, Production, Projects, Résidences, Soundart, Transonic, Transonic Residences, Video Arts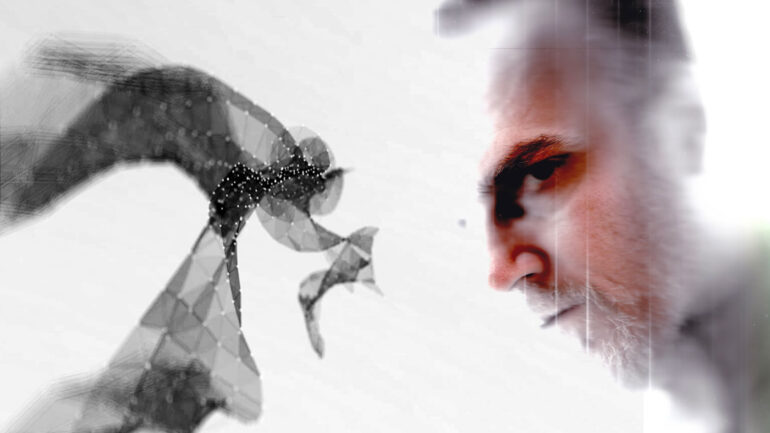 Stasis, an erotic outcrop of the end of the world
This residency of the second part of the Stase project hosted by Transcultures at the Transonic Lab is based on a device-installation combining sound poetry and video.
Always in search of an original language in tune with the aesthetic issues of its time, Animo Plex, the multidisciplinary company of which Fabien Maheu is co-founder, summons concerns centered around the human, in the current anxiety-provoking context, in grip directly with the environmental, social and political concerns that feed the news. Faced with the imminence of a catastrophe with elusive contours, what latitude does the individual have left?
The show explores two possible paths, both centered around rewriting.
Rewriting the future, centered on action, with the search for viable solutions within the framework of a survivalist organization.
Rewriting of the past also, in an introspective movement, an attempt to pacify with the state of things, a sometimes clumsy philosophical approach but which perhaps allows in the long term to heal the soul. But Stase is above all a funny experience, full of energy and colorful, an anthology of sensations to take home with a smile.

Fabien Maheu (Fr/Be)
writer, a film maker and a performer living and working in Brussels. After a PhD of semiotics and cinema (Paris 7), he publishes articles and books, meanwhile he starts engaging in video production.
He produces about 30 shows and performances which are displayed in Europe, Canada and China (Hors les Murs prize 2014 IF).
Since 2012, he had several solo exhibitions in France and Germany, and makes computer graphics for stage (dance and electronic music).
He directs the Animo Plex group whose productions are about contemporary stage, digital art and sound effect poetry.
Informations
27.02 > 26.03.2023
Transonic Lab
Production
Transonic / Transcultures