22.04 > 15.05.2023 | XR BURY – From the visionary work of Pol Bury to digital arts | La Louvière (Be)
Posted on

15/03/2023

in 2023, Agenda, All news, Artists, Arts Numériques, Arts Sciences, Belgium / FWB, Conferences, International, Jacques Urbanska, Paradise Now, Partners, Pépinières, Philippe Franck, Production, Projects, Résidences, Soundart, Transcultures team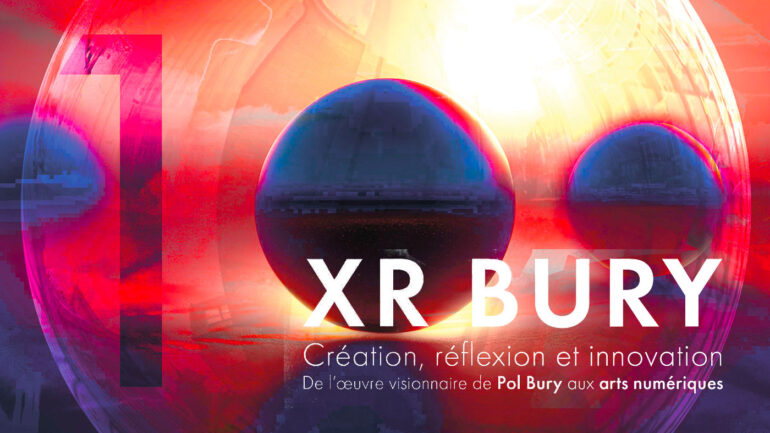 On the occasion of the centenary of Pol Bury's birth, Transcultures, in partnership with the Paragraphe laboratory (CiTu axis) of the Paris 8 University and CY Cergy-Paris University, is organizing a research/creation seminar on art in the digital and AI era with teacher-researchers and artists related to sound and hypermedia devices in La Louvière, the birthplace of the plastic artist and author Pol Bury, co-founder of Daily-Bul – way of thinking, magazine, and publishing house.
In the first half of the 20th century, Pol Bury, who used text, poetry, media, experimental cinema, kinetics (thus the sound produced by/in matter and moving machines), and the interrelationships between art and nature, anticipated these possibilities. In this sense, he anticipates the interdisciplinary research currently being carried out by artists and teacher-researchers associated with the CiTu-Paragraphe Laboratory of the Paris 8 University or those regularly invited by Transcultures.
22 > 29.04.2022 | PPP XR Bury Residency - Société i-Matériel | Transonic Lab La Louvière

The members of the Society i Material bringing together creators/researchers Marc Veyrat/design, initiator of the Society i Material project, Jonathan Juste/programming, images, Gaetan Le Coarer/images, Philippe Franck/sound and poetic design are invited, by Transcultures, for a creative residency, in La Louvière, in order to complete the first phase of the augmented reality journey PPP (Pol Pipolling Project) – XR Bury.
This will be presented from April 27 to May 14 in the city center of La Louvière, in the context of events celebrating the centenary of the birth of the Louviéroise artist Pol Bury (1922-2005), via two posters which call for a application allowing to see and listen on a smartphone to short visual, sound and poetic sequences diverting or inspired by the indisciplinary, surrealist and visionary approach of Pol Bury. These images, words and sounds are inscribed on the environment where the visitor finds himself to poetically metamorphose him.
26.04.2023 | Sound arts workshop/alternative urban explorations workshop | Centrissime (Be)

This workshop, which brings together PHD students and professors from the CiTu-Paragraphe laboratory – University of Paris 8, takes place in the preamble to the symposium around the legacy of the multidisciplinary and indisciplinary artist (from La Louvière), Pol Bury (1922-2005).
It explores more specifically the issues and work of doctoral students/researchers/creators related to itinerancy and the mediality of sound arts (Philippe Franck) as well as to alternative explorations of models of decentralization of digital infrastructures in the city (Stanislav Kurakin).
27 > 28.04.2023 | Art in the Age of Artificial Intelligence - XR Bury | Centrissime (Be)

Image/text/sound/network/IA/blockchain/metaverse… All artistic creations are now linked to digital practices infiltrating even the very heart of the conception of works. These question not only the notion of art, artist, and artistic approach, but also the way we discover, exchange, collect, and preserve them. These increasingly sophisticated tools that challenge even the legitimate interest of the artist in anticipating and experimenting with them, provoke crises, questions, and upheavals that seem irreversible in the very functioning of our societies, which are accustomed to categorizing these functions without complexes.
The guests of this research symposium will question these issues, which are part of current mutations related to the deployment of digital technologies in our territories, or why this deployment that is taking place responds to necessary transformations of our conception of the dissemination and communication of information on our territories.
This Deus ex Machina scares us for it anticipates, produces, and already controls the ways in which programs respond to us and construct social, economic, and political links, sometimes even without our knowledge. The stakes that await us are considerable.
27.04 > 14.05.2023 | Augmented reality tour - XR Bury | La Louvière (Be)

] P P P [ – XR Bury pays tribute to the inventiveness of Pol Bury, a multidisciplinary and visionary creator (from Surrealism to Kinetic Art), and highlights emblematic works and locations of his presence in the Louvière area. It allows for a playful and poetic connection between several locations in the city center from April 27th to May 14th.
] P P P [ reaffirms both the importance of the connection between Pol Bury and his hometown and the inventiveness and exigency of this artist in embracing technological tools that question the current relevance of Art and its engagement in everyday life. This augmented reality will be accessible in the city through Black and White ] P P P [ and ] . . . [ posters that will allow anyone with a mobile phone to discover a free, visual, and sonorous artistic interpretation of selected works by Pol Bury, spatialized at 360°.
13.05.2023 | Sonic Sphère - Transonic Sessions Live | La Louvière (Be)
Sonic Spheres is the project that concludes this period of reflection/creation around the artist Pol Bury (1922-2005) . It consists of:
A Transonic Session 
A performative moment on May 13th in the afternoon at Daily Bul (as part of La journée mondiale du Louviérois) with Raymond Delepierre (Be), Alain Wergifosse (Be), Pastoral (Fr/Be), IsaBelle + Paradise Now (Fr/Be).
A sound creation project 
The release of a sound compilation (online album, CD + booklet on the Transonic label) around the legacy of the artist Pol Bury with the participation of composers and sound and intermedia artists based in Wallonia-Brussels Federation, to whom Transcultures commissioned, as part of the centenary of Pol Bury's birth, a sound piece freely inspired by the work of this visionary and undisciplined multidisciplinary creator from La Louvière.
With sound creations by Charlemagne Palestine (USA/Be) + Lionel Hubert (Fr), Todor Todoroff (Be), Charo Calvo (Es), Raymond Delepierre (Be), IsaBelle + Paradise Now (Fr/Be), Pak Yan Lau (Ch/Be), Pastoral (Fr/Be), Alain Wergifosse (Be)…
Informations
22.04 > 15.05.2023
27 > 28.04.2023 | 10 > 18:00 | Symposium
Centrissime – Pl. Jules Mansart 21-22, 7100 La Louvière
Free entrance
27.04 > 14.05.2023 | Augmented reality tour – XR Bury
La Louvière
Production
Transcultures, CiTu – Paragraph of the University of Paris 8, European Nurseries of Creation
As part of the Centenary of Pol Bury – With the support of the City of La Louvière, the National Lottery.
In partnership with CY Cergy Paris University, Institut Acte, University Paris 1 Panthéon-Sorbonne, Europia, Maison des associations – La Louvière, Ad Libitum.