Album | Akashic Diaries – Biba Sheikh (Lb/USA) + Paradise Now (Fr/Be) | Transonic label (Be)
Posted on

22/04/2023

in 2023, Agenda, All news, Artists, CD, City Sonic, City Sonic 20 years, Edition, Paradise Now, Paradise Now stuff, Philippe Franck, Production, Projects, Soundart, Transcultures team, Transonic, Transonic Catalogue
CD Album | Akashic Diaries - Biba Sheikh (Lb/USA) + Paradise Now (Fr/Be) | Transonic label (Be)
Based on texts taken from the book "Akashic Diaries – Detroit Degree Zero and Other Crisis Writings" (published by Europia Productions at the end of April 2023, in e-book and paper format) commissioned to Biba Sheikh at the start of the Covid 19 lockdown in April 2020 (in the framework of the "No Lockdown Art" initiative initiated by Transcultures – Belgium and the European Pepinieres of Creation), Paradise Now (here in close collaboration with the sound architect Didié Nietzsche) asked the author/performer to send him texts read at her home near Detroit, Michigan.
From these raw recordings, these sonopoetic and cinematic pieces have been developed, letting the text's meaning and musicality unfold. Paradise Now and Didié Nietzsche sended sounds to each other by the Internet to gradually build this album of sonopoetic correspondence before being able to work a few days in face-to-face residency at the Transonic Lab/Transcultures (Belgium) in 2022 and early 2023.
"Akashic Diaries", which is part of a hybrid publication project, is as much an invitation to reading as to engaged listening, and also its autonomy.
This  sonopoetic album is dedicated to the memory of Ira Cohen (1935-2011) – a true Akashic poet (from the Sanskrit 'Akasha', the substance of space, ether and life that he often used, especially in his collection " Poems from the Akashic Record" published in 2001) and mythographer – whom the two artists knew well.
Bibah Sheikh (Lb/USA)

Habibah Sheikh began studying mime with Marcel Marceau in Paris  and later with members of the Polish Laboratory Theater of Jerzy Grotowski. She developed vocal work in relation to voice anthropologist,  Jorge Lopez, who researched singing methods from indigenous tribes of south america. She has a nomadic existence and has gathered inspiration for her storytelling & performance art from a number of different cultures: USA, Paris, Sevilla (with the Gypsy/Roma population), Berlin, Amsterdam, Beirut, and Greece. Habibah lovingly says that Greece is her place of catharsis. There she set up a platform with 13 artists from the Mediterranean, who make visual works based on her stories and theater pieces, which she began writing during her journey with vulnerable populations with the "abandoned children" of Lebanon. After the war left these young people alone, Habibah felt a strong responsibility in order to help them find their voices through storytelling platforms.
The project titled, "Mitli Mitlak (Like You, Like Me)" is a visual and literary exhibition, and theatre production where art- works are based on the theater scripts of 'Right To Live, as well as "Mitli Mitlak". This ongoing interdisciplinary  project is produced by Habibah's global arts company, Mediterranean Fire Studio, in collaboration with the Third Avenue Playhouse, Sturgeon Bay, Wisconsin. January-March 2019 and taking place at N'Namdi Center for Contemporary Art, Detroit 2018. Central Michigan University Art Gallery, 2019, Miller Art Museum, Wisconsin, 2019, Peeler Art Center, Depauw Indiana, 2020. Sponsors include the National Endowment for the Arts, The State of Wisconsin, and other business sponsors.
She has a series of writings related to the Civil War of Lebanon, Syrian Refugee plights, Andalusian Gypsies, and the Greek Crisis.
Her work is featured in the film, 'Citizen Xenos', by Lucas Paleocrassas, which follows life in refugee camps, where refugees, engaged in theater and voice workshops, express what they had endured. She is devoted to vocal interpretation, acting, and poetic text. The physical and vocal interpretations are further accentuated by years of personal Flamenco study.
Recently, the theater production, 'I Am the Small Seed' was developed in an Art Residency at the Born Global Foundation. Musical segments are in collaboration with sound artist Paradise Now (Fr/Be). It provides Habibah Sheikh the possibility to devise a unique method of storytelling and theater, where a game-like structure contains healing acts, and can be performed by actors and non actors alike. It has been performed in Lebanon, Scotland, and the USA. She is currently writing, performing and producing, 'Nomadic Poetic Stories (How I Opened My Heart Through the Extinction of Mime, the Miracles in Paris, and Meetings With a Mysterious Man, Across the World)' featuring Chinese musician  Xia Dong Wei.
Paradise Now (Fr/Be)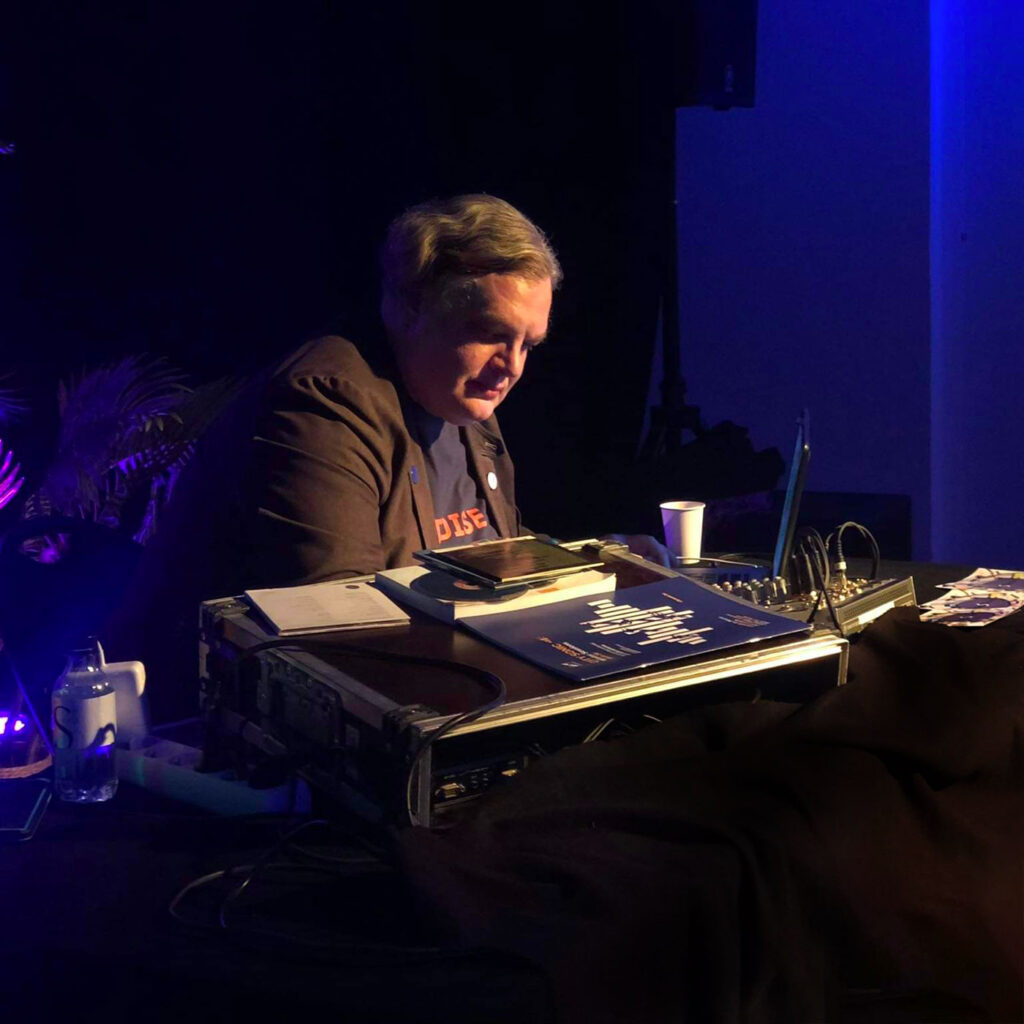 Intermedia producer and creator based in Belgium, Philippe Franck has developed since the 90s the Paradise Now project which favors an actively transversal and collaborative approach. He favors a sensitive and cinematic approach that embraces different influences and fields (electronics, sound art, post-rock, post-pop, improvised music …).
He has worked closely with various videographers (Régis Cotentin, Hanzel & Gretzel), poets (Ira Cohen, Gerard Malanga, Catrine Godin, Biba Sheikh, Werner Moron in Les ours bipolaires, Eric Therer for the project & Stuff), choreographers (Nadine Ganase , Manon Oligny, Karine Ledoyen), digital artists (Philippe Boisnard, Franck Soudan, Jacques Urbanska, Thomas Israël) and other adventurous audio creators (recently Christophe Bailleau within the duo Pastoral, Gauthier Keyaerts in Supernova, Stephan Dunkelman, Maurice Charles JJ, A Limb).
Since 2005, he has also collaborated with holistic performer / masseuse Isa Belle for a series of installations and "sound" performances shown in numerous festivals, cultural centers and international events. He has also produced and participated in several records on various independent labels (Sub Rosa, Optical Sound, Transonic…). In 2022, he began a doctoral thesis in Information and Communication Sciences (Cognition, language, interaction) at the University of Paris 8 (CiTu Paragrahe), under the dual supervision of Khaldoun Zreik (Paris8) and Marc Veyrat (University of Savoie Mont Blanc).
Didié Nietzsche (Be)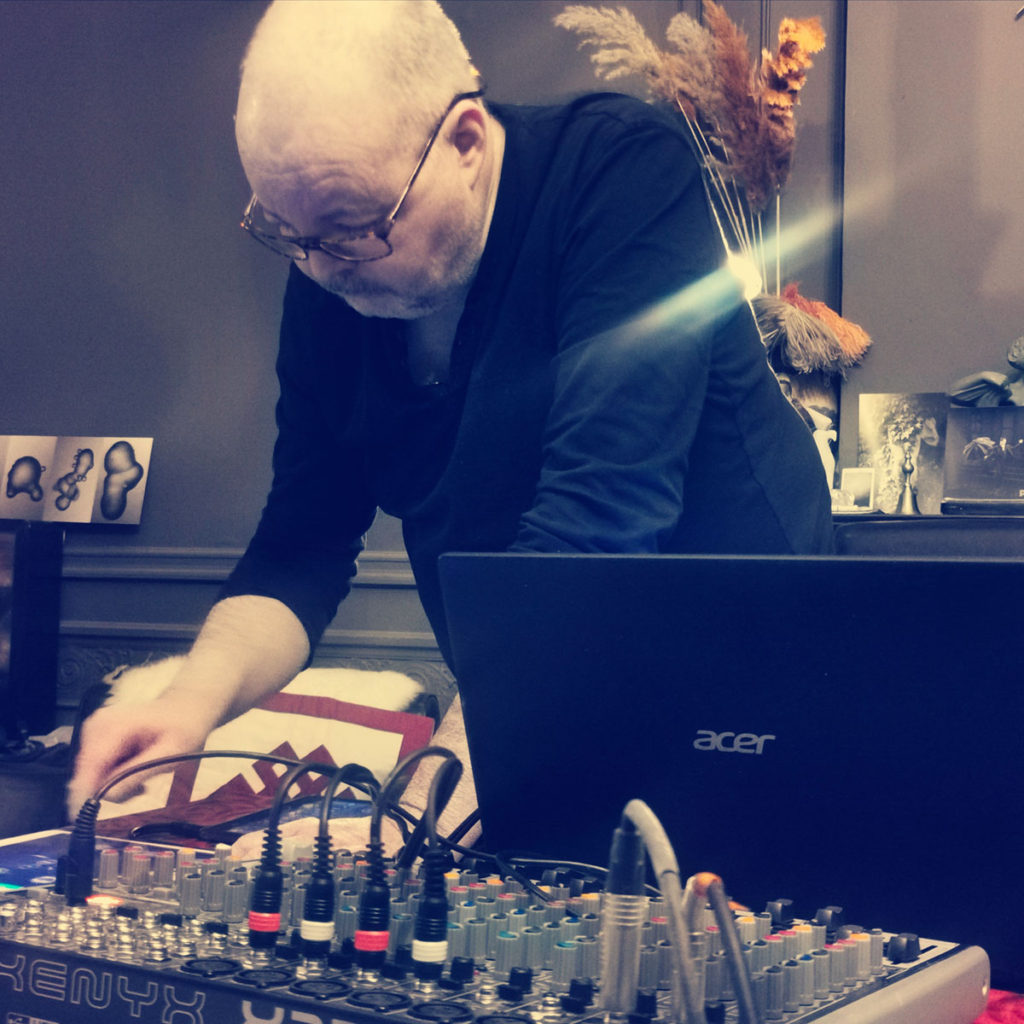 Didié Nietzsche is a Belgian musician involved in numerous sound, audiovisual (he also creates videos) and intermedia projects, whose common denominator could be an art of metamorphosis and collaborative adventure. Above all, these projects are an opportunity for him to experiment and expand his audio chromatic palette. He oscillates between electro, jazz metal, ambient tones… with the reactivity/adaptability of improvisation that he can dose according to collaborations and contexts.
From his first experiences with Radio Prague in the 80s to the Paradise Now project (with which he has just released an EP), through the multidisciplinary improvisation collective LAMAφ (with which he performs in the streets of Brussels) and the Neptunian Maximalismgroup and its declinations, Didié Nietzsche adapts and tries to always maintain a certain accessibility to his organic works.
With his solo project A Limb, he has been very active in recent years through numerous collaborations. He is also very active within the multiverse communities where he regularly performs with other electro-creative avatars, and also organizes various events, including the recent Transonic Second Life Sessions & Festival, events supported by Transcultures and the European Creation Centers, which bring together international audio and multimedia artists.
Informations
Album : avril 2023 – CD : Summer 2023
Biba Sheikh: texts, voice
Paradise Now: project coordination/production, electronics, guitar, bass, singing bowls, gongs, percussions, vocals
Didié Nietzsche: electronics, ipad, beat programming, percussions
Marc Doutrepont : Mastering
Featuring
Isa*Belle: singing bowls on #14 & backing voice on #4
Hans Christian: cello & frame drum on #3, cello on #13
Jean-Jacques Duerinckx: saxophone (treated by A Limb) on #9 & #12
Production
Transcultures, Transonic Label – in partnership with the European Pepinieres of Creation
Photo cover : Zeinab Saab ('Hadith El Layl'/'Sayings of the night')
Biba Sheikh would like to thank: Philippe Franck, Didié Nietzsche, Isa*Belle, Jacques Urbanska, Khaldoun Zreik and the Europia Productions team, Bogie, Hans Christian, Maha Sheikh, Debora Totti, Lisa Jendza, Zeinab Saab, Extinction Rebellion, WJZZ TV & Radio.