Cassette | Vertical Moon Phase Charm – Christophe Bailleau (Fr/Be) | Mahorka label (Bg)
Posted on

22/10/2023

in 2023, Agenda, All news, Artists, Audio Tapes, City Sonic, City Sonic 20 years, Edition, International, Pépinières, Production, Projects, Soundart, Transonic
Cassette | Vertical Moon Phase Charm - Christophe Bailleau (Fr/Be) | Mahorka label (Bg)
"Vertical Moon Phase Charm", Christophe Bailleau's debut on the great Bulgarian label Mahorka, is the second album out of his meta-vision of electronic and electro-acoustic music trilogy on the theme of creativity in the face of autistic disorders, following the interesting inauguration "CHUVA ORBITAL : Armadillo Time" on Lotophagus Records" in July 2023.
Here this prolific artist again asserts his unique craftsmanship in balancing and naturally blending low-fi and high-tech sounds, acoustic sources and digital synthesis in another powerful, immersive work. "Vertical Moon Phase Charm" notably includes a special list of guest sonic friends (some of them were already invited on the outstanding "Shooting stars can last" released, in 2022, by Optical Sound, in partnership, like "Vertical Moon…", with Transcultures and Pépinières européennes de Création): A Limb (Be), Stanley Christiaensen (Be), Konejo (Be), Innocent But Guilty (Fr) et Paradise Now (Fr/Be)
"A monument of fluctuating abstraction, Vertical Moon Phase Charm has no known safety measures or possible precautionary principles. A multi-dimensional mutant emulsion, we navigate in turbulent waters, no need to look for a secure anchor. Conceptual chimera, beautifully produced, each track… proceeds through systemic enchantment, it quickly becomes unnecessary to resist – a variant geometry."
— From Thierry Massard on nocoVision (read more – french)
Christophe Bailleau (Fr/Be)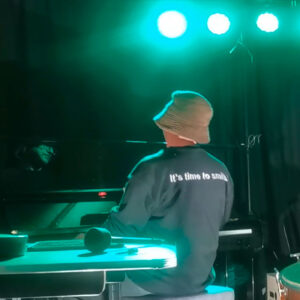 Born in Normandy – France, Christophe Bailleau obtained a master in Visual Arts at ERG (School of Graphic Research) in Brussels in 2004. Multidisciplinary artist, Christophe Bailleau has been developing an atypical musical project since the 90s. His compositions are based on acoustic sources (guitar, percussions, vocals, bruits divers…) mixed with field recordings and concrete sounds. He thus conceives a game of waiting, silence and stormy tension.
His compositions have been published on various European labels (Stilll, Postcard, Annexia, Fenetre, Soundscaping, Optical Sound, Sacred phrases, Transonic, Mahorka…). He has also produced several radio creation pieces. Christophe makes intriguing and dreamlike short films which try to capture the unspeakable.
With Philippe Franck, he's been operating within the audio video duo Pastoral (inspired by our daily strangeness and poetry with a surreal touch) since 2006.
He also practices multidisciplinary installation works, photography and more recently drawing and poetry… He has been invited in many international events and festivals.
Cassette | Vertical Moon Phase Charm - Christophe Bailleau (Fr/Be) | mahorka label (Bg)
Informations
Christophe Bailleau: composition, programming, production, synthesizers, guitar, piano
A Limb: synthesizers, noises on tracks 1 and 8.
Stanley Christiaensen: Moog synthesizer, vocals, Tibetan bells, sitar on track 4.
Konejo: sampling and sounds on track 5.
Innocent But Guilty: sounds and programming on track 6.
Paradise Now: electronics, sampling and voice on track 10 and 11.
Production
Mahorka Label
With the support of Transcultures/Transonic Label and the European Pepinieres of Creation
In the framework of City Sonic 20 YEARS
Visuals : Christophe Bailleau
Graphic Design by  Messa Haddad