Newsletter mai 2012 #1
Pour leur quatrième édition, Les Transnumériques #4 se dérouleront à Bruxelles et à Mons, du 02 mai au 15 juillet 2012. Transcultures – qui a lancé cette biennale des arts et cultures numériques en 2005 – et ses partenaires, vous proposent de découvrir la diversité des pratiques artistiques numériques d'aujourd'hui, à travers une série de lieux culturels et une bonne centaine de projets (dont de nombreuses créations) avec des installations, performances audiovisuelles, des concerts, des projections, des œuvres en réseau, des rencontres-débats, un portail interactif européen, des ateliers électro-kids pour le jeune public.. Pour cette édition, Philippe Franck, directeur artistique a invité Valérie Cordy (metteure en scène/créatrice multimédiatique engagée) en artiste associée au processus.
Les Transnumériques#4 seront particulièrement riches en découvertes, émergences et accompagnent des projets qui prennent position sur notre société de l'information globalisée.
Bienvenue à tous les curieux !
For its fourth edition, Festival Les Transnumériques for the digital arts and cultures launched by Transcultures (directed by Philippe Franck who invited Valérie Cordy as a guest artist-curator to conceive this edition with him) in 2005 will take place in Brussels and Mons, from May 2nd to July 15th . An invitation to discover the diversity of today's digital art practices in Wallonia-Brussels, through a series of associated cultural venues and hundred projects: audiovisual performances, concerts, installations, screenings, net art, debates, lectures, electro kids workshops and a European interactive portal.
Welcome everybody!
02.05.2012
Exposition SPAMM (opening)
Bruxelles > Galeries > 19:00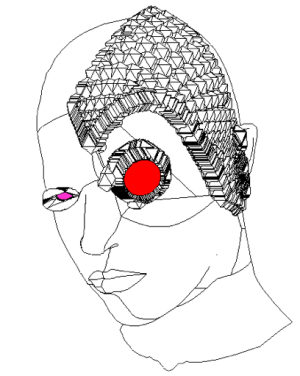 Invité par Les Transnumériques, Le SPAMM (Super Art Modern Museum) s'expose à Galeries Expo (espace dédié aux cultures numériques et aux nouvelles images) et participe à l'ouverture officielle du festival. SPAMM nouveau musée virtuel, vous propose de découvrir, en première belge, les œuvres en réseau de trente artistes internationaux (Annie Abrahams, Eva & Franco Mattes, Adam Cruces, Jennifer Chan, Daniel Swan, Jonathan Keller Keller, Emilie Gervais, Sara Ludy, Françise Gamma, Evan Roth, Constant Dullaart,…).
At Galeries Expo (new exhibition space for media arts and new images), for its first exhibition (more in the coming weeks), Les Transnumériques has invited SPAMM (Super Modern Art Museum) recently launched by Thomas Cheneseau and Michaël Borras. This new virtual museum invites you to discover 30 international digital artists.
02.05.2012
Scanner + Cotentin :
Echoes (and beyond the infinite)-performance AV)
Bruxelles > Galeries > 20:30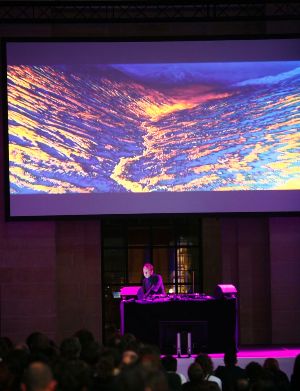 Dans la salle de cinéma de GALERIES, le musicien électronique londonien Scanner (qui a travaillé, entre autres avec Derek Jarman, Brian Ferry, Wayne McGregor ou encore Merce Cunningham) et le vidéaste français Régis Cotentin présentent Echoes (and Beyond The Infinite), performance audiovisuelle, en première belge, à partir de l'héritage cinématographique de 2001, l'Odyssée de l'espace et et du morceau Echoes de Pink Floyd qui aurait été synchronisé initialement avec la dernière séquence de ce film culte de Kubrick.
The great electronic musician Scanner (London) who has worked with Derek Jarman, Brian Ferry, Wayne McGregor, Merce Cunningham and many others) and the video directeur Regis Cotentin (France) will present Echoes (and Beyond the Infinite), an audiovisual performance inspired by "2001: A Space Odyssey" by Stanley Kubrick (and its heritage on many other SF movies) and the track Echoes by Pink Floyd initially –some said- composed for the end of this cult movie.
Opening-Ouverture des Transnumériques: Galeries, 28, Galerie de la Reine, 1000 Bruxelles
Free entrance – entrée libre (limité à 212 places pour la performance Echoes – limited to 212 seats for Echoes)
Production: Transcultures, Galeries, SPAMM
05.05.2012
Synchronicity#1
(performances AV + debat-e + projections/screenings)
Bruxelles > Galeries > 18:30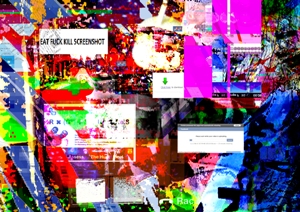 >>18:30 > table ronde/débat à Galeries Boutique : « Arts en réseau, supports immatériels, quels enjeux de production et de diffusion ? » avec Thomas Cheneseau, Michaël Borras (SPAMM), Jean Jacques Gay (critique d'art), Valérie Cordy (metteure en scène multimédiatique), Annick Rivoire (poptronics) animé par Philippe Franck (Transcultures).
>> 20:00 > projection de vidéos de Noé Grenier réinterprétant, entre autres, des extraits de films de Jacques Tati et David Lynch (extérieur Galeries Royales Saint-Hubert, sur grand écran).
>> 20:30 : Flux save the queen/My SPAMM is rich – une performance AV (création) de Michaël Borras a.k.a Systaime (France), co-fondateur de SPAMM, artiste du réseau, pirate des images, néo dada et énergie pop + Projection d'œuvres en réseau de la nouvelle collection virtuelle de SPAMM: SPAMM select.2 (extérieur Galeries Royales Saint-Hubert, sur grand écran).
At Galeries, 6:30pm: Roundtable on "Immaterial arts, what issues of production and distribution?" (in french only) at Galeries Boutique + 8:30 pm: in the Gallery of the Queen, video by French director Noé Grenier revisiting sequences of Twin Peaks (Lynch), Playtime (Tati) + Flux save the queen/My SPAMM is rich AV performance by Systaime (premiere) a French pop-net-post dada artist also co-founder of SPAMM + screenings of SPAMM works (select.2)
Galeries, 28, Galerie de la Reine, 1000 Bruxelles
Entrée libre – free entrance
Prochain événement associé aux Transnumériques#4
Next event associated to Les Transnumériques#4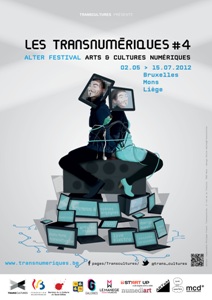 09 > 11.05.2012
JIM-Journées de l'Informatique Musicale
Mons > Site des Arbalestriers
Installations, concerts, performances, conférences/talks,…
12.05.2012
Synchronicity#2
Bruxelles > Galeries
Performances AV de Thomas Israël versus Gauthier Keyaerts (Very Mash'ta)
+ Valérie Cordy versus Isabelle Bats
+ projections SPAMM select.2
---
Les Transnumériques#4 sont conçues et produites par Transcultures
Les Transnumériques#4 is a Transculture's production
Avec le soutien de/with the support of la Fédération Wallonie-Bruxelles (arts numériques et musiques non classiques), la Commune de Saint-Gilles (service culture), COCOF, Galeries.
En partenariat avec/in partnership with le manège.mons, Numediart, ARTeM, Art Zoyd, Youpie quand même, la Médiathèque, L'Art-Chétype, Le Cri, Bains numériques/CDA Enghiens-les-Bains body>data>space, Bodig.
Partenaires media : MCD, poptronics, Let's motiv, Télé MB