No Lockdown Transonic Winter Session #1 [in progress] | #NoLA2020
Posté par

23/12/2020

dans 2020, Agenda, Artistes, Arts Sonores, Belgique / FWB, CD, Creaconnections, Edition, International, NoLA, Paradise Now, Partenaires principaux, Pépinières, Philippe Franck, Production, Projets, Toutes les news, Transcultures team, Transonic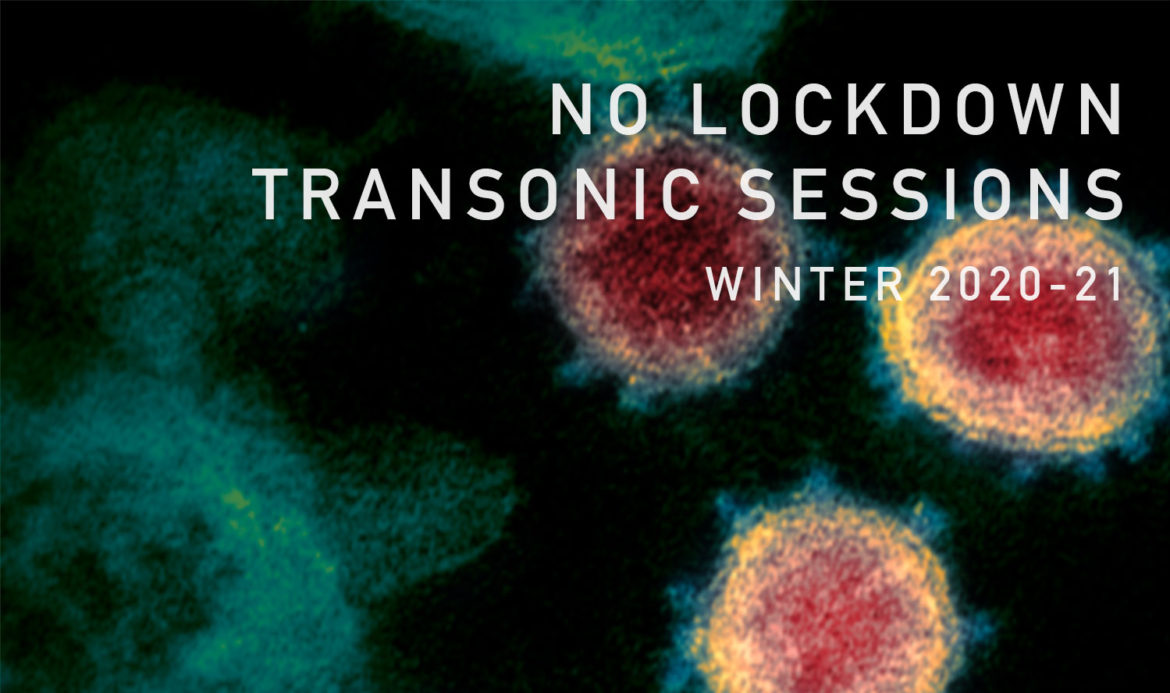 Dans le cadre de l'initiative NoLA – No Lockdown Art (programme Creaconnections), des créateurs sonores issus de différents pays et d'esthétiques variées mais toutes aventureuses, sont invités à envoyer chacun une session audio live ; celle-ci est illustrée d'un visuel fixe ainsi que quelques lignes de présentation sur les conditions de réalisation de la pièce et une courte présentation de l'artiste. L'accent est mis ici sur la puissance imaginaire de ces voyages sonores à destination d'un public connecté inconnu.
A partir de mi-décembre 2020 et jusqu'à février 2021, les Pépinières européennes et Transcultures annonceront, chaque semaine, la mise en ligne d'une session (une pièce continue – qui peut être en plusieurs mouvements – d'une trentaine de minutes) d'un artiste différent. Ces sessions intimes seront disponibles sur le bandcamp de Transonic (label indépendant pour la création sonore différenciée, produit par Transcultures).
No Lockdown Art
Dans le cadre de son nouveau programme parapluie Creaconnections (soutenant la création contemporaine exploratoire hybride en réseau et sur le réseau), Transcultures, en partenariat avec les Pépinières européennes de Création, a lancé l'action No Lockdown Art – #NoLA2020 afin de soutenir le ré-activitisme d'artistes belges et internationaux qui ont initié, en période de confinement, d'intéressants projets audio, vidéo, multimédia… en ligne et diffusent librement leurs singularités et regards poétiques aux curieux connectés.
Dans cette période tristement unique (mais susceptible d'annoncer d'autres catastrophes), de nombreux artistes de toute origine ont refusé la quarantaine de l'expression partagée. Ils ont exprimé à la fois un besoin de se relier à un autre public (connecté) et de sortir tant de la peur et de la paralysie que du "tout à l'égo".
Désirant s'associer à cette dynamique libertaire et donner soutien et visibilité à des oeuvres différenciées en ligne, Transcultures a ainsi proposé un soutien à la production à plusieurs artistes pour des projets à court, moyen, ou long termes.
Dans cette volonté pro-active et dé-confite, un appel à projet No Lockdown Art (#NoLA2020) a été lancé à la mi-avril 2020; il s'agissait et il s'agit encore ces derniers mois de soutenir activement de nombreuses initiatives d'artistes et concepteurs de projets culturels à la créativité intacte, si pas stimulée par les turbulences de notre monde virale.
Informations
Projet initié et coordonné par Philippe Franck
This is a raw html block.
Click the edit button to change this html.