Newsletter novembre 2011
En novembre, à Mons, la troisième phase de TRANSAT[Contamine] (échanges bilatéraux Québec-SAT/Fédération Wallonie-Bruxelles-Transcultures) explore les modes et les enjeux performatifs de la téléprésence et des pratiques AV associées, Thomson & Graighead présente, dans le cadre du cycle « émergences numériques » leur œuvres flux à l'ESAPV Mons et les installations interactives, Projections mouvementées de Todor Todoroff et Fred Vaillant est accueillie au Lux de Valence ; flux multi créatifs et rencontres numériques tracent pour ouvrir d'autres horizons à d'autres publics…
In November, Transcultures will welcome in Mons the third phase of TRANSAT[Contamine] bilateral exchanges with SAT-Montréal) exploring the telepresence performance ; British media artists Thomson & Graighead will present their work at the Visual Art School of Mons ; the interactive installations « Projections mouvementées » by Todor Todoroff and Fred Vaillant will be shown at Lux ( Valence-France) ; creative fluxes and media arts collaborations open other horizons to different audiences…
---
09 11 11 › 05 01 12 Projections mouvementées
Todor Todoroff + Fred Vaillant Lux › Valence (France)
Deux installations d'arts numériques, sonores et interactives Insondables (production La Fabrique Alpine et ARTEM asbl, co-production Transcultures) du créateur visuel Fred Vaillant et du compositeur-ingénieurTodor Todoroff et Champs de fovéas en bordure du sommeil de Fred Vaillant (création-coproduction lux -Scène nationale) sont à découvrir au Lux. 2 interactive, sound and multimedia installations by composer Todor Todoroff and visual artist Fred Vaillant are presented at Lux in Valence.
09 11 11 › 05 01 2012
entrée libre – free entrance
vernissage – opening le mardi 8 novembre – 18.30 (+ rencontre/debate Danse-Cinéma animée par/moderated by Irène Filiberti avec/with Michèle Noiret, Fred Vaillant et Todor Todoroff)
14 11 11 TRANSAT[Contamine]– phase 3 « Soupe transatlantique » (téléprésence & performance AV + electro jam)
Transcultures – le Frigo – Mons – 19.00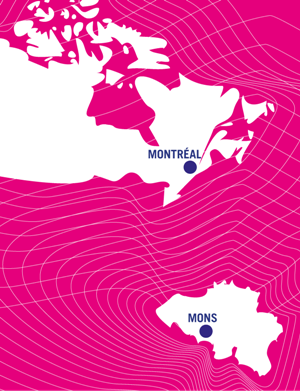 Cette présentation de cette troisième étape des échanges bilatéraux Québec-SAT/Fédération Wallonie-Bruxelles-Transcultures, TRANSAT[Contamine] aura lieu à Mons, au Frigo (site des Abattoirs) avec les artistes québécois Alexandre Quessy (responsable du Metalab à la SAT, programmeur et artiste numérique) et Michal Seta (compositeur,développeur) et belges Valérie Cordy (metteur en scène, artiste multimédiatique) et Laurence Moletta (musicienne, performeuse) en collaboration avec le programme de recherche Numédiart-Faculté Polytechnique de Mons. Les artistes mettront à profit la technologie Scenic de téléprésence en réseau développée au metalab de la SAT et le logiciel d'animation Toonloop. Travaillant sur des végétaux transformés en instruments numériques pour élaborer ensemble une étonnante "soupe" numérique entre Mons et Montréal, ces créateurs associés proposeront une présentation publique (+discussion) de leur recherche création initiée pendant cette semaine d'expérience et de technologie partagée à Mons. The third phase of the TRANSAT[Contamine] exchange launched in 2010 between SAT-Montreal and Transcultures-Mons will host in Mons at Transcultures and Numédiart (University of Mons), Alexandre Quessy (coordinator of the Metalab at SAT, media artist), Michal Seta (composer, programmer) from Québec and Valérie Cordy (theatre director, multimedia artist) and Laurence Moletta (musician, performer) in collaboration with the research programme Numédiart. They will work on new forms of AV performance using telepresence device Scenic and open source software Toonloop, working with plants and legumes modified as digital instruments to share a « digital soup » during the public presenation-try out (+discussion & electro jam surprise) at the end of this experimental phase.
Dans le cadre des échanges bilatéraux Québec-Fédération Wallonie-Bruxelles avec le soutien du Conseil des Arts et des Lettres du Québec, Conseil des Arts du Canada, Relations internationales Québec, Wallonie-Bruxelles Image, Office Québec Wallonie-Bruxelles, et la collaboration de Numédiart
Lundi 14 novembre 19h au Frigo, site des Abattoirs, 17 rue de la trouille, Mons
entrée libre – free entrance
21 11 11 Thomson & Craighead How to locate yourself
Conférence-présentation illustrée Cycle émergences numériques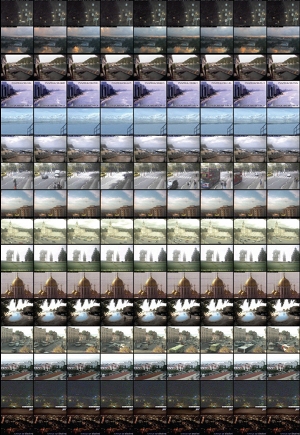 En invité de cette deuxième conférence dans le cycle « Emergences numériques et sonores » proposé par Transcultures et l'ESAPV tout au long de l'année, les artistes britanniques Jon Thomson & Alison Craighead. Leurs œuvres puisent directement leur matériau dans le flux d'informations, d'images et de données qui circulent sur internet. « Mes recherches en collaboration avec Jon Thomson proviennent de la fascination que nous partageons face aux réseaux de communications planétaires et à la manière dont ils sont en train de transformer la perception et la compréhension du monde qui nous entoure. Notre pratique s'étend des œuvres en ligne et en galerie aux projets d'art public, jetant un regard sur la manière dont les processus en temps réel et la transmission des données en live peuvent être utilisés comme matériel ou comme médium artistique. » (Alison Craighead) British multimedia artists Jon Thomson & Alison Craighead are invited to present their multiple work at the Visual Art School of Mons by Transcultures and ESAPV Mons in the framework of the « digital and sonic emergences » series. In their online/installation/public space works (currently shown in Brussels at La Vénérie (cultural centre of Watermael-Boifort) and the Watermael train station part of the thematic cycle « Digital Flux »), they use the information flux, data and images from the Internet and explore how they change our perception and understanding of the world.
Un partenariat Transcultures – ESAPV Mons (IDM), remerciements à La Vénerie
ESAPV Mons, Carré des Arts, Auditorium, 7a rue des Sœurs noires, Mons
entrée libre – free entrance
Par ailleurs, en ouverture du cycle thématique « Digital Flux », Jon Thomson & Alison Craighead présenteront, jusqu'au 18 décembre, un aperçu de leurs oeuvres récentes, simultanément à La Vénerie (Ecuries), Centre culturel de Watermael-Boifort et à la Gare de Watermael.
entrée libre – free entrance
Damien Bourquinel en Résidence Pépinières européennes pour jeunes artistes à Mons European Pepinieres for young artists in Mons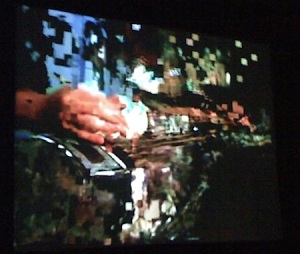 En novembre, Damien Bourniquel (France) sélectionné par le jury parmi 90 projets, commencera une résidence de 3 mois pour son projet AV-numérique Smells like Mons spirit chez Transcultures à Mons dans le cadre des Pépinières européennes pour jeunes artistes dont Transcultures est le coordinateur pour la Fédération Wallonie-Bruxelles (en se centrant plus particulièrement sur la création numérique et sonore). In November, Damien Bourniquel (France) will start a 3 month residency at Transcultures (coordinator of the European Pepinieres for young artists for the Federation Wallonie-Brussels) in Mons to develop his AV-multimedia project "Smells like Mons spirit" .