Newsletter décembre 2011
En décembre, nous serons très "trans présents" entre Mons et Montréal avec la dernière phase live des échanges TRANSAT [Contamine] en téléprésence puis des ateliers Sonic Kids transfrontaliers, un "digital breakfast" émergences sonores monto-strasbourgeoise à L'Ososphère, une conférence au colloque Les apories de l'art total à Paris et la première d'une copieuse Transcultures live unit à Liège, avant de vous souhaiter un joyeux trans Noël et une fructueuse trans année.
In December, we'll be very "trans active" between Mons and Montreal with the ultimate TRANSAT Contamine telepresence performance, Sonic Kids workshops between Mons and Valenciennes, a special "digital breakfast" connecting young Mons and Strasbourg artists at L'Ososphère, a lecture at Paris' symposium on "total art" and the first live attempt of the Transcultures live unit in Liège, then it will be the right time to wish you a trans merry Christmas and a trans fruitful new year!
The Trans team
03.12.11
TRANSAT[Contamine]#4
Soupe transatlantique 2.0 
(performance téléprésence Mons-Montréal)
Mons > Numédiart > 21:00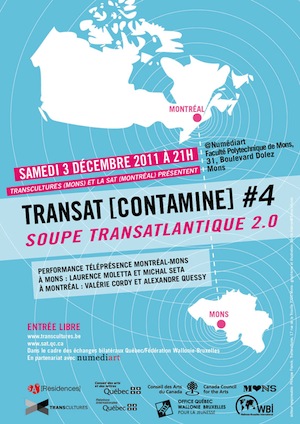 Cette quatrième étape de TRANSAT [Contamine] (programme de temps de travail croisé suivi d'une présentation publique) entamé en 2010 est la dernière étape live du processus d'échanges bilatéraux entre la Société des arts technologiques (Québec) et Transcultures (Mons), après un "try out performance téléprésence" intitulé Soupe transatlantique organisé par Transcultures au Frigo à Mons le 14 novembre, avec Valérie Cordy (metteur en scène, artiste multimédiatique), Laurence Moletta (compositrice, chanteuse, artiste multimédiatique) pour la partie belge et pour la partie québécoise, Alexandre Quessy (artiste multimédiatique, développeur, responsable du laboratoire de recherche Metalab à la SAT) et Michal Seta (compositeur, développeur, assistant de recherche à Matralab-Université de Concordia). Cette fois, Laurence et Michal à Mons interagiront avec Valérie et Alexandre à Montréal via Scenic, le logiciel libre de téléprésence pour la scène développé au Metalab de la SAT.
La performance sera suivie à Montréal par un dj set Transcultures de Paradise Now et de Jan Piekowski (Onorecords) pour la SAT.
This fourth TRANSAT[Contamine] (artist residency + public performance programme) launched in 2010 is the last "live" step of this series of bilateral exchanges between the Society of Tecnological Arts( Quebec) and Transcultures (Mons), after a session of "try out performance with the telepresence called Transatlantic soup organised by Transcultures at the Frigo in Mons on November 14th, with Valérie Cordy (theatre director, multimedia artist). Laurence Moletta (composer, singer, multimedia artist) for the Belgian side and Alexandre Quessy (multimedia artist, developer at the Metalab-SAT) and Michal Seta (composer, developer, assistant in research of Metalab at the SAT- University of Concordia). This time, Laurence and Michal will interact from Mons with Valerie and Alexandre in Montreal via "Scenic", open source telepresence software developed by the Metalab at SAT.
Dans le cadre des échanges bilatéraux Québec-Fédération Wallonie-Bruxelles avec le soutien du Conseil des Arts et des Lettres du Québec, Conseil des Arts du Canada, Relations internationales Québec, Wallonie-Bruxelles Image, Office Québec Wallonie-Bruxelles, et la collaboration de Numédiart
Faculté polytechnique de Mons, Salle Numédiart, UMons
31 Boulevard Dolez, 1er étage
entrée libre – free entrance
15>17.12.11
Colloque Les apories de l'art total : artiste, société, temporalités
Conférence de Philippe Franck : Alter Ars Numerica ? le 16.12
Paris > Columbia Global Centers (15.12) + INHA (16 & 17.12)
9-17:45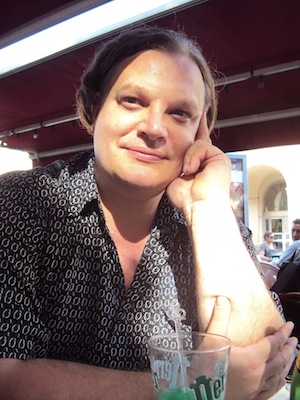 La dichotomie qui caractérise la recherche en histoire de l'art dans son ensemble entre ceux qui privilégient le « capital » idéologique de l'art et ceux qui explorent son potentiel formel, n'a pas laissé indemne l'art total. Sans vouloir trouver le «juste milieu» entre ces deux approches, ce colloque (Sous la direction de Julie Ramos et de Maria Stavrinaki) a plutôt l'ambition de les mettre en tension. Le colloque s'articulera autour de quelques moments clés de la modernité, du romantisme et du saint-simonisme à l'art contemporain, en passant par les avant-gardes. Dans ce cadre, Philippe Franck a été invité à présenter certains enjeux propres aux arts numériques avec une conférence illustrée et intitulée Alter Ars Numerica? (Quelle création connectée/différenciée dans la société du spectacle globale ?) : "Dans notre société de l'hyperinformation, comment les arts numériques explorent-ils, dans une grande diversité de pratiques intégrant les mutations technologiques, d'autres formes de production/diffusion/interaction ? Au-delà de la notion d'art total ou de culture globale qu'ils remettent en perspective, nous pointerons quelques créations qui utilisent les technologies de l'ère numérique pour connecter des communautés, des singularités, des imaginaires…et tenter d'installer des "zones d'autonomie temporaire"… »
The dichotomy which characterizes the research in art history as of whole between those who privilege the ideological capital of art and those who explore its formal potential, has not left total art intact. Without necessarily wanting to find the right balance between both perspectives, this symposium (coordinated by Julie Ramos and Maria Stavrinaki) has the ambition of placing them in a state of tension. It will articulate itself around some specific moments in modernity or romantism and of saint simonism of contemporary art, via the avant-gardes. In this framework, Philippe Franck is invited to analyse some issues related to the digital ars and cultures with a lecture entitled Alter Ars Numerica? on 16 December : "In our society of hyperinformation, how do digital arts -in a grand variety of practices integrating technological transformations- explore other forms of production/distribution/interaction? Above the notion of "total art" or global culture that they place in perspective, we will point out some creations that use the technologies of the digital era to connect communities, singularities, imaginations and try to install 'temporary autonomous zones'
In French only
15.12 > Columbia Global Centers Europe Reid Hall- 13.30 >18.00
4, rue de Chevreuse /6, rue des Petits-Champs 75006 Paris 75002 Paris – Métro Vavin
16+17.12 > INHA – 9.00 >18.00
Conférence de Philippe Franck le le 16.12 à 17h à l'INHA
2 rue Vivienne, 75002 Paris -Métro Bourse/Palais Royal- Musée du Louvre
Organisation : Université Paris I – HiCSA – Institut National d'Histoire de l'Art (INHA)
17.12.11
SONIC KIDS
Isa Belle + Paradise Now : Massages sonores
Perrine Tellier + les Slimonosaures : Peintures sonores
Mons > Frigo/Site des Abattoirs > 14-17:00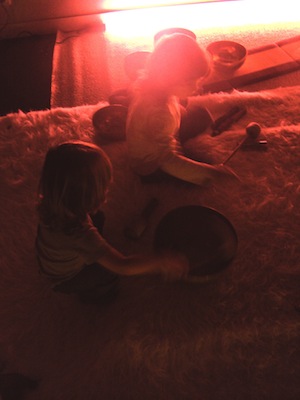 Perrine Tellier et les Slimonosaures proposent une rencontre entre la peinture et la création sonore. Cette initiation fait appel à des nouvelles technologies pour créer une relation logique entre les couleurs et les formes et les sons qui s'en dégagent. Une création sonore est alors créée et les enfants composent en dessinant.
Pour l'atelier Massages sonores, Isa Belle couple l'initiation sonore et corporelle grâce à la pratique des bols « chantants » tibétains : elle initie les petits, en douceur, à la découverte des sens, et plus particulièrement l'ouïe via les vibrations des bols qui massent les cellules et l'odeur avec délicates fragrances d'huiles essentielles avec leurs propriétés relaxantes, énergisantes et réharmonisantes.
Perrine Tellier and the Slimonosaures propose a meeting between painting and sound creation. This new inititive calls upon new technologies to create a logical relation between colors, shapes and the sounds that arise. A creation is then born and the children create whilst drawing.
With this workshop, Isa Belle playing with dozens of Tibetan singing bowls and more recent crystal bolws on the body, combines with this first physical relaxing sonic sensation, the discovery and the personal belonging of delicate scents with energizing, harmonizing properties of essential oil fragrances…
Dans le cadre du projet européen Espace(s) Son(s) Hainaut(s) – ESH (plate-forme transfrontalière pour les musiques innovantes et les arts sonores), co-organisé par Art Zoyd, le Phénix (Valenciennes) et le manège.mons. Projet soutenu par les fonds européens FEDER Interreg IV
Gratuit
Réservation + infos : lucie.transcultures@gmail.com – tel : 065-590889
Site des Abattoirs, Frigo (aile droite), 17 rue de la Touille, Mons
21.12.11
Transcultures live unit
Liège > Halle aux Viandes > 18:00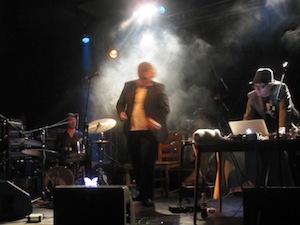 A l'invitation de l'association ST'ART UP, Transcultures propose dans l'ancienne Halle aux Viandes, une première Transcultures Live Unit, formule performance/concert aux paysages et intervenants contrastés avec la participation pour la partie musicale électro-pop hybride de Christophe Bailleau (laptop,ipad), Stéphane Kozik (instruments inventés, électro), Pastoral (voix, guitare, électro), Fabrice Franck (guitare), Gauthier Keyaerts akaThe Aktivist (pièces électro-organiques), Supernova (chant, paysages sonores), Grand Ordinaire (performance poétique), Werner Moron (lecture), en solo, duo et rencontres improvisées selon l'humeur. Une sélection de vidéos Transcultures et des projections de Manu Di Martino complètent et des délicieuses tapas complèteront le menu de cette trans soirée !
Start-up Association (Liège), a young and dynamic non profit organisation develops other forms of art and culture, has invited Transcultures to present its artistic multi approach at the old Halles aux Viandes in the centre of the city. Beside a selection of Transcultures'videos, this carte blanche will be the perfect opportunity for a first attempt of "Transcultures live unit", a solo/duo/collective performance/concert with the participation of various musicians/performers/interdisciplinary artists: Christophe Bailleau(laptop/ipad), Stéphane Kozik (invented instruments, electronics), Pastoral(voices, guitar, electronics), Fabrice Franck (guitar), Gauthier Keyaerts aka The Aktivist(electro-organic soundscapes), Supernova(post pop songs and hybrid textures), Grand Ordinaire (sound poetry performance) and Werner Moron (reading) + introducing Manu Di Martino's visuals. Taste the Transcultures' sounds and images with some delicious tapas!
Ouverture des portes : 18h – Starting at 6pm
Halle aux Viandes, Rue de la Boucherie/rue de la Halle, Liège
Entrée/Entrance: 5€
Réservation souhaitée via – please book now via – info@startup-asbl.com
---
Transcultures vous conseille également
Transcultures recommands
03.12.11
Sur les rives d'Abyssinie
Valenciennes > Phénix > 20:00
Dans le cadre du projet européen Espace(s) Sonores (s) Hainaut(s), le spectacle de Jean Christophe Frisch avec l'ensemble XVIII-2, raconte la rencontre entre des missionnaires portugais musiciens et des musiciens et danseurs éthiopiens. Met en scène le mariage des musiques et la confrontation des cultures. Le spectacle a réellement été créé à Addis Abeba et est issu de la rencontre entre musiciens baroques français, artistes éthiopiens du groupe Fendika et le danseur Melaku Belay, danseur des bidonvilles devenu danseur reconnu internationalement. Une rencontre entre Jean-Christophe Frisch, professeur aux écoles de musique et conservatoire, est prévue l'après-midi (de 18h30 à 19h avant la représentation du 3 décembre au Phénix.
In the framework of ESH, Jean Christophe Frisch's performance together with the ensemble XVIII-2, tells the story of the meeting between Portuguese and Ethiopian musicians and dancers. It underlines the wedding of music's and the confrontation of cultures. The performance was actually created in Adis Abeba and is the outcome of the meeting between French baroque musicians, Ethiopian musicians of the Fendika Group and Melaku Belay, internationally reknown dancer from the township. You will be able to meet Jean-Christophe Frisch, teacher at the Music School and Conservatory programmed after the performance in the afternoon (from 18h30 to 19H00) of the 3rd of December before the performance.
Dans le cadre du projet européen Espace(s) Son(s) Hainaut(s) – ESH (plate-forme transfrontalière pour les musiques innovantes et les arts sonores), co-organisé par Art Zoyd, le Phénix (Valenciennes) et le manège.mons. Projet soutenu par les fonds européens FEDER Interreg IV
Reservation: lucie.transcultures@gmail.com
Phénix, boulevard Harpignies,Valenciennes
04.12.11
Ateliers SONIC KIDS
Computer truck: Circuit bending
dans le cadre de la braderie des Loustixs
Valenciennes > Phénix > 10-16:00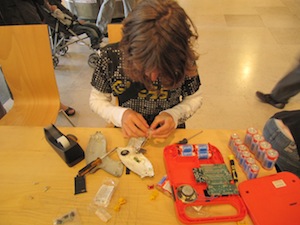 Julien Daigremont aka Computer Truck propose de transformer joyeusement les joujous en instruments électroniques déjantés. Bidouiller, souder, décortiquer, voilà ce qui attend vos bambins lors de cet atelier du 4 décembre.
Julien Daigremont aka Computer Truck can make the kids transform toys into electronic music instruments.
Dans le cadre du projet européen Espace(s) Son(s) Hainaut(s) – ESH (plate-forme transfrontalière pour les musiques innovantes et les arts sonores), co-organisé par Art Zoyd, le Phénix (Valenciennes) et le manège.mons. Projet soutenu par les fonds européens FEDER Interreg IV
Workshop Circuit Bending: 13:30 >14:30
Infos + réservation : + 33 (0)3 27 32 32 32
Phénix, boulevard Harpignies, Valenciennes
11.12.11
Digital Breakfast
Strasbourg > L'Aubètte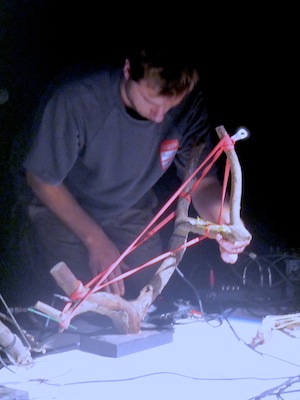 Cette création réunit, sous la coordination artistique de Stéphane Kozik (Livescape, artiste sonore et multimédiatique), des étudiants de l'ESAPV Mons (Arnaud Eeckhout et Sébastien Hericks) et une étudiante de l'ESAD Strasbourg. Elle détourne l'univers du petit déjeuner, pour proposer un monde sonore et visuel surréaliste, compose d'assemblages dadaïstes, de matériaux de cuisine customisés en instruments de musique numérique. Ensemble, ils installent une ambiance particulière évoquant la sortie du sommeil, un état où tout est encore mêlé, entre rêve et réalité. Les performeurs réalisent un véritable concert, où la composition sonore se crée en direct devant vous. Ici la charcuterie devient synthétiseur, le lait radio/actif, les paniers à vaisselle se transforment en boites à rythmes… La vidéo vient ici rajouter une autre perception du processus "live" s'attardant sur certains détails captés en direct, offrant ainsi une autre lecture du réel.
Digital Breakfast is a workshop and public presentation under the artistic coordination of Stéphane Kozik (Livescape, sound and multimedia artist), with art students from ESAPV Mons (Arnaud Eeckhout et Sébastien Hericks) and a student from ESAD Strasbourg. It transforms the universe of breakfast, to create a digital and visual world, assembling dada objects, customized kitchen tools into digital musical instruments. Waking up is a particular moment in the day, everything is still mixed between dream an reality. The students play a real concert where meat becomes synthesizer, milk is radioactive, washing baskets become rhythm boxes…The video adds another perception of the process that is taking place before you, showing you another perspective of reality.
Crédits de production /organisation : Monster kids.
Dans le cadre des échanges "emergences sonores" entre Transcultures/City Sonic/ESAPV Mons et L'Ososphère/ESAD Strasbourg
In the scope of the exchanges « emergences sonores » between Transcultures/CitySonic/ESAPV Mons and Ososphère/ESAD Strasbourg
Entrée libre – free entrance
L'Aubètte, Place Kléber, Strasbourg
Projet artistique et sonore pour le parcours Dédale
Pour la deuxième édition de la biennale d'art urbain Dédale qui aura lieu du 9 septembre au 7 octobre 2012 en collaboration avec Transcultures et le festival des arts sonores City Sonic, le Centre culturel de l'Arrondissement de Huy lance un appel à projets auprès d'artistes et plasticiens travaillant en Fédération Wallonie-Bruxelles et traitant du son comme matière première à travers diverses pratiques : installations, "sculptures sonores", projections,… Les artistes sont invités à intervenir dans différents lieux patrimoniaux ou insolites de la ville de Huy.
Inscriptions et dépôts des projets via www.acte2.be, avant le 10 janvier 2012.
Pour tout renseignement complémentaire, veuillez contacter Julie Maréchal, programmatrice arts plastiques au Centre culturel de l'Arrondissement de Huy
Tél : 085 21 12 06
mail: julie.marechal@ccah.be