Newsletter aout 2012 #2 – City Sonic 2012
Après le succès du vernissage de l'exposition L'oreille interne – a spectral recollection de Julien Sirjacq, à L'iselp (Bruxelles) ce 23 août, Transcultures et son partenaire le manège.mons vous convient au vernissage de City Sonic #10, ce 31 août 2012 à Mons. Au menu : un grand parcours sonore (guidé) au cœur des hauts lieux culturels montois, des concerts-performances et plusieurs DJ set sonic. Réservez déjà votre soirée du 4 septembre pour le concert de Rodolphe Burger qui revient en exclusivité solo dans un City Sonic-Mons encore plus intense pour ce dixième anniversaire.
After a successful opening of the exhibition L'oreille interne – a spectral recollection by Julien Sirjacq, in Brussels, Transcultures and its partner le manège.mons invite you to the opening of City Sonic #10 in Mons (Belgium) on August 31 featuring a great itinerary of sound installations in the city, performances/concerts and crazy City Sonic DJsets. On September 4th, check out the solo concert of guiarist-singer Rodolphe Burger also at City Sonic-Mons.
31.08.012
Ouverture/opening du Festival City Sonic#10
Visite du parcours sonore / guided visit of the sound itinerary – 17:30
+ performances Alexander MacSween – Laptop Orchestra vs Michel Doneda – 20:30
+ City Sonic Party – 22:00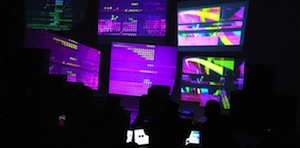 La dixième édition du festival City Sonic, piloté par Transcultures avec le manège.mons désormais associés dans cette belle aventure, démarre à Mons en grande trompe. Le parcours d'installations sonores en ville s'ouvre ce 31 août dès 17:30 en partant pour l'occasion de la Collégiale Sainte-Waudru avec un environnement électro-acoustique d'Etienne Bultingaire, passant par la Grand Place (Salle Saint-Georges, investie par Baudouin Oosterlinck) et d'autres lieux importants dont la Machine à Eau (avec Charlemagne Palestine et son « bordel sacré ») pour finir sur le site des Arbalestriers (Maison Folie) avec des créations de Arnaud Paquotte, Gauthier Keyaerts, Christophe Bailleau, Frank Smith + Philippe Langlois, Pieter Friess + G.Cela + M.Charles JJ + C.Guigny + L.Laraaj…
Des concerts/performances d'Alexander MacSween (Macheen, drum machines) et Laptop Orchestra versus Michel Doneda (saxo) prendront le relais dès 20:30 à la Salle des Arbalestriers puis des DJs (Next Baxter au bar des Arbalestriers, Radio Sonic Party au Bateau Ivre avec Antz Up Girls, Youri Margarine, Poney Boy). Bienvenue à tous les curieux du son !
City Sonic celebrates its 10th birthday in Μοns. The sound itinerary will open on the 31st of August starting from the collegiate church Sainte-Waudru (with an audio environment by Etienne Bultingaire, collaborator of Pierre Henri), visiting the Grand Place (Salle Saint-Georges, with 3 installations by Baudouin Oosterlinck) and other important historical locations (the Water Machine with a new "sacred bordello" by Charlemagne Palestine) to end at site des Arbalestriers (Maison Folie)with installations by Christian Rizzo, Arnaud Paquotte, Gauthier Keyaerts, Christophe Bailleau, Frank Smith + Philippe Langlois, Pieter Friess + G.Cela + M.Charles JJ + C.Guigny + L.Laraaj… and concerts / performances by Alexander MacSween (Macheen) and Laptop Orchestra versus Michel Doneda (saxophone) from 8.30pm at Salle des Arbalestriers followed by City Sonic DJs (Next Baxter at the bar des Arbalestriers, Radio Sonic Party at Bateau Ivre featuring Antz up Girls, Youri Margarine, Poney Boy). Welcome everybody!
Production: Transcultures, le manège.mons avec le soutien de la Fédération Wallonie-Bruxelles, la Ville de Mons, la Région Wallonne (tourisme), Musiques Nouvelles, la Délégation du Québec à Bruxelles, l'Ambassade de France, la Médiathèque, Centre National des Arts Plastiques (CNAP-France), du programme européen Espace(s) Son(s) Hainaut(s) (Feder-Interreg IV).
Direction artistique/curating : Philippe Franck en collaboration avec/in collaboration with Anne-Laure Chamboissier, commissaire artistique associé/associated curator & Jean-Paul Dessy, co-directeur artistique/co-artistic director le manège.mons
Vernissage/opening 31.08.2012, 17:30 – rendez-vous/meet us at Collégiale Sainte-Waudru, 1 rue du Chapitre, Mons – performances et party d'ouverture gratuites –free opening performances & party
Parcours sonore ouvert du mardi au dimanche/from Tuesday to Sunday – 12:00 > 18:00 – gratuit/free – départ/start Salle Saint-Georges, Grand Place
info www.citysonic.be tel: + 32 (0) 65 590889
04.09.012
Rodolphe Burger – Concert solo
Mons > Maison Folie – Salle des Arbalestriers (entrée par la rue du gouvernement)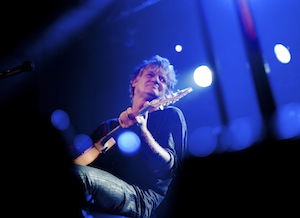 À force d'arpenter les chemins du son, le chanteur-guitariste Rodolphe Burger est aujourd'hui l'un des grands voyageurs du rock français, et l'un des plus prolifiques. Son univers musical, nourri des expériences les plus diverses, entretenu par des rencontres à première vue improbables, s'apparente à une galaxie en constante expansion. Entre rock mutant, boucles de mélancolie obsessionnelles, effluves de jazz, électronique acide ou lunaire et poésie contemporaine, impossible de ranger son œuvre dans une seule boîte. En bon globe-trotter, il a choisi l'itinéraire bis, empruntant sans relâche les sentiers de traverse «I'm a passenger, and I ride and I ride…»
Rodolphe Burger (ex leader of the French rock band Kat Onoma) is back in Mons at City Sonic (where he performed several times with different projects) with a special solo concert, his deep low voice and great rock guitar playing. Check it out.
20:00 / 8€-11€ (billeterie au théâtre – Le Manège – rue des passages 1, Mons)
Réservations : +32 (0)65.395939 / tickets@lemanege-mons.be
info www.citysonic.be tel: + 32 (0) 65 590889
15.09.012
L'oreille interne (a spectral recollection)
Julien Sirjacq
Bruxelles > l'Iselp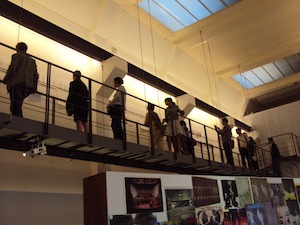 Pour cette première exposition City sonic#10 ouverte avec succès le 23 aout, le plasticien-musicien Julien Sirjacq est parti d'une interprétation des archives trouvées du chef d'orchestre Boris de Vinagrodov au coeur des avant-gardes musicales spectrales. Il nous invite à une plongée dans cet univers singulier mêlant peinture cinétique, sérigraphie, musique électro-acoustique/spectrale et technologies obsolètes. Cette installation-exposition s'accompagne d'une publication (éditée par Bells Angels) regroupant l'ensemble des archives avec des essais-interviews ainsi que d'une cassette audio (tirage limité) où des musiciens d'aujourd'hui les revisitent.
French visual artist Julian Sirjacq gives a personnal interpretation of found archives of conductor Boris de Vinagrodov mixing cinetic painting, silkscreens, spectral/electro acoustic music and obsolete technologies. For this installation/exhibition, Transcultures/City Sonic produced an audio cassette with revisitations by young musicians and also a book (limited edition designed by Bells Angels) featuring the archives as well as new essays and interviews.
Curators: Anne-Laure Chamboissier + Philippe Franck.
Production: Transcultures en partenariat avec/in partnership with L'iselp
Vernissage/opening 23.08.2012, 18:00 > 21:00
24.08 > 15.09 – lundi au samedi/from Monday to Saturday– 11:00 > 17:30 – gratuit/free
L'iselp / institut supérieur pour l'étude du langage plastique
Bd de Waterloo, 31 B-1000 Bruxelles – +32 (0)2 504 80 70 – accueil@iselp.be
Prochains Événements / next events
Sonic Mix – 07/09/2012 – 21:00 * Digital Breakfast * Rebeka Warrior * Taös * Get Mad Crew * (Théâtre Royal & Le Bateau Ivre – Mons)
Sonic Garden Party – 09/09/2012 – 15:00 * Ordinaire * Eric Van Osselaer * Margarida Guia * (Rendez-vous à La Chapelle, 5 rue des Telliers – Mons)
Pixellations présenté par Musiques Nouvelles – 12/09/2012 – 20:00 * ChampdAction & reFLEXible * (Théâtre Le Manège, rue des passages 1 – Mons)