Lectures and workshops – european project M4m – "De la Culture aux Industries Créatives" – 14 et 15 mars 2013
Invitation to participate
to the M4m workshop@Transcultures-Mons
From culture to creative industries: which mutations for the artistic production?
14+15 March 2013
Join the Facebook Event   
Download the brochure

We would be happy to welcome you on Thursday, March 14 – 10.30am at Mundaneum, 76 rue de Nimy – Mons (see detailed schedule below) and on Friday, March 15 – 9.30am at Numediart/University of Mons,  31 Boulevard Dolez.
On March 15th – 7.30pm, you are also invited to attend the M4m residencies event (featuring Paulo Dos Santos+Pao Paixao+Phil Maggi, Régis Cotentin, Gauthier Keyaerts/Very Mash'ta) at the Médiathèque, Îlot de la Grand'Place, 24 Rue de la Seuwe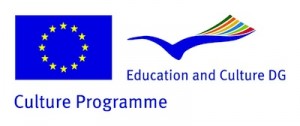 Participation is free, please confirm your attendance by contacting Lucie
Knockaert by e-mail or phone:
lucie.transcultures@gmail.com
+32 (0)484 07 78 57 (mobile)
+32(0)65 59 08 89
Sincerely,Philippe Franck
Director Transcultures

Program

Thursday March 14th @ Mundaneum
76 rue de Nimy, Mons

10.30>11.00am: Introduction of the workshop, welcome of the participants and visit of Mundaneum (archives and exhibition space) in Mons (by Philippe Franck, director of Transcultures), presentation of the "google of paper" and visit of the exhibition, meeting with the exhibited media artist Jacques Urbanska.
11.00>11.30: Mauro Del Borrello (general manager of le manège.mons) – Presentation of the structural approach of cultural centre le manège.mons
11.30>12.00 : presentation of Transcultures and its nomadic collaborative projects + presentation of Mobile (Transcultures new initiative for the distribution of digital and sound projects).
12.15>1.00 pm: Discussion (moderator : Philippe Baudelot)
12.30>1.00 pm: Lunch break
2.00>2.30: Presentation of the European Pépinières for young artists by Victor Coutard
2.30>3.00: Presentation of MU (sound and urban art group – Paris) by Vincent Voillat : artistic project and the link with companies.
3.00>3.30: Presentations and discussions on the theme "new technologies, new artistic hybrid practices, a new economy for culture" (moderator: Philippe Baudelot – digital performances and cultures)
3.30>4.00 :: Presentation of Mons 2015 (European capital of culture) by Pascal Keiser (in charge of the digital technology dept for Mons2015, director of Technocité)
4.00>4.30: Presentation of Wallimage and its cross media department by Philippe Reynaert (director)
4.30-5.30pm: Discussion on new ways of funding European and international creative projects  (moderator: Philippe Baudelot).
Friday March 15th @ Numediart
21, Boulevard Dolez, Mons

9.30>10.30 am: Visit of Numediart (University of Mons): presentation of this consortium and Institute of Research Art&New Technologies by director Thierry Dutoit + discussion about the link between art, research, technology and funding.
10.30>11.30 : Presentation of Tanec Praha (contemporary dance festival/structure in Prague) & the European project M4m (M for mobility) by Alzbeta Lupiskova (coordinator of M4m and Manager of Tanec Praha).
11.30>12.00 : Sophie Chartier (ex manager of Marseille 2013, European capital of Culture, founder of So Chart International) about new links between economy and cultural policy in a European perspective.
12.00>12.30 : Cédric Sabato (multimedia artist – art thérapist – Mons) present his Herbal Ghetto project and the link between art + technology + sustainable development.
12.30>2.00pm: Lunch break
2.00>2.30pm: Presentation of the link between research economy and art by Nicolas d'Alessandro(researcher, musician) @ Numediart
2.30>3.00: Bobvan (multimedia artist – Brussels) presents hybrid work and Artificial mythology concept
3.00 > 3.30: Presentation of Werner Moron (interdisciplinary artist and member of Paracommand'art – Liège) on other ways to rise public awareness on contemporary art.
3.30>4.00: Valérie Cordy (theatre director, media artist, director of la Fabrique de Théâtre- Frameries) and Jean-Claude Dargeant present their economic-artistic project The Ultimate Company.
4.00> 6.00 : Discussion + conclusions (Ph Baudelot + Ph Franck)
6.00pm: Buffet and drink @ Numediart
7.30pm: Public presentation of the final M4m/Transcultures artistic residencies > Paulo Dos Santo + Pao Paixao + Phil Maggi (AV performance), Régis Cotentin (video), Gauthier Keyaerts/Very Mash'ta (live set) @ La médiatèque/lemanège.mons (îlot de la Grand Place).
Free entrance