Newsletter février 2014
February beats the 2014 crazy rhythm with several lectures (in Art Schools and universities of the Federation Wallonia-Brussels), workshops, concerts performances and especially the launch of Resonances, a sound art exhibition at the Art School of Braine l'Alleud which opens this February 20 followed by a series of events organised in Brabant wallon linking number of places and partners until May 3rd. It is these exploratory, creative but also educational dimensions resonate again as Transcultures continues, more than ever, to cross them with energy and our belief in the necessity of reinventing a public service which bear living art works to different sorts of audiences.
---
05.02.2014
Philippe Franck Talk
Résonances autres, une introduction au arts sonores, d'hier à aujourd'hui
Braine-l'Alleud > École des Arts > 19:00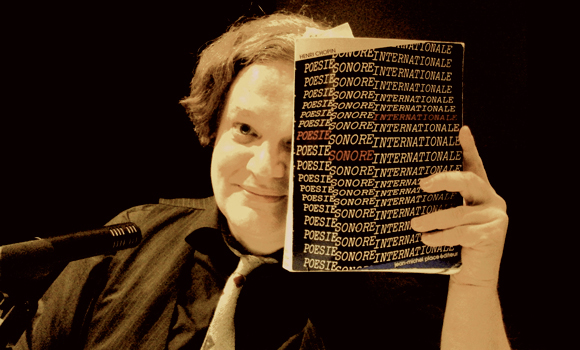 What are the roots of the sound art that cross disciplines? What are the main features of these forms and adventurous sound practices? How does site specific audio creation dialogue with the urban space? How does it develop? What are the possibilities and these pitfalls? These are some questions and issues that Philippe Franck bring light to stimulate critical thinking and discussion.
After an introduction to the genesis of the sound art through the avant-gardes of the twentieth century and some great pioneering figures practices, Philippe Franck will also discuss his experience and approach of curator/ founder of the international sound art festival City Sonic illustrating these remarks with many video and audio examples.
This lecture is the first event of 'Resonances', an exhibition and series of events around sound art (curated by Philippe Franck) linking several cultural partners and places, in the province of Brabant wallon (till May 3rd).
In a framework of Résonances 2014
École des Arts – 47 rue du chateau, Braine-l'Alleud
---
06.02.2014
Thomas Israël Talk
Le numérique et la conscience corporelle (ou comment j'ai tranformé mon ex en meuble interactif)
Mons > Arts2 > 11:30
Visual and multimedia artist based in Brussels, Thomas Israel will present his work, commenting and illustrating a selection of video/immersive or interactive installations and performances. Coming from a living arts background, his unique approach of digital arts revolves around the themes of the body, time and the unconscious. His work was shown at MoMA (New York), the Society for Arts and Technology (Montreal), Les Transnumériques (Mons-Brussels) and in many festivals, art fairs, galleries and museums worldwide.
A partnership Transcultures-Arts2
free entrance
Carré des Arts, Auditorium Arts2 (aile gauche), 4a rue des Sœurs Noires, Mons
---
06.02.2014
Philippe Franck + Todor Todoroff Talk
Introduction aux arts sonores (son-espace-mouvement)
Bruxelles > Académie des Beaux Arts > 15:00
How does sound art play with the urban space, both as a living vibrating organism and a source of pollution source to transform it? From historical examples (Max Neuhaus, Bill Fontana, Christina Kubisch,…) but also many contemporary pieces with different site specific approaches (including productions of the sound art festival City Sonic), Philippe Franck will discuss some issues related to audio architectures, soundscapes to latest geolocative developments.(in French only).
Todor Todoroff, electronic music composer, teacher and engineer / researcher will then talk about his experience as a musician in relation to contemporary dance (with Michèle Noiret, Belgian choreographer with whom he collaborated for many years) and the various creative and interactive links between sound, movement and image he has explored in his performances and installations with interactive systems he has developed with ARTeM and the Institute for new technologies and arts Numediart/University of Mons..
In a framework of Ecouter l'espace scénique – Académie royale des Beaux Arts de Bruxelles, Faculté d'urbanisme et d'architecture/UMons, Transcultures
free entrance
Rue du Midi 144, 1000 Bruxelles
---
12.02.2014
François Zajega Talk
Interfaces touchless de la 2D à la 3D (Captation de mouvements et de gestes)
Mons > Faculté d'Architecture et d'Urbanisme > 12:30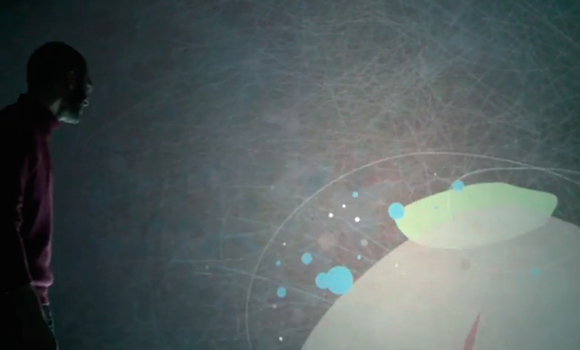 This lecture (in the framework the series of lectures and workshops 'Augmented Digital Territories' launched by Transcultures in partnership with the Dept of Architecture and Urbanism of the University of Mons) traces the different image analysis systems which have been implemented in interactive installations for a wide audience (that is to say a non-expert public) since 2008 by digital artist and teacher François Zajéga. Initially based on the analysis of 2D image, one can see how the uptake of depth via the Kinect camera type made possible new models of human-computer interaction and ergonomic issues they involve.
Partnership Transcultures-UMONS (Architecture/Urbanisme)
free entrance
Faculté d'Architecture et d'Urbanisme (UMONS), 88 rue d'Havré, Mons
---
20.02.2014
Résonances 2014
(vernissage de l'exposition/opening)
+ DJ set Rafael Munoz Gomez
Braine-l'Alleud > École des Arts > 18:30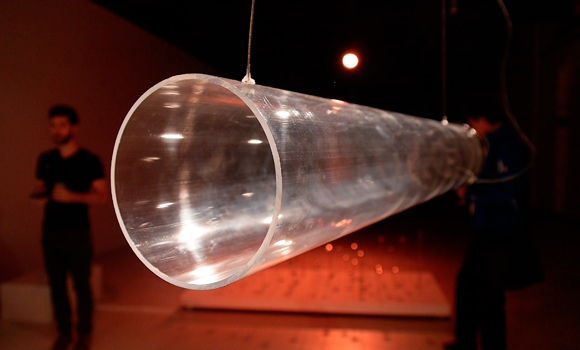 Curated by Philippe Franck (director of City Sonic & Transcultures), the Art School of Braine l'Alleud presents an exhibition exploring the relationship between sound and contemporary arts. On two floors, one can find installations by young Belgian international & artists Arnaud Eeckhout, Mauro Vitturini, Rodolphe Alexis Such : Stéphane Kozik + Perrine Joveniaux, Isa Belle + Paradise Now, Vivian Barigand Emmanuel Selva, short sonic videos by Arnaud Eeckhout + + Sébastien Eerickx Vivian Barigand and sonic postcards resulting from workshops led by Arnaud Eeckhout Emilien Baudelot and Philippe Franck with students of the Art school. This sonic-sensuous exhibition is the epicentre of this sound art event linking several partners and places in Brabant wallon.
free entrance
École des Arts – 47 rue du chateau, Braine-l'Alleud
---
21.02.2014
Jean-Paul Dessy + Jarek Frankowski
Sketches PL (pour électronique et violoncelle)
Braine-l'Alleud > Académie de Musique > 20:00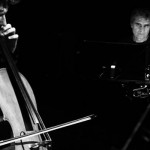 Originally this project (created at Sonic Lab # 2 – Festival City Sonic 2013) is inspired by the Polish atmosphere proposed by Jarek Frankowski and a unique encounter between classical and contemporary universes. Jean-Paul Dessy (cello- Musiques Nouvelles) enters the world of electroacoustic created by Jarek Frankowski (composer and sound engineer born in Poland), for a duet across acoustic, geographical and temporal references. The pure and perfect sound of the cello, the protean and extreme spectral accuracy of the live electronic transformations subtly dialogue.
Production : Le Manège Mons/Musiques Nouvelles, Transcultures, Art Zoyd, in a framework of Espace(s) Son(s) Hainaut()s – FEDER-Interreg IV France-Wallonie-Vlaanderen.
 Académie de Musique de Braine-l'Alleud, 49, rue du Château, Braine-l'Alleud
academie.musique@braine-lalleud.be / 02 389 48 88
---
26.02.2014
Philippe Franck Talk
Dispositifs nomades, lieux connectés et flux sonores… à l'écoute de la dérive
Mons > Faculté d'Architecture et d'Urbanisme > 12:30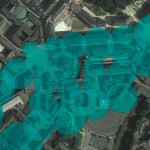 We will comment on ambulatory works (pioneer and contemporary) that re-trace and "increase" the city connected to other (hidden) areas/urban locations and redefine it into a multi audio ever changing deterritorialized/reterritorialized space, by activating our moving listening. Between physical and virtual architectures, places and non-places, sound streaming via the Internet and embedded devices, to draw other audio-geographical drift, carrying other imaginary and poetic interactions.
In the framework of the series "Augmented digital territories" initiated by Transcultures with the Dept of Architecture & Urbanism of the University of Mons
free entrance
Faculté d'Architecture et d'Urbanisme (UMONS), 88 rue d'Havré, Mons
---
27.02.2014
Ouverture du parcours/opening of Geosonic – Julien Poidevin + DJ City Sonic – Paradise Now
Concerts Transonic Night : Gauthier Keyaerts/The Aktivist + Supernova + Ordinaire
Louvain-la-Neuve
> Forum des Hall > 18:00 (vernissage) + 20:00 (concerts)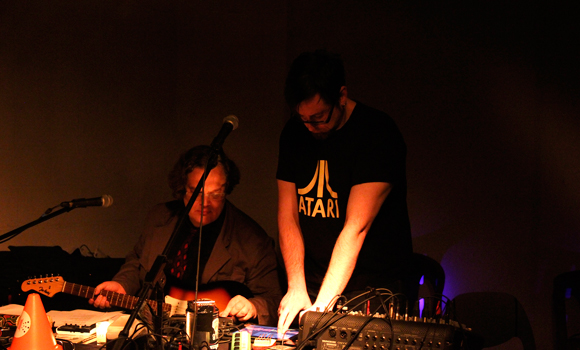 For the opening of Julien Poidevin' site specific creation 'Geosonic mi'x, a ballad is proposed with the artist who worked on a geo-locative audio journeyon the site of Louvain-la-Neuve university, while Paradise Now offers "City Sonic dj set " subtly mixing audio sources works produced by the international sound art festival City Sonic (Mons) and other fragments of sound poetry, field recording or experimental/electronic music.
The Transonic Night is proposed by this eponymous new label for " music and other sounds " initiated by Transcultures, which presents associated Belgian artists with a solo set by Keyaerts Gauthier ( aka the Aktivist, author of the album 'Fragments # 37-43' – electro instrumentals subtly groovy and organic) joined by his accomplice Philippe Franck (vocals, guitar, laptop, objects) for the duo Supernova combining electro textures, post pop and poetic fragments. The Liege duo Ordinary (Eric Therer/ text + voice & Stephan Ink/laptop+bass) borrows our daily ever "ordinary" words and sounds to divert them and deliver a unique and energetic poetic audio- peformance.
free entrance
Forum des Halles, 1 place de l'Université – Galerie des Halles
---
Associated Events
---
01.02.2014
Musiques Nouvelles
Andy Warhol's night
(Factory happening 1964-2014)
Bruxelles > Flagey > 20:15
Andy Warhol has definitely marked a "pop" culture with multiplied icons and fascinating superstars. In 1963, he launched the Factory in Manhattan, a factory to create images that attracts talent, poets, musicians and distinguished visitors from around the world. From this rich heritage essential to our contemporary life, Musiques Nouvelles (featuring singer/performer Angélique Willkie) propose an audiovisual performance combining live music (new pieces by Musiques Nouvelles and covers of songs by Lou Reed and John Cale/Songs for Drella + Venus in Furs), projections and documents (texts, photos and film from the archives of photographer/poet Gerard Malanga, Warhol's main collaborator in the 60's Silver Factory) in an New York loft atmosphere. Pop for ever!
Production : Le Manège.mons/Musiques Nouvelles, Transcultures, BAM, Pôle Muséal Ville de Mons, Flagey, Bozar
18 / 15€ (sold out!)
Flagey (studio 1) – Place Flagey, Ixelles (Bruxelles)
---
20.02.2014
Jean Christophe Frisch
Éloge de la folie
Valenciennes > Le Phénix > 20:00
With traditional Ottoman music and Henry Purcell as guides, the baroque ensemble invites us inside Syria of the seventeenth century, when the insane asylums cared for the sick through music…

In the framework of Espace(s) Son(s) Hainaut(s) / Feder Interreg IV-France-Wallonie-Vlaanderen.
Boulevard Henri Harpiginies, Valenciennes
---
28.02.2014
Max Vandervorst + Marc Hérouet
Récital pour objets abandonnés et clavier tempéré/laboratoire musical
Braine-l'Alleud > Centre culturel > 20:15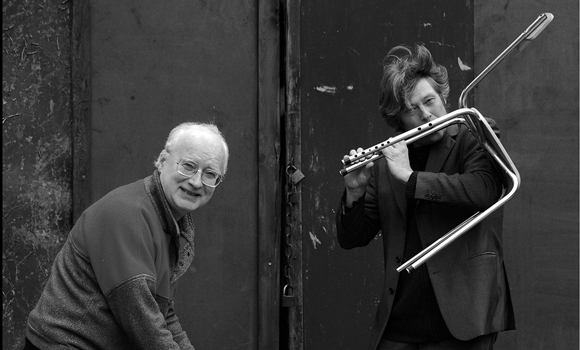 A funny/crazy duet between Max Vandervorst (pionner-inventor of new & entertaining instruments) and pianist-composer Marc Hérouet.
in the framework of Résonances 2014 (les arts sonores en Brabant wallon)
---
Workshops
---
04.02.2014
Rendu public du workshop/public showing of the workshop
"Emergences sonores"
Mons > Arts2 > 14:00
This workshop (27.01> 03.02) proposed to the students of art school of the Federation Wallonia-Brussels (Arts2,…) and North of France (Art School of Tourcoing,…) to give them the opportunity to develop their sound installation. The result of this work is presented to the public which can meet the artists to give them a first feed back. This first workshop is coordonated by sound artist and multimedia Stéphane Kozik. At the end of the second session in July, a selection of the best works will be presented in the sound art international festival City Sonic (September 2014).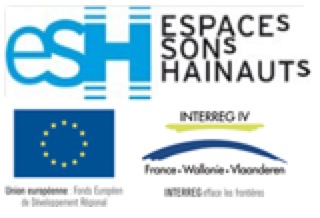 Partenership Arts²-Transcultures. In the framework of Espace(s) Son(s) Hainaut(s) / Feder Interreg IV-France-Wallonie-Vlaanderen
---
05.02.2014
Margarida Guia
Atelier Sonic Kids / workshop
les champs de la voix
Mons > Maison Folie > 14:00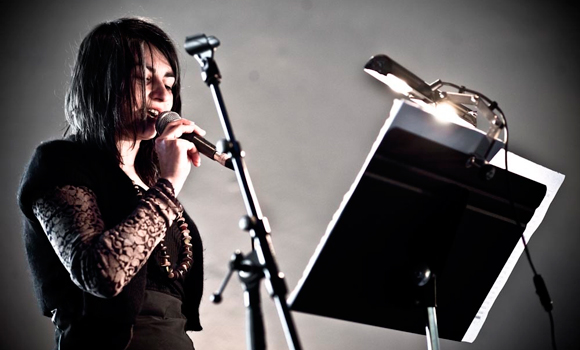 Margardi Guia, Portuguese artist/poet/performer/vocalist invite the children to appropriate poems by Georges Perec, Jacques Prévert and other great writers, to manipulate words and vocal materials while decomplexing their approach of poetry.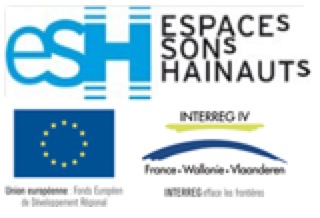 Partnership with the Carosse. In the framework of the Espace(s) Son(s) Hainaut(s) / FEDER-Interreg IV France-Vlanderen-Wallonie