17 + 18-06-2014 – Bains numériques#8 – Professional meetings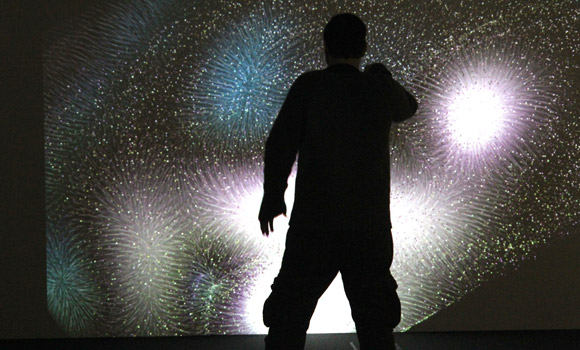 Transcultures (Philippe Franck, Jacques Urbanska) with Mons 2015, European Capital of Culture (Mauro Del Borrello, general manager of le manège.mons and Mons2015, Pascal Keiser, artistic director for digital programme and director of TechnocITé) and the City of Mons (Joelle Kakompole, deputy mayor in charge of culture) are invited by the Arts Centre of Enghien-les-Bains to participate to the professional encounters organised in the framework of Festival Bains numériques.
In addition to concerts, exhibitions and competitions using the whole city as a stage, this year, the festival is focusing on professional encounters at series of roundtables on the role of media arts in exploring and shaping the cities of tomorrow, and participants from political, cultural and academic institutions, artists, architects and urban planners are invited to debate on how media arts can create opportunities for exchanging and communicating between inhabitants in public spaces where we also observe new approaches for a productive use.
The optimization of speed and quantities of communication has revolutionized our lifestyle and today, we are actually more divided as well as more connected because there is a growing sense of individualism in societies. Facing these critical moments, media arts seem to have a key for cities with their capacity to encourage collective experiences and creations of new social spaces.
Besides the roundtables, a showroom will be organized on June 18th in partnership with the French Regional Economic Agency and the Economic Growth Committee of Val d'Oise department to introduce related business innovations. On June the 18th from 2 p.m till 6 p.m, a dedicated networking space will favour B2B meetings between French and Israeli enterprises that wish to develop their companies in the area of digital technology internationally and between members of the Digital Arts Network, foreign cultural institutions and artists.
17 June – 9am > 12.30 – round table#1 on media arts in the public spaces (with the participation of Mauro Del Borrello, Pascal Keiser, Joelle Kakompole)
17 June – 2pm > 4.30pm – round table 2 on creative stations (with the participation of Joelle Kakompole)
18 June – 9am > 12.30 – round table3 Educational challenges of creative cities (with the participation of Philippe Franck)
See also at Bains Numériques, "Fragments # 43-44″ by Gauthier Keyaerts in collaboration with François Zajéga (to supervise the visual and data mapping), Yacine Sebti (for sound editing) and the Institute of Research numediart (for recognition of gesture) which is in the official competition of the festival. This interactive AV installation/performance (co-produced by Transcultures, numediart with the support of the Ministry of Culture of the Federation Wallonia-Brussels digital arts dept) is based both on technology, instinct and improvisation.
Informations
17/06 > 18/06/2014

—

Centre des Arts

Enghien les Bains – France

free
Professional meetings
Auditorium des Thermes
85 rue du Gal de Gaulle 95880 Enghien-les-Bains – France
Fragments#43-44
17.06
Installation 17.06 – 11:00 > 22:00 • 17 + 18.06 – 12:00 > 00:00
Performance 17.06 – 19:00
Salle Noire du Centre des Arts d'Enghien-les-Bains, 12-16 rue de la Libération, 95 Enghien-les-Bains
www.cda95.fr/fr/bains-numeriques