Newsletter 08/2015 – City Sonic #1

CITY SONIC #13 – SEPTEMBER 2015
City Sonic, international festival dedicated to the diversity and creativity of sound arts, proposes, from September 12 to 27 (opening event on the 11th) in the framework of Mons2015 European Capital of Culture, sound itineraries which transform the city center of Mons into a hub connected to the audio planet. For this special expanded 13th edition, City Sonic extends its itinerary from the railway station to Arsonic (new 'theatre of listening') through the Carré des Arts, the new House of Design and the Grand Place but also a series of places in town, invested by artists.
Combining a prospective, poetic and playful approach, City Sonic@ Mons 2015 also offers mobile performance, concerts in unusual settings, a Sonic Garden Party (performances in private gardens), Sonic Kids workshops, a sonic cocktail (outdoor urban mixes), the Sonic (web) Radio programme… distilled throughout this festival of adventurous sounds.
---
11.09.2015


Opening Night
City Sonic
Mons

> Centre-ville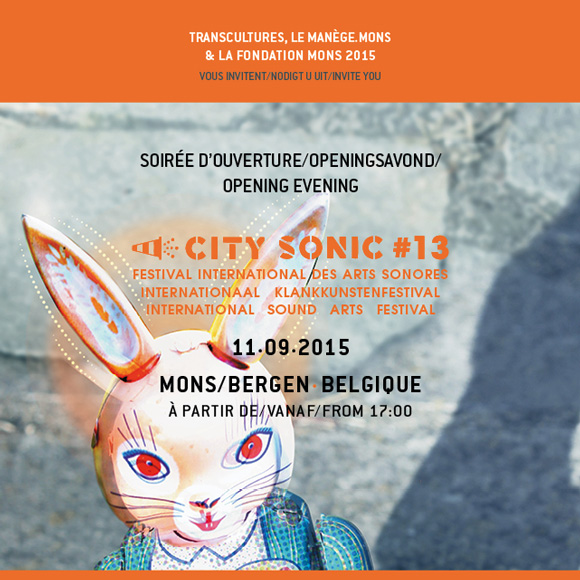 17:00 > 18:15


visit of the sound itineraries
3 departures / 3 courses / every 15 minutes

Guided tour of 3 thematic sound itineraries (invented instruments, sound and digital, audio visual architectures) with the artists on the scene.
Start – Salle Saint-Georges – Grand Place de Mons
18:30 > 19:00


Welcome speech

In the presence of Elio Di Rupo (mayor of Mons and Minister of State), representatives of the Foundation Mons2015, Philippe Franck (curator of City Sonic), the City Sonic partners and artists.
Salle Saint-George, Grand'Place
19:00 > 19:30


Jason Van Gulick – Résonance architecturale (performance)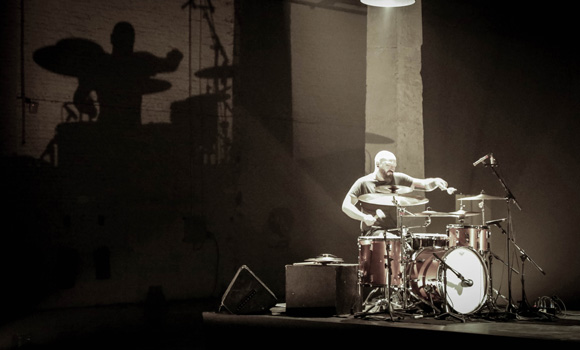 This piece for solo percussionist (Jason Van Gulick), composed in collaboration with Maxime Denuc, focuses on further exploration of the sound of an architectural place through percussion.
With the support of, in belgium : Fédération Wallonie-Bruxelles, Transcultures, Recyclart and the Ateliers Claus, the Rockerill & in France, of Césaré and la Condition Publique.
Eglise Sainte-Elisabeth – Rue de Nimy – free entrance
19:30 > 22:00


City Sonic drink + mix Belle Jeunesse

After walking through the city center to discover the installations of this edition, come and join artists and festival partners for a sonic drink at the Theatre Royal, entertained by DJ Belle Jeunesse (aka Christophe Bailleau) and his hybrid lounge mix.
Théâtre Royal, Grand'Place, free entrance
22:00 > 03:00


CITY SONIC PARTY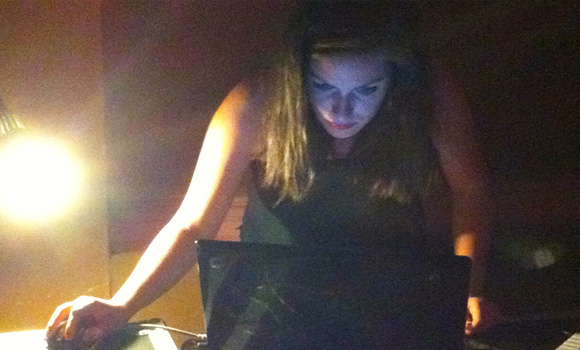 Le Bateau Ivre is a regular partner of the festival and a well-known nightlife place of the young people of Mons. City Sonic Party is once more hosted, with great energetic musical atmosphere, led by electro DJette Fleur (Brussels) and Pierre Beloüin (France) Optical Sound label artistic director, for an offbeat tiki mix, until late at night.
Bateau Ivre – Rue de Nimy, 1 – free entrance
---
12.09.2015


Presentation of the Digital Art Centre
of Taipei + performances
Mons

> Café Europa + Maison du Design + Carré des Arts > 16:00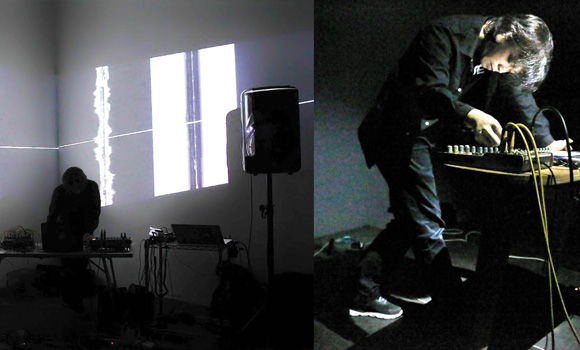 A live presentation of the Digital Art Festival and Centre of Taipei (partner of City Sonic 2015) and its specificity of the digital sound stage and Taiwan, at Café Europa, by Hsing-Jou Yeh (international relations manager). Selected Taiwanese artists for City Sonic (Yao Chung-Han, Wang Chung-Kun, Chang Yung-Ta) will then give short demo performances at the House of Design followed by Hyper Transmission an AV electronic performance by Wang Fujui (founder and coordinator of the Trans-Sonic Lab) at Carré des Arts (salle polyvalente).
With the support of the Digital Art Festival & Center of Taipei and of the Ministry for Culture of Taïwan (more infos on Taïwan).
Café Europa + Maison du Design + Carré des Arts
Rue des soeurs noires, 4
Entrée libre/free entrance
---
13.09.2015


Sonic Garden Party
Mons

> start in front of la Chapelle, rue des Telliers > 15:00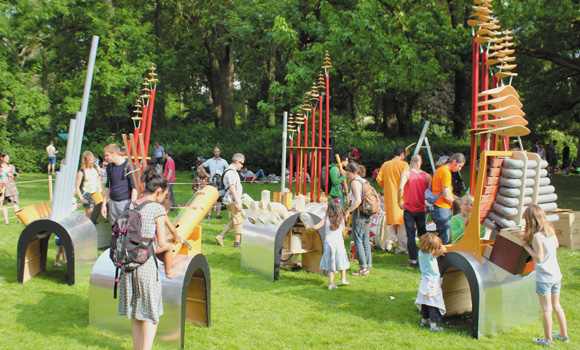 With Sonic Garden Party, City Sonic offers a convivial Sunday afternoon, with intimate concerts and performances (about twenty minutes each) created and presented in beautiful private gardens (open to the public for the occasion) in rue des Compagnons (historic area of the Belfry located behind the Grand'Place).
Werner Moron + Manu Louis – Lumière
After proposing a surprise stroll in downtown City Sonic course, Werner Moron (texts – voice) and Manu Louis (music – guitar, electronics) stop outside the Thanks gallery (former chapel) in rue des Telliers to welcome and guide the public after an audio-poetic performance mixing humor, critical and sensitive impressions, to the gardens of other creations of this special Sonic Garden Party@City Sonic 2015.
Jacques Foschia – Chaosphère#3 (50 nuances de bruit)
Jacques Foschia uses for this amazing performance, only vintage radios producing unique live sonic textures.
collectif amadeo – Fujinn Open Orchestra
A performance melding musical theater, jazz and world music trends, during which traditional or invented influences and instruments marry.
Artists City Sonic 2015: Muriel Alliot (Fr/Be), collectif amadeo (Be), archives poésie sonore Le Lieu (Qbc), Christophe Bailleau/Belle Jeunesse (Be), Martyn Bates (GB), Isa Belle+Paradise Now (Fr/Be), Sophie Berger (Fr), Damien Bourniquel (Fr), Claire Bourguin (Be), Jean-Guy Coulange (Fr), Stéphanie Croibien (Be), François Cys (Be), Dawamesk (Be), Jean D. L. (Be), Baudouin de Jaer (Be), Digital Art Festival/Foundation Taipei/Yao Chung-Han (TW), Wang Chung-Kun (TW), Fujui Wang (TW), Chang Yung-Ta (TW), Emergences sonores (Arts2-Mons, ARBA-ESA Bruxelles, Faculté d'Architecture et d'Urbanisme-UMons, ENSA Bourges, ESAD Valenciennes), EZ3kiel (Fr), Francis Flament (Be), Fleur (Be), Jacques Foschia (Be), Margarida Guia (PT), Isidore Isou/Natan Karczmar (Fr), Tom Jackson (GB), Maurice Charles JJ (Be), Gauthier Keyaerts (Be), Val Kiry (Fr), Dominique Lawalrée (Be), Linda Lewkowicz (Be), Manu Louis (Be), Gilles Malatray (Fr), Anton Mobin (Fr), Werner Moron (Be), Musiques Nouvelles (Be), Ordinaire + Jonas Luyckx (Be), Charles Pennequin (Fr), Dimitri Pike (Be), DJ Poncho (Be), Emmanuel Rébus (Fr), Matthieu Safatly (Be/Fr), Janek Schaefer (Gb), Harold Schellinx (Nl), Magali Schuermans (Be), Michèle Sigal (Fr), Taâlem (Be/Fr), Z0é Tabourdiot (Fr/Be), Taos (Be), Pascale Tison (Be), Jacques Urbanska (Be), Jason Van Gulick (Be/Fr), Sandrine Verstraete (Be), Laurence Vielle + Jean-Michel Agius + Eric D'Agostino (Be), VOID (Be/It).
Production City Sonic 2015 : Transcultures, Mons2015 Fondation, le manège.mons with the support of the Federation Wallonia-Brussels (multidisciplinary) & of Wallonia (tourism), in partnership with the City of Mons
---