06.02>06.03 – Damien Bourniquel Exhibition Les portraits audacieux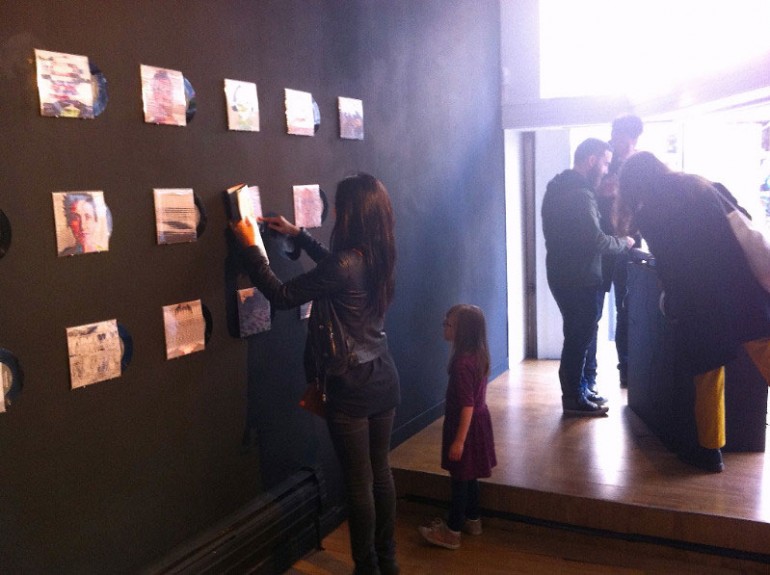 The 'Portraits audacieux' (Bold portraits), hybrid digital files, both sounds and images materialize at Residence 87 in the form of 55 singles, engraved and printed 2 sides,vinyls had been the subject of an exhibition at the Gallery Pop Up, in the framework of festival City Sonic in September 2015 in Mons.
This exhibition of Damien Bourniquel extends this digital, audio and visual participatory project (starting with portraits of artists whose sound "translation" – with the musical software Audacity – is reworked by them and then reprinted in exposed portraits and the compositions on singles be to listen to with headphones during the show) that continues to invite more and more artists: 110 musical compositions and portraits of 58 sound artists. A poster A0 (80×120 cm) compiling all the portraits will be on sale. It will also "upgradable" via an application pf augmented reality that enable to listen, via a smartphone or a tablet, to the sound compositions corresponding to each portrait.
Informations
06.02 > 06.03

Résidence 87

87, avenue Secrétan, 75019 Paris

free
Schedule
Open the Sundays & Saturdays 14.00-20.00 or on appointment