26.09 > 06.11.2016 – Jean-François Lahos + Nicolas d'Alessandro – crossed residencies Vice Versa
Posted on

20/09/2016

in 2016, Agenda, All news, Artists, Arts Numériques, Arts Sciences, Belgium / FWB, International, Network, Partners, Production, Projects, Résidences, Soundart, Vice Versa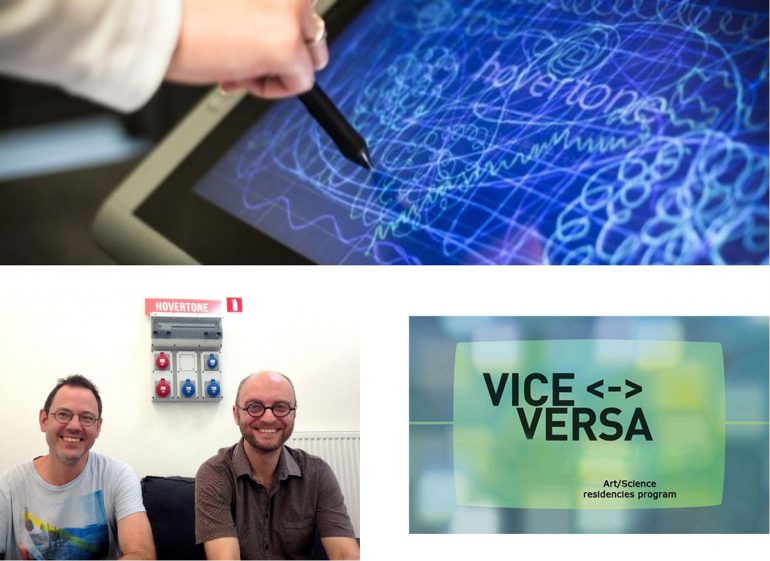 Born from the partnership between La Chambre Blanche (centre of visual and digital arts in Québec) and Transcultures (Center of digital audio and cultures in Mons) 'Vice Versa-crossed digital arts residences' reunite media/digital arts creators with complementary skills (more "artistic" or more "technological", creator and/or programmer …) working on a joint digital project with residency times both in Mons and Quebec followed by a public presentation and a support to the dissemination of their project via the networks of the partners.
For this second edition/crossed residency, Jean-François Lahos (Quebec) who works in the formal aspect of an aesthetic field of abstraction (the "plasticity" of new digital practices which, according to him, is not always taken into account) and Nicolas d'Alessandro, musician, inventor of digital instruments and formerly a researcher at the Research Institute Numediart / UMons which has launched the start up Hovertone with Joëlle Tillemane (also an engineer/researcher Numediart) which were selected by the partners.
After a first presentation of their innovative joint project in early November in Mons, they should finalize the project in December at Quebec hosted by La Chambre Blanche.
Informations
26.09 > 06.11.2016

Transcultures Residence
Production
Transcultures – La Chambre Blanche in the framework of Vice Versa program with the support of Wallonia-Brussels International, the City of Québec, The Conseil des Arts et des Lettres de Québec , Culture et Communication Québec, Conseil des Arts du Canada.