Vice Versa 5.0 | Creative Crossborder Meeting | arts, recherche, industries culturelles
Posted on

30/01/2019

in 2019, Agenda, All news, Artists, Arts Numériques, Arts Sciences, Belgium / FWB, C2L3Play, Conferences, Distribution, home-short-en, News, Partners, Production, Projects, Transcultures team, Vice Versa
Vice Versa 5.0 | Creatvie Crossborder Meeting
Digital arts-research-cultural and creative industries meeting
Initiated by Transcultures (Center for Digital and Sound Cultures) in 2014 in collaboration with the Numediart Research Institute (University of Mons), Vice Versa intends to give a particular visibility and to provoke a critical and public reflection about Arts / Sciences projects known as « innovative ", related to important issues of digital cultures in close connection with the fields of research and cultural and creative industries.
For its fifth edition, hosted by the Mons Mundaneum and organized as part of the cross-border project C2L3PLAY – Cross Border Living Labs, Vice Versa highlights the achievements and research of this living lab of the cross-border zone bringing together fifteen or so partners in 3 regions (Wallonia, Hauts-de-France, West Flanders) and coordinated since 2016 by the Numediart Research Institute of the University of Mons.
Vice Versa # 5 proposes a morning of ideas sessions for digital and innovative projects coordinated by the Louvre Lens Vallée Incubator / Accelerator of Cultural Enterprises (reserved for C2L3Play partners); an afternoon of meetings around digital cultures, research and its concrete applications punctuated by networking breaks.
Program
14:00 – presentation of Cross Border Living Labs cross-border project;
14:20 – introductory conference on Design Thinking and Prototyping, proposed by Designregio Kortrijk, at the crossroads of contemporary arts, digital cultures and technologies and societal issues;
15:50 – presentations of a dozen innovative projects, some of which are accompanied by Cross Border Living Labs;
17:30 – demo performance ROBOTSCOPE by Stéphane Kozik
17:45 – exhibition demo – projects of artists and designers of digital cultures, a time of meeting creators / designers / researchers / entrepreneurs around an cocktail dinner offered.
With the projects/interventions
Samuel Meirlaen (Be – Big Boy System) ; Olivier Gayard (Be – MEMOVIE) ; Manu Di Martino (Be – Okus) ; Etienne Lambot (Be – AppiMonkey) ; Roel Heremans (Be) ; Franck Soudan (Fr/Be – Art2.Nework) ; Fabien Zocco (Fr) Gwendal Sartre (Fr) Stéphane Kozik (Fr/Be) ; Heleen Sintobin (Be) ; Said Afifi (Fr) ; Philippe Franck (Be – Transcultures) ; Pierre Collin (Be – Twist) ; Lieven Decouvreur (Be – University College Howest) ; Marnix Rummens (Be – Buda) ; Stan Dewaele (Be – Designregio Kortrijk) ; Eric Prigent (Fr – Le Fresnoy), Chloé Roncajolo (Fr – Louvre Lens Vallée)…
Informations
22.02.2019

13:45 > 19:30

Mundaneum

Rue de Nimy 7000 Mons

free – reservation
Participants | Structures

C2L3PLay | Crossborder Living Lab(s)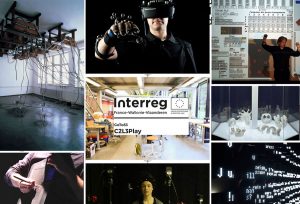 C2L3PLAY is an Interreg cross-border cooperation project between France-Wallonia-Vlaanderen co-financed by the European Union and supported by 9 partners in France and Belgium. C2L3Play (Cross Border Living Labs) is THE living lab of the Cultural and Creative Industries of the cross-border region Hauts-de-France/Wallonia/Flanders.
Convinced that it is thanks to co-creation and innovation processes that projects grow, the C2L3PLAY partners have already committed themselves to 9 project leaders in France and Belgium! >> Consult the news of C2L3PLAY – Cross Border Living Labs