20 > 24.02.2020 | Digital & sound emergences 2020 #1
Posted on

05/01/2020

in 2020, Agenda, All news, Artists, Belgium / FWB, Mediation, Partners, Production, Projects, Soundart, Workshops, Young artists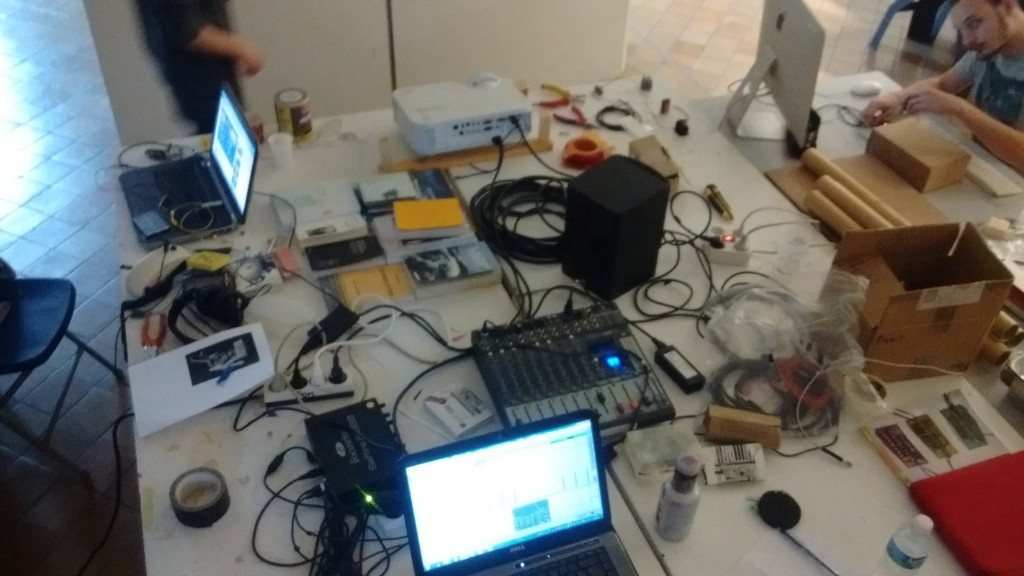 This first workshop of the series Emergences digital and sound of 2020, a partnership between Transcultures and the school of visual arts of Mons Arts2 initiated for several years, is coordinated by digital / audio / intermedia artists Alain Wergifosse et Julien Poidevin. II offers students to develop an original creation – installation or performance – using digital tools and sonic devices.
Associated with this workshop, a second one, first step to the exhibition The sound implies (opening on February 7, 2020 at Arts2) which brings together, for the second year, students from the art schools of Mons and Tourcoing (coordination: Julien Poidevin – Silvain Vanot), with the support of Transcultures and the European Pepinieres of Creation.
Alain Wergifosse
Alain Wergifosse amplifies all kinds of resonant objects and specializes in the electronic processing of Larsen to realize his compositions and organic improvisations. he traveled through the world, solo and with various groups and collective projects: Obmuz, Macromassa, SpecOp, Colectivo Anatomic and others. For 10 years he composed the music and the sound interactions of the shows Marcel lí Antúnez (ex La Fura dels Baus) and he participated in many collaborations in Spain and Belgium. In recent years, he has focused more on the visual and realizes immersive installations, self-generative videos, microscopies and other compositions presented in several festivals and international events (City Sonic, MEM, Kikk, Week of Sound…).
Julien Poidevin
Julien Poidevin comes from the École Supérieure d'Arts Plastiques et Visuels de Mons (ESAPV / IDM section), an intermedia artist, he works on devices that question our relationship with the body and the territory by using different modes of expression .
His creations explore and question our relationship to space and perception. His work in a tree structure develops through a set of complementary projects relating to soundscapes, interactions of inside and outside in crossing urban territories, synaesthetic environments involving bodies, acoustic games as markers of places, intermedia installations where audiovisual devices immerse the spectator in the performance and production of visual or moving objects.
Informations
20 > 24.02.2020
Arts2 – Carré des Arts – Mons
Free – on registration
Production
Partnership Transcultures – Arts2
With the support of the European Pepinieres of Creation