16.04.2021 | The Drift Operating Modes – Seminar @ Recto VRso – Laval Virtual (Fr)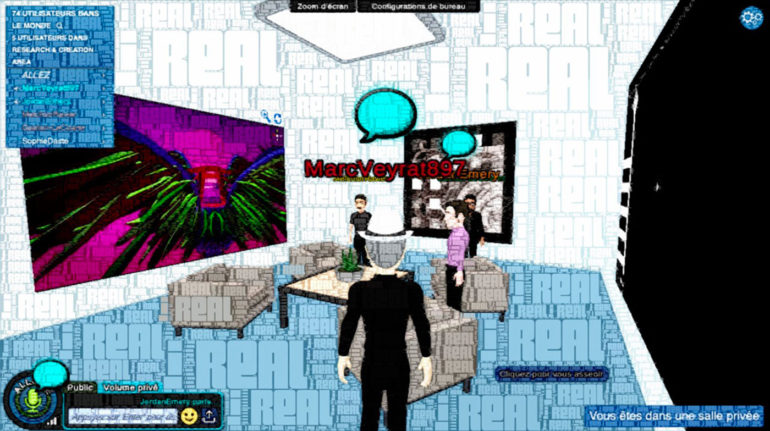 The Drift Operating Modes (Les modes opératoires de la dérive), further exacerbated by the pandemic, oblige us to re/think our interrelationships with the different platforms used to communicate and re/present Art. In these "Between [Body/Machine]" eSPACEs (Carole Brandon), our multiple bodiliness as defectors migrates and leaves traces in the form of stardust in the machines that caused these simultaneous appearances. These traces roam between multiverses (metaverse) and force us to interconnect with these continually drifting "ghosts in the shell", iN/EXISTING in these "Entre-eSPACEs" to re/find semblances of identity[s]…
Two research/creation lectures (in french) are organized in the metaverse of the event Laval Virtual Recto-VRso 2021.
14:00 – The first will be associated with the artists and teacher-researchers of AXIS 2 Text Image & Digital Arts of the LLSETI Laboratory (USMB)
16:00 – The second to artists and research professors from the CiTu Paragraphe Laboratory (Paris 8). These two conferences are complementary.
With :Khaldoun Zreik, Ghislaine Chabert, Carole Brandon, Marc Veyrat, Gaetan Le Coarer, Melchior Ravier, Jordan Fraser Emery et Stanislav Kurakin
Note that these two lectures will follow the round table organized by Julien Lomet (-! INReV / Paris 8! -) around the "Interactive Body" (in french) from 10h00 to 12h00…
Informations
16.04.2021 | 12:00 > Interactive Body (

Corps Interactif)

16.04.2021 | 14:00 + 16:00 > The Drift Operating Modes (Les modes opératoires de la dérive)
Laval Virtual – Recto VRso
Production
Les modes opératoires de la dérive are organized in partnership with Transcutures et Pépinières Européennes de Création, CiTu Paragraphe, Institut Francais, CultureVR, World XR Forum, XR Kitchen
Marc Veyrat (société i-Matériel) received the support of the European Pepinires of Creation and Transcultures for the i-REAL project

Partners i-Real project : 89/92 R&D – Pixelpirate – World XR Forum – XR KITCHEN – Transcultures — Pépinières Européennes de Création – LaboratoireS LLSETI / Texte Image & Arts Numériques (USMB) — Laboratoire CiTu Paragraphe (Paris 8) – Chaire UNESCO / ITEN – Fondation Maison Sciences de l'Homme Paris — [ – 8 – ] eSPACE – Institut Français / Culture VR