24 + 25.04.2021 | Focus t.r.a.n.s.i.t.s.c.a.p.e – Ending performance – Jacques Franck Bruxelles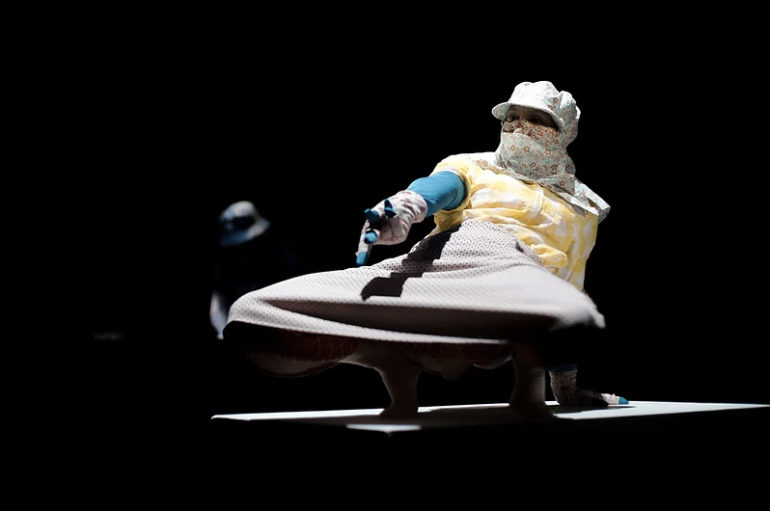 Last days of this focus of the t.r.a.n.s.i.t.s.c.a.p.e project created in 2003 by Pierre Larauza (intermedia artist also previously an architect) and Emmanuelle Vincent (dancer/choreographer) who explore movement in hybrid choreographic forms that question the porosity of disciplinary boundaries.
The event offered at the Jacques Franck Cultural Centre (Saint-Gilles / Brussels) provides a retrospective view of the inter / transdisciplinary, multi-form, nomadic and willingly contextual projects of t.r.a.n.s.i.t.s.c.a.p.e.
For the end of the focus, the collectif will offer Mutante (dance solo – premiered in 2018) takes an interest on a singular urban Vietnamese phenomenon where the women cover themselves completely the body and the face during their daily travels on motorcycle, being transformed for a moment into an anonymous person without a face.
Since the creation of the t.r.a.n.s.i.t.s.c.a.p.e pair in 2003, Pierre Larauza (architect by training) and Emmanuelle Vincent (dancer) have been exploring movement in hybrid choreographic forms that question the porosity of disciplinary boundaries. Their projects, broadcast in more than twenty-five countries on five continents, have as their favorite themes the territory, the erasure of borders and interculturality, marrying dance and architecture in scenic shows, urban and museum performances or even dance films.
Third and last stage of the exhibitions around the IDM ( Image dans le milieu) department of the Visual Arts School of Mons Arts2 stimulated by the visual artist Jean-François Octave who animated it for 33 years, Distance rapprochée brings together the works of ten students from the art schools of La Cambre (Brussels) and Arts2 (Mons).
Emmanuelle Vincent
Emmanuelle Vincent (France, 1978), is a choreographer, dancer and director of the dance and hybrid forms company t.r.a.n.s.i.t.s.c.a.p.e. since 2003.
She has been trained in theater and contemporary dance and works as choreographer, dancer and educator. She holds a degree in Pedagogy in the field of Theater from the University of Bordeaux and a Master in Performing Arts from La Sorbonne-Nouvelle Paris, where she developed a research on "the movement in the digital age", directed by Georges Banu. She builds her choreographic research in several countries and uses all the opportunities she gets to travel and meet international artists with various talents.
Co-founder of the transcultural art laboratory Máy xay sinh tố, she lives and works between Brussels and Ho Chi Minh City. These journeys feed a need for space and perspective, which constantly pushes her to question herself.
She teaches "Didactics of dance and expression" at the Faculty of Motor Sciences at University of Louvain-la-Neuve, she runs the school of Dance "La Confiserie" and she gives workshops in Performance Art at the Ho Chi Minh City University of Fine Arts.
Pierre Larauza
Pierre Larauza is a visual artist, choreographer, filmmaker and researcher working on individual and collective projects in the areas of dance, sculpture/installation and film.
Artistic director and co-founder of the Belgian-based contemporary dance company t.r.a.n.s.i.t.s.c.a.p.e with the dancer and choreographer Emmanuelle Vincent. Since 2003, they have explored the movement through contemporary hybrid forms, crossing disciplines in a multicultural approach. Their performances and films have been performed or exhibited worldwide in more than 26 countries.
Currently Php student at Université Libre de Bruxelles and Paris 1, his areas of study are "Artistic practice of historical reenactment", "Choreographic immersion in museums" and what he calls "Documentary sculpture": his main research where he develops in sculpture the reenactments of historical body movements (sport movement or human interest stories).
Larauza's first publication is currently being published: an article dedicated to the analysis the contemporary museum mutation through four choreographic variations experimented at the Hô-chi-minh-city Museum of Fine Arts in Vietnam. A second article in progress is about the syncretic dimension that Cindy Sherman's Untitled Films Stills (1977-1980) maintains on several levels with cinema.
Beside his creations and theoretical researches, Larauza is also co-founder of Máy xay sinh tố, an interdisciplinary and transcultural laboratory based in Vietnam founded in 2016 with the artists Emmanuelle Vincent and Thy Nguyen Truong Minh in association with the University of Fine Arts in Hô Chi Minh City and more recently the art school ERG.
Researcher, sculptor, set designer, choreographer, filmmaker or even performer, Larauza's roles intertwine and the concept of specialization gradually fades away to nourish his interest for in(ter)disciplinary approach. Hybridity imposes itself naturally in Larauza's practice and theoretical research.
Informations
> 24.04.2021 | Exposition
24 + 25.04.2021 > 18:00 | Ending performance
NB. due to covid the show will be display only on streaming
Centre Culturel Jacques Franck
T.r.a.n.s.i.t.s.c.a.p.e > Pierre Larauza + Emmanuelle Vincent
Production
Production : t.r.a.n.s.i.t.s.c.a.p.e, Centre culturel Jacques Franck
With the support: Centre Culturel Jacques Franck, Transcultures, European Pepinieres of Creation.
T.r.a.n.s.i.t.s.c.a.p.e is supported by: Fédération Wallonie-Bruxelles Service de la danse, Commune d'Ixelles; Le Grand Studio.