29 > 31.10.2021 | MVMF – International Metaverse NFT/Music Festival 2021 | Worldwide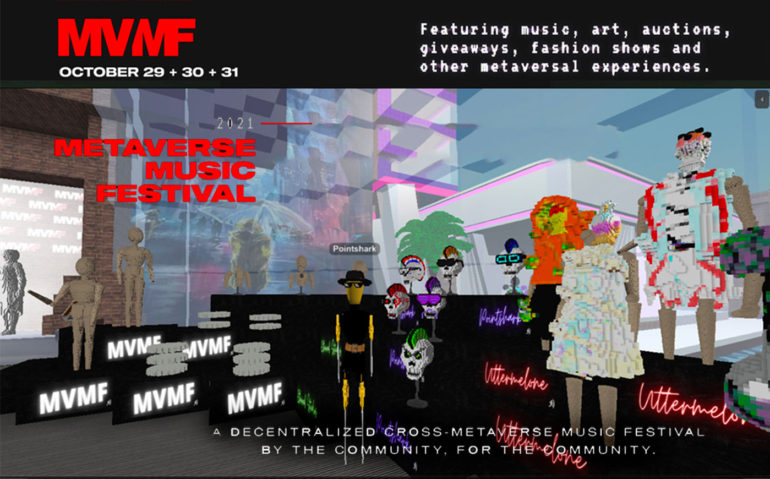 During the weekend from 29 > 31 of October 2021 in multiple Metaverses, including Cryptovoxels, Decentraland, Somnium Space, Uplift World & Immersys, and in the Multiverse with real-world spaces around the world, there will happen the first international Metaverse Music Festival.
It unites musicians, NFT pioneers, art lovers, tech people, philosophers, creative fashion designers and futurists from all around the globe and showcases unique indie music performances.
The Multiverse stage of MVMF, organized by FAYR Ecosystem foundation (president :  media and sound artist Gleb Divov) in partnership with the European  Pepinières of Creation and Transcultures-Belgium, will feature sonic performances, intermedia art, creative fashion and panel discussions.
Aside from singers, musicians and possibly dancers performing, there will be a panel of speakers to talk about NFT Music-related topics, there will be a costume shop to purchase your halloween costume, NFT fashion catwalk, costume contest, scavenger hunt, and more surprises.
Decentralized distributed International team of the MVMF Festival, includes pioneers of the NFT and Metaverse scene from all over the world.
Participants (non-exhaustive list)
Mightymai | Emanate | Inflow Music | Maiworld | Eclectic Method | $Whale | Chad Hillard | Mighty33  | Geniuscorp | Fashion Show | Mintgate  | Billyracxx | Panther Modern | John Itzler | C Young Roshambeaux | Maxwell Bruno | The Convalescence | Wars | Scessions | Dj Simon Sez | Dj Set It Off | My Lucky Brass | Nobody Famous | Ian J | Yuniwa | Trvy | Rare Scrilla | Metajax | Masia One | Dj Lethal Skillz | Mutant Cats X | Jonathan Mann | Sympathy For The Devil | Sugar Club | Fishbrain | Connie Digital | Bullish Or Bearish | Dreams Never Die Records | Wooferblast | Rara Social | Pyron | Max Nova | Rare Pizzas | Yoshidrop | Cxc | Nicholas Reeves | Ladz City | Ian J + Ikabodveins | El Corral Digital | Will Juergens | Kat Galie | Trebiz | Systaime | Tokyo Crypto | Musical Blockchain | KassandRa | Current B-Lectric | Kreatinai | Random Light Orchestra | Bruno U | Blockchain Brett | Cryptoarcade | Cipher.Media | Nate Kodi | Ctrl 404 | Cazlab | Luluxx | Autograf | Sicknal | Terry Kilby | Ghost Agent | Sean Gardner | Dr Datamosh | Third Planet Studio … and more.
More information on Metavers
State of the Metaverse 2021 by Eric Elliot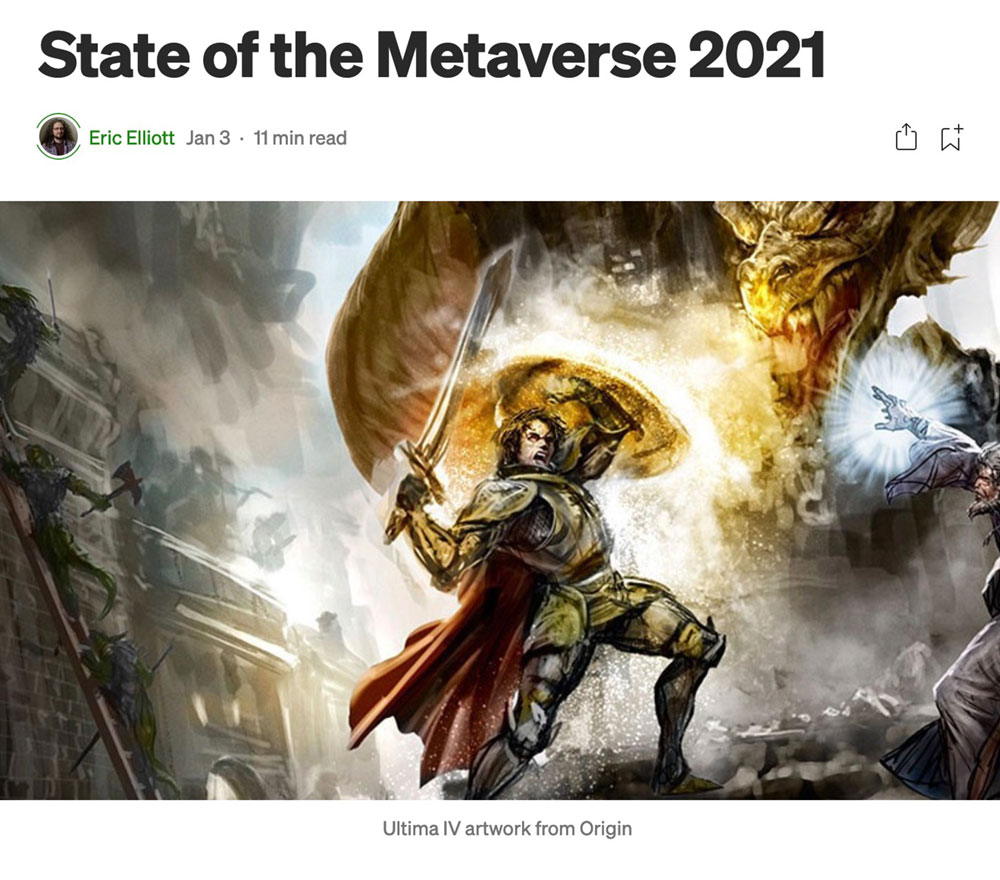 Apple customers spent $1.8 billion on digital items and services between Christmas and New Year's leading into 2021. The digital economy is taking over quickly. Blockchains and NFTs will soon be at the center of the transformation. Due to a looming convergence of technologies, this trend is going to accelerate over the next decade. Welcome to the metaverse.
In this article, we'll discuss what the metaverse is, why it's important, some of the current trends, and what we might expect for metaverse development in 2021. "Metaverse" means many things, but the main ingredients are ubiquitous networking, cryptocurrencies and cryptonetworks like Bitcoin and Ethereum, eXtended Reality (XR) including VR and AR, and Non-Fungible Tokens (NFTs)…
Decentraland and Cryptovoxels: An Introduction to Digital Ownership by Connie Digital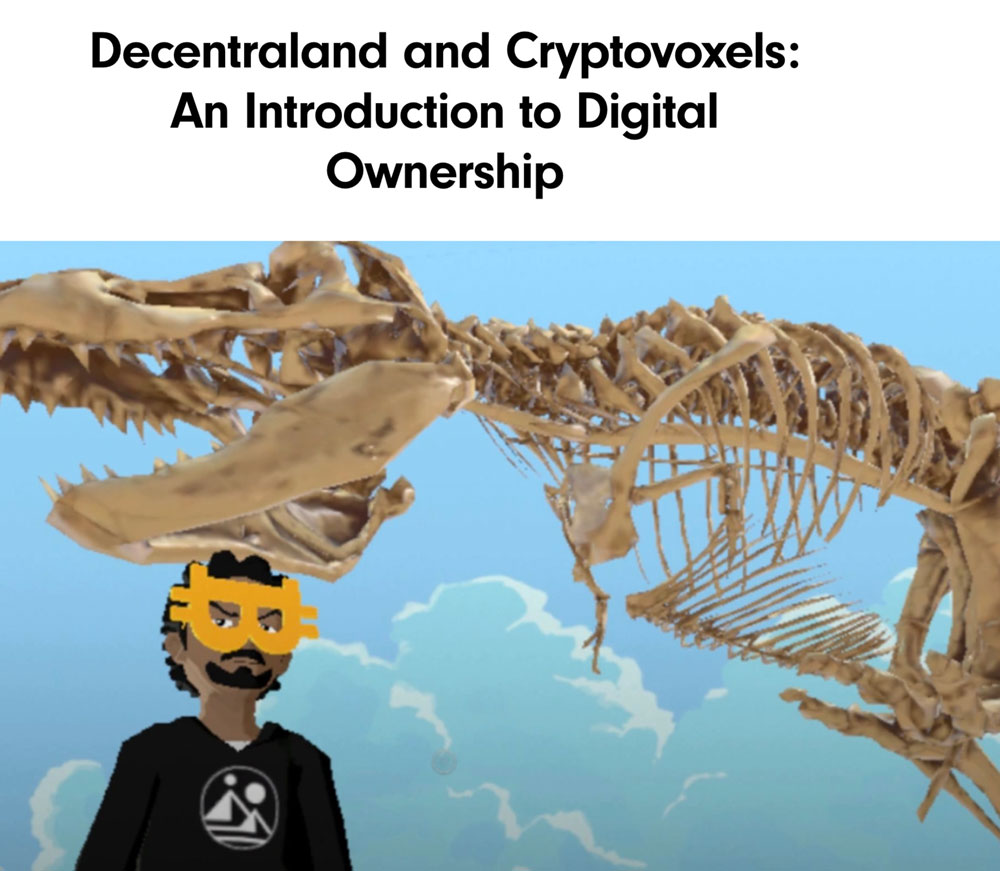 Blockchain-based virtual worlds like Decentraland and Cryptovoxels are the next frontier. They are the future, but also the present. They are a mash-up of social networking, gaming, commerce, and creativity. They are the meeting grounds of the Metaverse. They are important for you to understand, and this article will help.
User-Owned Virtual Worlds : So, what exactly are blockchain-based virtual worlds? Good question. Both Decentraland and Cryptovoxels are user-owned platforms (worlds) built using the Ethereum blockchain. Users own pieces of the world by purchasing scarce Land NFTs. Because the in-world land is represented by an NFT, this means each parcel is unique and ownership can be easily tracked.
FAYR Ecosystem Foundation
Bootstrapped international Ecosystem of the internal projects and startups, with a HQ in the Republic of Užupis (Vilnius), Lithuania, creating pioneering innovations at the intersection of Technologies with the Culture/Music/Art, Education, Psychology/Healthcare, Urban environment, Acoustic/Soundscape Ecology, Carbon Footprint reduction, Zero-Waste lifestyle, Smart Cities, Travel, Tourism and Hospitality and other areas and industries.
Informations
29 > 31.11.2021
Worldwide
Production
Multiverse stage of MVMF is organized by FAYR Ecosystem (Lt)) with support from the European Pepinieres of Creation, Transcultures-Belgium, Artcomtec, 24Fashion.tv.
Metaverse Music Fest - twitter feed
Please install the oAuth Twitter Feed Plugin and follow the theme documentation to set it up.