30 + 31.10.2021 | Transcultures @ Sonic narratives – Timisoara (Ro)
Posted on

15/10/2021

in 2021, Agenda, All news, Artists, Conferences, Distribution, Festivals, International, Mediation, Paradise Now, Partners, Pépinières, Philippe Franck, Production, Projects, Soundart, Transcultures team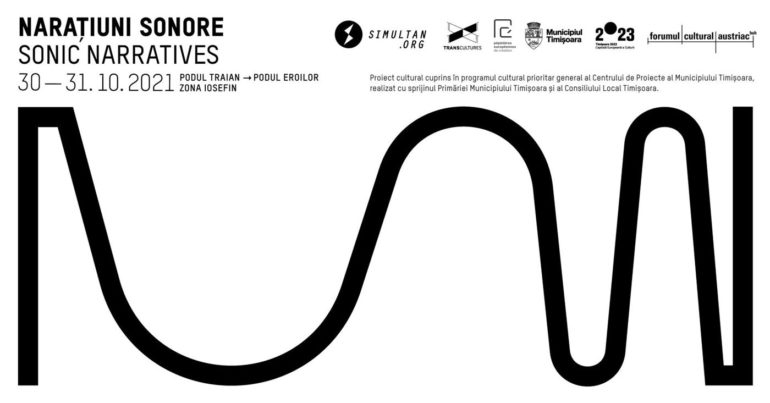 Soundwalk + performances + screenings + lecture
Transcultures and the European Pepinieres of Creation are pleased to be partners of the first edition of Sonic Narratives imagined in the framework of Timisoara, European Capital of Culture, by the dynamic Romanian association Simultan, which is also known for its eponymous annual festival of digital arts and adventurous music.
During two intense days, the Bega district and the center of Timisoara are taken over by a dozen of Romanian and international artists who present their installations (mostly outdoors) along the canal but also live performances in several places (including the bus station) invested for the occasion. Simultan has invited Philippe Franck also moderate a round table with the participating artists on the theme of sound arts in urban space.
The entire installation and sound performances will also be broadcast in streaming as well as on Usma Radio (Interdepartmental Center for Research in Radio Studies – University of the Republic of San Marino).
Artists > Abby Lee Tee (At) & Andreea Săsăran (Ro), Anca Bucur & Sergiu Nisioi (Ro), George Drîmbau (Ro), Thibault Drouillon (Be), Paradise Now (Be/Fr), Tommy Lawson (Fr), Roberto Paci Dalò (It), Anamaria Pravicencu (Ro), Sillyconductor  (Ro), Time Gates (Dorothee Frank & Ben G. Fodor) (At), Ioana Vreme Moser (Ro)
Guest curator > Philippe Franck (Be)
Sonic Narratives is a physical and imaginary path, which aims to raise awareness of the urban space, lived, explored and (re)discovered, the ecologic, emotional, acoustic, sensory and social dimensions of the city.
The route, which starts from the city center, on the banks of the Bega canal to the outskirts, crosses an urban landscape with a diverse historical load and induces us in a series of sound and visual incursions through artistic interventions and installations.
The urban space becomes a continuum that brings to light everyday experiences that are often ignored, possibilities of imagination, social or informational interaction through the possibilities of different environments.
Our local actions are linked in one way or another to a wider global context, even though sometimes we do not realize or neglect their repercussions or impact.
Sonic Narratives intends to create limit situations that lead to the need for change from the individual or group perspective, daily personal revolution dictated by the pressure of social models, ideals, survival situations, rather than living entirely, the cultivation of false needs, the dictatorship of merchandise, the countervalent impulses that exist in a profound alienation.
An ecosystem of spaces, actions and events spread through the city, interconnected narratively, conceptually and physically, they generate a situation where imaginary space, physical space and emotional space interfere with or contradict each other.
This site specific project aims to bring together local and international artists working in the field of sound, visual and digital arts.
Romanian and International artists, practitioners and professionals of various aesthetics and practices are invited to Timisoara to develop their project on site, to adapt it to the explored place(s) and to feed it with field recordings, performances and projections.
This pilot edition of Sonic Narratives invites the visitor/passer-by to the pleasure of active listening, drifting, (re)discovering both architectures and urban landscapes and the environments revealed in a poetic way.
The purpose of this collaborative project is to broaden the context for artistic production in Timisoara, using the city as a platform for exploration and artistic research through a process that essentialises the phenomenon of urban transition, memory and temporality.
Informations
30 + 31.10.2021
31.10.2021 | Table ronde
Timișoara Roumania
On the banks of the Bega canal to the outskirts
Streaming : Usma Radio
Production
This project is initiated and coordinated by Simultan, part of the Timișoara 2023 program – Addictive Lights Route, financed by the City Hall and the Local Council of Timișoara through the Project Center.
With the support of the Austrian Cultural Forum in Bucharest, Transcultures (Belgium), in partnership with European Pepinieres of Creation and Usma Radio (University of the Republic of San Marino).