09.12.2021 | Philippe Franck – Sonic Cultures | WJZZ Detroit Radio (USA)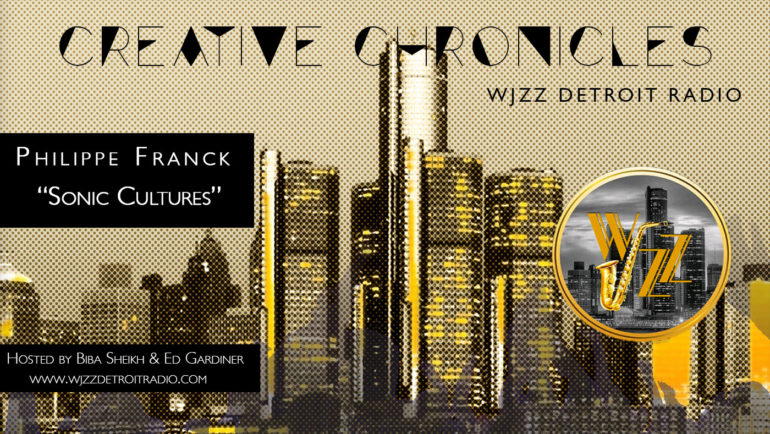 A Creative Chronicles program dedicated to Philippe Franck on the legendary WJZZ Detroit Radio. Through a conversation with theatre director/performer/writer Biba Sheikh, Philippe Franck will review his artistic and sound journey, as well as his transcultural, intermedia vision of a certain contemporary culture and a traveler of sound as a raw material for creation and exploration.
Philippe Franck
Art historian, essayist and art critic, sound and intermedia producer/creator,  Philippe Franck (BE/FR) is the artistic director and founder of Transcultures (since 1996). He is the founder and director of the international sound art festival City Sonic (since 2003) and Les Transnumériques, digital arts & cultural biennale (since 2005). Since 2018, he is also the general director of the European Pepinieres of Creation (international network).
He has curated many sound/multimedia/interdisciplinary exhibitions, events and festivals in Belgium, France and abroad. He also teaches on digital arts at the At School of Saint-Luc (Brussels) and sound creation at the Royal Academy of Fine Arts of Brussels and Arts2 (Mons).
He has produced or participated in numerous discs (on various labels including Sub Rosa, Optical Sound, Transonic), directed several collective works on contemporary / electronic music, interdisciplinary, digital and / or sound creation (notably at La Lettre Volée editions ) and writes regularly as a critic in several Belgian, French and Quebec journals.
Since 2018, he has also been director of the European Pepinieres of Creation, an international network promoting mobility and professionalization for contemporary artists.
Biba Sheikh
Habibah (Biba) Sheikh began studying mime with Marcel Marceau and later with members of the Polish Laboratory Theater. She has gathered inspiration for her storytelling from a number of different cultures: USA, Paris, Sevilla (with the Gypsy/Roma population), Berlin, Amsterdam, Beirut, and Greece, where she set up a platform with 13 artists from the Mediterranean who make visual works based on her stories of her journey with the "abandoned children" of Lebanon. Her work is also featured in the film Citizen Xenos by Lucas Paleocrassas, which follows life in refugee camps where youths engaged in theater and voice workshops.
In Detroit, Biba's theater productions and exhibitions will be featured in Mitli Mitlak (Like You, Like Me), an exhibition and book with 13 Mediterranean artists. She has recently been named Vice President of The World In America, advocating cultural diversity and global awareness. She is also a volunteer for the International Institute of Metro Detroit in Global Education.
Her upcoming book, Akashic Diaries: Detroit Degree Zero and Other Crisis Writings (2021), was commissioned by Transcultures Europe – Pepinieres of Creation. The Director, Philippe Franck, is also the director of the international sound art festival City Sonic, Transnumériques (Digital Cultures Biennale) and will write a contextual introduction.
WJZZ Radio
WJZZ is an iconic legendary jazz format radio station based in Detroit, MI. It was originally founded by the famous jazz musician Dave Brubeck and a partner in 1960 as the first station in the United States dedicated to jazz music. It was acquired by Doctors Haley Bell, and Wendell Cox who established the WJZZ call letters in Detroit on March 18, 1974 where it became the premier jazz radio station in the nation.
Due to business concerns the station shut down broadcasting in fall 1996 and remained dormant for 23 years. The station via the call letters was revived by Rodger Penzabene Jr, President, CEO WJZZ Detroit Jazz Radio Entertainment LLC in May 2015, and began broadcasting as a global internet radio station.
Informations
09.12.2021 | 20:00 (Detroit)
10.12.2021 | 02:00 (Bruxelles)
Production
Creative Chronicles – hosted by Biba Sheikh & Ed Gardiner
WJZZ Detroit Radio (USA)