31.01 > 05.02.2023 | Zone Libre – Sound art festival 2023 | Bastia (Fr)
Posted on

12/01/2023

in 2023, Agenda, All news, Artists, City Sonic, City Sonic 20 years, Conferences, Festivals, International, Mediation, Paradise Now, Partners, Pépinières, Philippe Franck, Production, Projects, Soundart, Transcultures team, Transonic, Young artists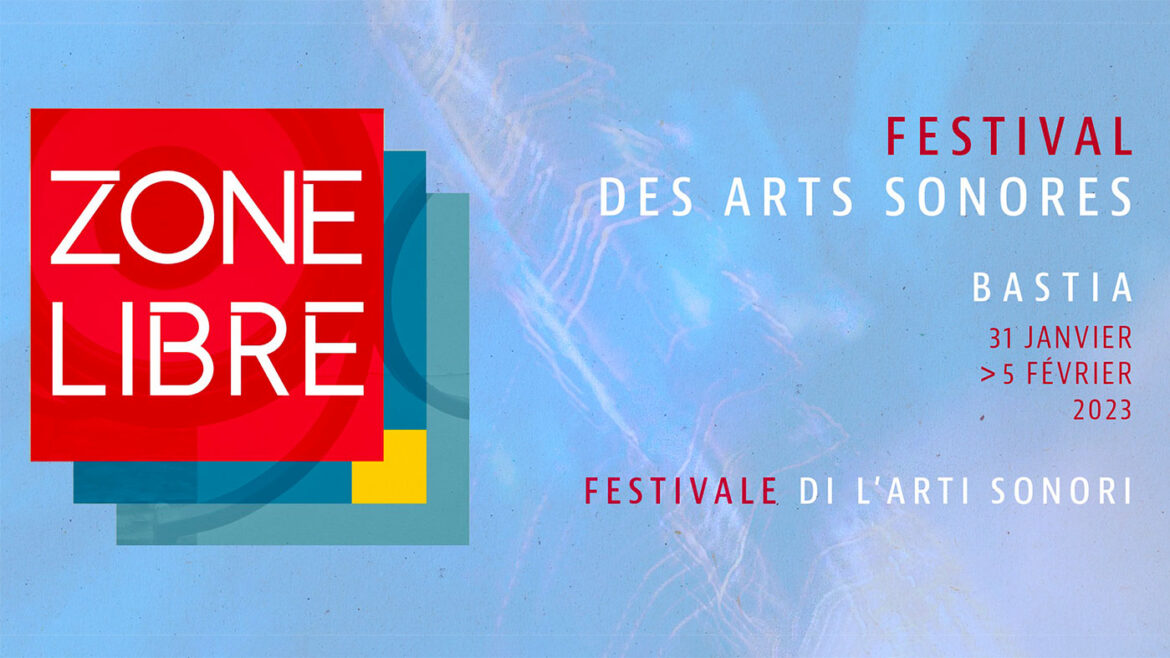 For the third time, Transcultures is an important partner of the Zone Libre – sound arts festival organized by the eponymous association in Bastia, which defends creative sound and digital practices both locally and internationally.
As for the 2022 edition, Philippe Franck (director of Transcultures and European Pepinieres of Creation) will be the artistic curator of a route of installations with a sound dimension in the city of Bastia which this year connects 8 places.
Transcultures and European Pepinieres distribute and support works (installations, performances, participative projects or hypermedia devices) by Gauthier Keyaerts, Alain Wergifosse, Very Mash'ta, Isa*Belle, Supernova, Christian Vialard, Tommy Lawson, Gaëtan Le Coarer, Société i Matériel  as well as sound and video emergences (projects by students of Belgian – Mons,  and French – Nice, Tourcoing, Bourges –  art schools.
Presentation of this fifth exciting edition, taken from the editorial by Tommy Lawson, artistic director of Zone Libre and sound designer:
"The world is changing at supersonic speed through the countless digital and social interactions that punctuate our daily lives and force us to become aware of sound as an essential issue. These changes encourage us to reinvent a common space focused on diversity, parity, inclusiveness, transmission and sharing. This reinforced fifth edition of the Zone Libre festival, with its artists, demanding composers, researchers, with passionate and curious audiences, opens a new page of intermedia audio creation, with sounds but also new images that develop new combinations.

Zone Libre is resolutely turned towards this commitment, and therefore resolutely oriented towards the immediate future. The festival declines scenic and plastic proposals with asserted identities, both aesthetically and territorially, develops more important exchanges with the international around material, organic creations, field recording, and highlights local scenes, all in bringing together the artistic currents and sensibilities that are the DNA of our "Festivale di l'arti sonori" which offers, in addition to concerts/performances, a sound journey (reinforced for this year), with contextual works, meetings and a forum ( on February 2, a moment of debate and reflection associated with creations). Gathering around sound, as real as it is symbolic, a space for encounters and debates, decompartmentalization, depolarization and inclusion, this is Zone Libre's bet, which is once again driving meetings between our city, renowned island artists , international and a wide audience".
For this 2023 programme, which offers both local and national discoveries and international guests, various exploratory fields can be identified:
an itinerary of sound installations (curator: Philippe Franck) –

connecting 8 places in the city center of Bastia and its surroundings

,
the sound (and digital) emergences section with young artists linked to French (Villa Arson-Nice) and Belgian (ARTS2-Mons) art schools, but also, this year, the University of Vilnius invited to defend their talent, both for installations and performances,
a forum concentrated in a day of debates and presentations around the intersections between research and sound and digital creation in connection with the im/material territory.
These different components complement each other and contribute to the extension of this unique contextual sonic creation festival both in Corsica and in France. With :
Gauthier KEYAERTS [Very Mash'ta – Supernova – Fragments#Poétiques] Philippe FOCH [METAL MÉMOIRE] Sarah PROCISSI & Jean-Christophe BOURNINE [CLAMEURS] Philippe FRANCK [Supernova] Audrey SPITERI & Deborah LOMBARDO [La Bulle] ITI [Hypnose] Tomoko SAUVAGE [Waterbowls] Tommy LAWSON [A/B CHROMATIC – P.H.A.S.M.E – AN DOMAHN – URBASON – Bega Sonic Scapes] VJ TEKYES [A/B CHROMATIC] Jean Daniel BÉCACHE [P.H.A.S.M.E] Lorenzo BIANCHI HOESCH & Ballaké SISSOKO [RADICANTS] Stefanu CESARI – UNSÜND – Sabrina SARAÏS – Xavier TAVERA [Soleil en Maison 5] Tim LAWSON [Club Compact] Sébastien BÉRANGER [AMSR] Alain WERGIFOSSE [Live Electronics – Espace Résonnant – Spectres & Néons] Océane ALLEN [One by one, they turn to ice – Safe Travels] ISA*BELLE [Massage sonore – A l'Uni Son – Supernova (guest)] Paradise NOW [A l'Uni Son] Christian VIALARD [Mister Moonmilk et le Rapsode] Marc VEYRAT [Société i-Matériel / i-Real – d-E+E-p d-i+V-E] Gaëtan LE COARER [AN DOMHAN] Jonathan JUSTE [Société i-Matériel / i-Real – d-E+E-p d-i+V-E] Romain CARRÉ [EMERGENCE] Elise VOËT [TRANSMUTATION] Kotrina ŽILINSKAITE [GLIMPSE OF LIGHT] Tommy MOUCHERON & Theo CARLINOT [MEMBRUM]
Informations
31.01 > 05.02.2023
8 places in Bastia (Fr)
Info & booking : +33 6 19 92 16 26
contact@zonelibres.com
Production
The Zone Libre Festival is supported by the Community of Corsica, the city of Bastia, the Caisse des Dépôts, SPEDIDAM and SACEM
In partnership with the European Pepinires of Creation, Transcultures, Centre Culturel Una Volta and Art Mouv' Cie.
*visual design : Gaëtan Le Coarer