09 > 17.09.2023 | La Force Diagonale – Annik Leroy et Julie Morel (Fr/Be) | Contour 10 Biennale (Be)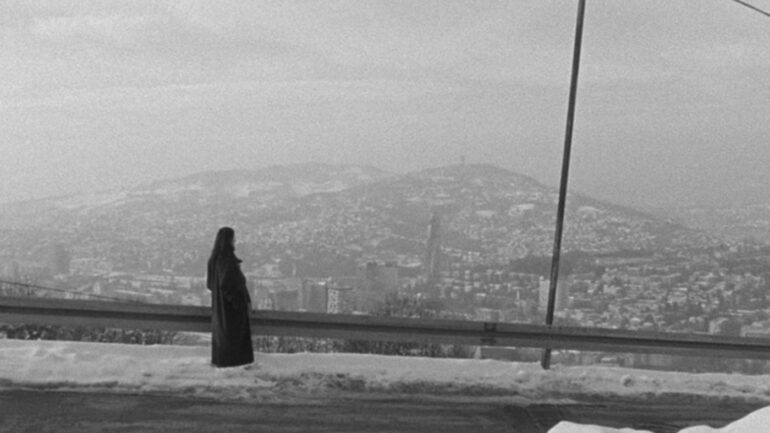 The film "La Force Diagonale" by Annik Leroy and Julie Morel (supported by Transcultures), is in international competition at the Biennale Contour 10 at Cinema Lumière Mechelen
In 'La force diagonale' several men and women reflect on how to live with a turning point in their life and possibly be transformed by it. The film weaves subtle connections between these personal narratives to highlight the impact of external conflicts on individuals. It then turns to a key focus in the work of political philosopher Hannah Arendt: the human capacity to begin, to introduce something new into the world we share. 'La force diagonale' seeks to render tangible this human dimension, always threatened and yet ever irrepressible.
With Tremor. Es ist immer Krieg (FID 2017), Annik Leroy hammered the point home – even caught up in the 20th century and its destructive forces, "Man does not cry, he fights". In this film, co-written with Julie Morel, we find the same power and energy intact and deployed in two stages. First of all, four portraits in which we learn that practising art or thought has enabled each of the subjects to live through and confront the traumas born of social violence. For one of them it's voluntary exile and survival thanks to the inner strength brought about by singing, for another, it's retreating from the world and into writing…

Read more about the presentation of the film by Nicolas Feodoroff on the FIDMarseille website
Annik Leroy et Julie Morel (Fr/Be)
Annik Leroy
Cinematographer and director, who made several feature films such as Le paradis terrestre (1973), In der Dämmerstunde – Berlin (1980), Vers la mer(1999), TREMOR. Es ist immer Krieg (2017) and installations such as Cell 719 (2006) and Meinhof. 3 (2008).
Somewhere between speculation and reality, Annik Leroy's installation and meditative films explore the dark areas of European history. She taught at ERG and LUCA Hogeschool Sint-Lukas. She has also received several awards for her films, among others: Best Film at IV Fronteira Festival, Gentilly Documentary Screens Award, Best Documentary Award at the An Arbor Festival, Special Mention at the Festival Filmer à tout prix, Scam Award for Audiovisual Documentary … The DOK Leipzig festival dedicated a tribute in 2020.
Julie Morel
Visual artist and filmmaker who since 2000 made installations with S8, 16mm, slides, music, video and drawings as well as shorter films that were shown at Argos Brussels, Courtisane Ghent, MuHKA Antwerp, International Film Festival Rotterdam, Kunstraum Bethanien, Arte a.o. She worked on TREMOR. Es ist immer Krieg (2017) by Annik Leroy on camera, sound and editing.
La force diagonal (2023) is her first feature film as a co-writer and -director. Julie Morel teaches at ERG in Brussels since 2019.
La Force Diagonale
Performance & choreography : Claire Vivianne Sobottke
Avec : Mehtiba Dževlan, Merima Kadrić, Roger Rousseau, Franz-Peter Van Boxelaer & Ruben Diwantessa
Camera : Annik Leroy & Els van Riel
Sound : Julie Morel & Laszlo Umbreit
Image editing : Annik Leroy & Julie Morel
Sound supervising & mixing : Laszlo Umbreit
Sound mixing : Rémi Gerard at Empire Digital
Color grading : Audrick Mercier at Charbon Studio
Translations & subtitles : DesAirs productions, Boris Belay, Vladimir Pavlović, Milena Marić & Melanie Munt
With the voices of : Claudia von Alemann, Louise Imme Bode, Lucy Grauman, Barbara Schild & Hannah Arendt
Informations
09 > 17.09.2023
Premiere on 09.09 at 5 p.m. with English subtitles.
Regular screenings: 10.09 / 13-17.09 at 2 p.m. (access with pass C0N10UR) subtitled in Dutch.
Cinema Lumière Mechelen
Frederik de Merodestraat 28, 2800 Mechelen
Biennale Contour 10
Production
Production : Cobra Films & Auguste Orts
Coproduction : Centre de l'Audiovisuel à Bruxelles
With the support of : Vlaams Audiovisueel Fonds, Centre du Cinéma et de l'Audiovisuel de la Fédération Wallonie-Bruxelles, Gwärtler Stiftung, kunstencentrum nona in the context of C0N10UR, Vlaamse Gemeenschapscommissie, Atelier Graphoui, Transcultures, European Pepiniere of Creation, FRArt (Fonds de la Recherche en Art – FNRS), Brouillon d'un rêve documentaire Scam*, On & For Production and Distribution, Nationale Loterij, Wallonie Bruxelles International…