Catalog | Ouïr le jamais vu" – Dominique Vermeesch (do.space) | La Lettre Volée (Be)
Posted on

09/03/2023

in 2023, Agenda, All news, Artists, Belgium / FWB, City Sonic, City Sonic 20 years, Concerts, Exhibitions, Isa Belle, Paradise Now, Philippe Franck, Production, Projects, Soundart, Transcultures team
Ouïr le jamais vu (listening to the unseen) is the first monograph devoted to Dominique Vermeesch (aka do.space), a major Belgian plastic and sound artist and performer whose aesthetic and feminist issues are clearly stated.  In addition to visuals of performances, installations and sources by the artist, this publication includes original texts by François Delvoye, Carine Fol, Philippe Franck and Nadine Plateau, biography by Astrid Mattard.
"The space, like my body, is impregnated with large canvases representing a desolate end-of-the-century universe […]. The family heritage is crossed by mystical waves from incomprehensible vocalizations sung in Latin […].

There are also those slow gestures that come from the soul, a spiritual rite performed by a shaman priest uncle […]"

The catalog will be presented as part of the eponymous exhibition at A.Galerie in April 2023Le catalogue sera présenté dans le cadre de l'exposition éponyme à la A.Galerie en avril 2023
In this same space there are paintings of female martyrs, annunciations mixed with assumptions of resurrections and deaths. This overflow of sensations, of legacies, will force me to withdraw, stripping myself in a nameless void, a space that dodges the world" says Dominique Vermeesch, evoking his universe. Dominique Vermeesch (alias do.space), multidisciplinary artist, works and develops her questions through text, drawing, photography, sound, video and her own body, without forgetting the archives that she appropriates and that she integrates into her personal and feminist mythology and her shamanically inspired practice.
We meet Hannah Arendt, Françoise Collin and the Cahiers du Grif, Patti Smith, Simone Weil, Donna Haraway, the voice of Joan La Barbara or Meredith Monk, Lee Miller and Valentina Terechkova as well as traditional African statuary, images of cosmos and all about creation, the body, and all their mythologies.
This monograph constitutes a synesthetic manifesto mixing the visible and the invisible but also sound, the body and the cosmos and refers the reader to numerous audio and video links hosted on its website.
For thirty years, Dominique Vermeesch alias (do.space) has developed, from his Brabant lair, a work that is at once discreet, powerful, unclassifiable and hybrid crossing video, performance, installation, drawing (it is at the origin visual artist) with, implicitly, the sound dimension (in the form of objects but also of words and material audio flows concocted by her collaborator daniel duchamP).
Read the interview of the artist (in french) – "La transfiguration du corps-voix" – by Philippe Franck | Turbulences Video #114
Dominique Vermeesch (do.space)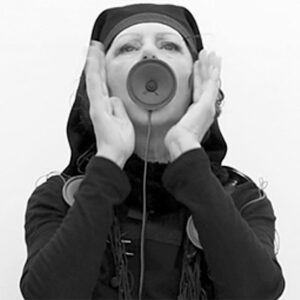 "Dominique Vermeesch (do.space), who came to creation through artistic studies, and especially through drawing, has never ceased to look for new ways to render what looks more like a continuum than any "artwork".
The artist works and develops her questions through sound installations and videos, and includes her own body, during performances. These offer the opportunity for a mystical rendezvous through waves that she watches, with body, as a place of inscription for the world.
Traveling through the history and philosophy of themes dear to her, she mixes existing documents with her works. She builds a whole world of dialoguing texts, sounds and images, from different eras and cultures. We cross together Hannah Arendt, Donna Haraway… images of the cosmos and Simone Weil, who reveals two fundamental aspects of her work: the link to the pulsation of the universe, and the references to the artists and authors who are dear to her." F. Delvoye
Catalogue - Tirage de tête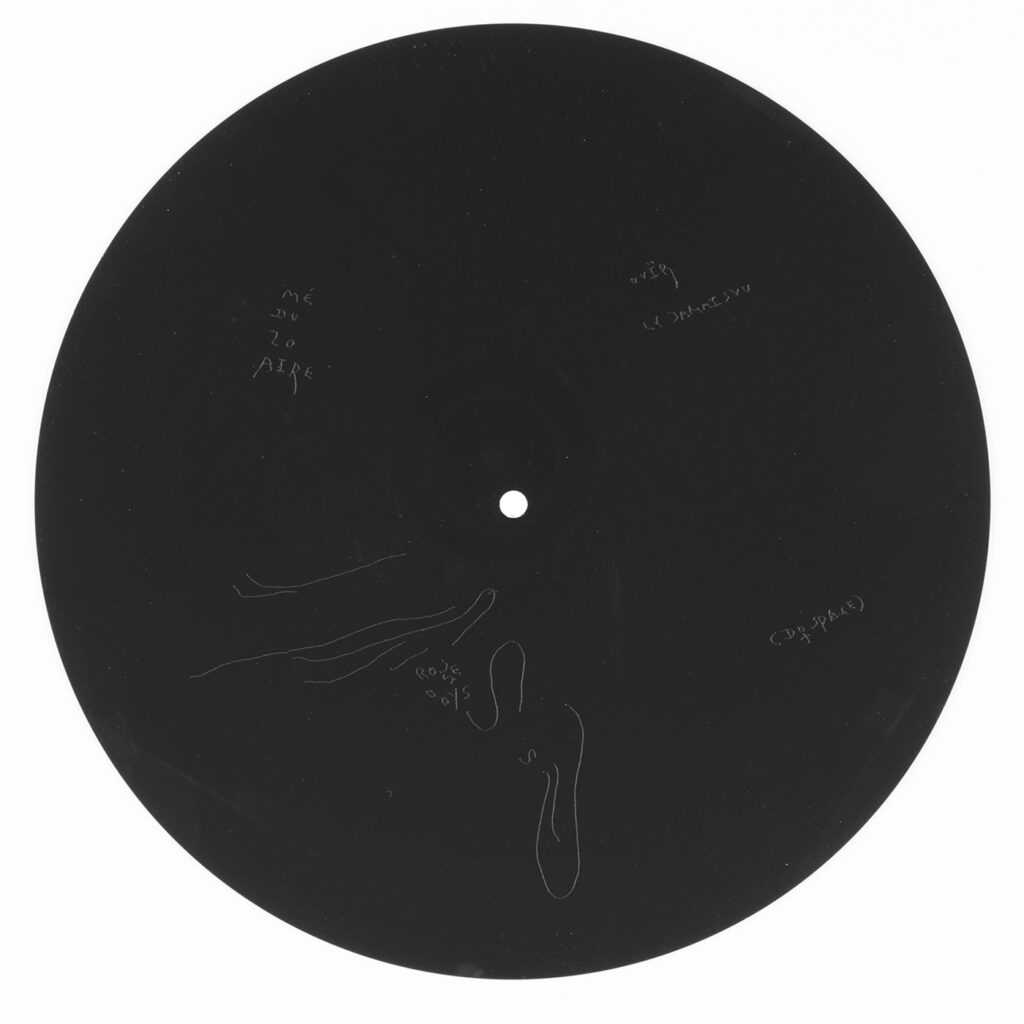 The first deluxe edition printed in Louvain-la-Neuve and published in April 2023 is limited to ten copies and includes a 10" vinyl record signed by the artist (case and folder designed and produced by Raphaël Casteels in Rixensart on Canson noir Iris Vivaldi , 240 gr., Opalux tracing paper, 180 gr, format 25 x 25 cm and seven sheets).
The vinyl presents on one side a mechanically engraved drawing, on the other it lets you hear sound experiments created from a voice recording by (do.space) of his writings/visions present on the attached sheets.
The sound piece produced in collaboration with the musician daniel duchamP was broadcast in an installation on the occasion of the exhibition "Traces de l'Invisible" at the Center Wallonie-Bruxelles in Paris.
Informations
07.04.2022
La Lettre Volée
22 €
Tirage de tête : 150€
Order through La Lettre Volée – lettre.volee

@

skynet.be
Production
La Lettre Volée
With the support of Fédération Wallonie-Bruxelles, Transcultures, A-Galerie, Province of Walloon Brabant
As part of City Sonic 20 Years