22.07 > 27.08.2023 | Sull'Impronta – Andrea et Francesco Strizzi (It-Be) exhibition | Torre Campanaria (It)
After a successful exhibition at the Gallery Nostrum in Brussels in June and early July 2023, the "Sull'Impronta" project will find a special place in the wonderful setting of the "Torre Campanaria", a unique heritage site recently restored.
The exhibition presents two sculptural researchers have as a common trait, the use of imprint to create a « space of sound » .
On one side , the testimony of a past sound; traces like fossils that reconstruct a score, a tactile path of listening.

On the other, couples of elements ; sensitive to enter into a relationship of acoustic resonance.
The contrast between flat and curved volumes, between full and empty, distinguishes both works. In one case, it coexists in a single support that offers us the photograph of a past sound. In the other, it takes the form of a dualism of acoustic systems, inert but potentially capable of generating sound.
Opening: Saturday June 24 from 4 p.m. to 7 p.m.
Performance: with Stefano Corbetta: Saturday July 1, 5 p.m.
Andrea Strizzi (It)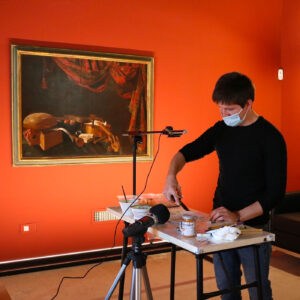 Italian sculptor trained at the Accademia di Belle Arti di Brera, where he currently works. His current project "Toccare il suono – Impronte Sonore" proposes a series of audio-tactile installations, created with the participation of percussionist Stefano Corbetta.
The drumsticks of the musician leave on the surface of the fresh clay the traces of the sound action, the sound of which is recorded. The baked clay, which bears witness to it in the manner of a score, allows you to tactilely retrace the generative path of the work, accompanied by listening through headphones to the sounds that have marked its furrows.
Francesco Strizzi (It/Be)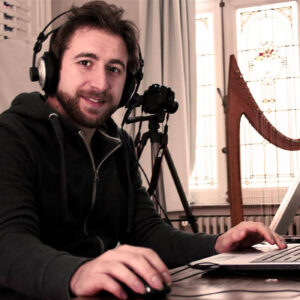 Trained in lutherie at the Civica Scuola di Liuteria di Milano, graduated in sculpture from the Accademia di Belle Arti di Brera and in Sound-Art at the ARD&NT Institute in Milan. He proposes a series of works entitled "Invisible Relations" in which two types of geometric solids, arranged as inert elements, carry within them the potential generation of a harmonic sound.
The two systems, parallelepipeds and hollow spheres are tuned two by two on the same frequency and if coupled, they enter into a sympathetic relationship, they resonate, they generate a sound.
The sounds resulting from these dualisms, recorded, becomes a musical composition that accompanies the visual tension between the elements.
Informations
22.07 > 27.08.2023
Torre Campanaria

Via Castello, 46040 Castellaro Lagusello MN, Italie
Production
Curator Antonella Bosio – Critical text Mauro Valsecchi
The artists receive support from: Renew Art Gallery, Transcultures (as part of City Sonic 20 years), European Pepinieres of Creation.