Newsletter September #2 – City sonic 2013
07 > 21/09/2013
Sound itinerary in the city
MONS
Salle Saint-Georges + Médiathèque + Maison Folie + Site des anciens Abattoirs
Start Salle Saint-Georges – Grand' Place – Mons
12 > 18:00, closed on Mondays
Free entrance
---
NOMADE @CITY SONIC
---
11.09.2013
DJ SET ELEPHANT POWER (SKRATCHSTEP)
MONS   > GRAND'PLACE > BUS NOMADE > 18:30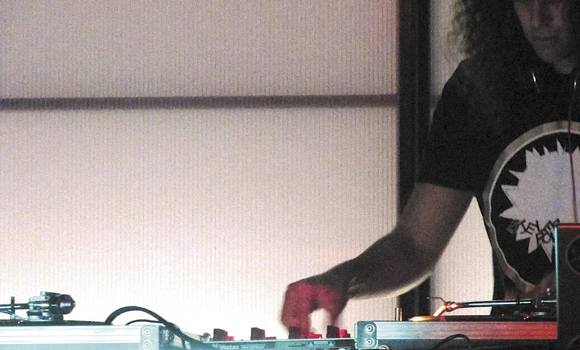 DJ Elephant Power (aka Nicolas Baudoux – on Sonig) is a turntablist electro virtuoso from Brussels. His crazy, broken, 'fast kill pussycat' grooves are both unique and irresistible. An energetic and positive set in the nomad(ic) bus.
HAPPY HOUR + MIX BY OVH FROM THE COLLECTIVE EAX
MONS   > GRAND'PLACE > BATEAU IVRE > 20:00
---
13.09.2013
SONIC DISCOVERY SESSION WITH MARC DE BACKER AND OTHER CITY SONIC GUESTS
MONS > GRAND'PLACE > BUS NOMADE > 16:00
SHOWCASE EMERGENCE
MARC DE BACKER
MONS > MÉDIATHÈQUE > 18:30
Marc de Backer is a guitarist from Brussels, well-known in the alternative rock scene, particularly for playing in Dog Eat Dog, Mucky Pup and Mud Flow. His current project Mongolito offers an instrumental music with « dark ambiant » arrangements whose structure is composed of loops and prerecord drones, unmanned aerial vehicle discs, combined with a drum machine. On top of that, Marc add new loops or guitar solo. This musical journey is accompanied by video projections for stage performance and portrays a scenery of music occupied by dark forces.
Free entrance
Auditorium Médiathèque – Ilot Grand' Place – Mons
---
14.09.2013
DISCOVERY SESSION OF UNUSUALS INSTRUMENTS
MONS > GRAND'PLACE > BUS NOMADE > 14:15
Discover the crackle box (portable primitive electronic instrument designed by the late Michel Waisvisz at STEIM in the 70 's), the sonic basin and other invented instruments.
LISTENING SHARE – BERTRAND BACKELAND
"INSTRUMENTS DE MUSIQUE HORS-NORMES ET INNOVANTS"
MONS > MÉDIATHÈQUE / LE MANÈGE.MONS > 18:30
Bertrand Backeland will present non standard and innovative instruments (in French only)
"Le projet nomade" is supported by European Union , supported by le fonds européen FEDER-Interreg IV France-Wallonie-Vlanderen
Free entrance
Auditorium Médiathèque – Ilot Grand' Place – Mons
---
ESPACE(S) SON(S) HAINAUT(S)@CITY SONIC 2013
---
11.09.2013
Ateliers / workshops Sonic Kids
MONS > SITE DES ARBALESTRIERS / MAISON FOLIE > 14:30 – 16:30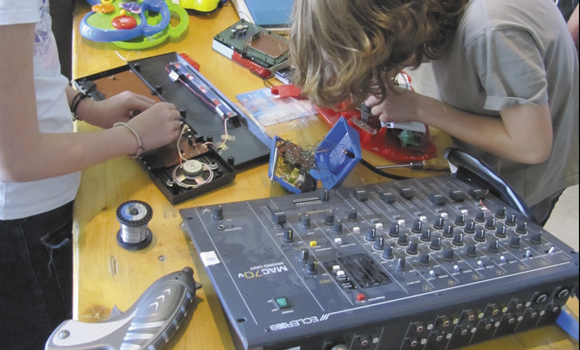 For several years, Transcultures has initiated, in the framework of the City Sonic festival in Mons, a series of workshops Sonic Kids now developed with the cultural centre le manège.mons. Within a few hours the children and the youngsters (different age groups) can encounter various sound practices (from DJing to circuit bending, from sound poetry to invented instruments). Participants are supervised by artists and the City Sonic staff with an approach that is both fun and creative. With Sonia Paço Rocchia, the kids will discover the sounds of Slinky, they will exercise at DJing with Elephant Power and freely play with the sounds in a 'Récré à sons' (sonic playtime) with Rudy Romanoswki.
---
15.09.2013
Sonic Lab #2
MONS > SITE DES ARBALESTRIERS / MAISON FOLIE > 19:00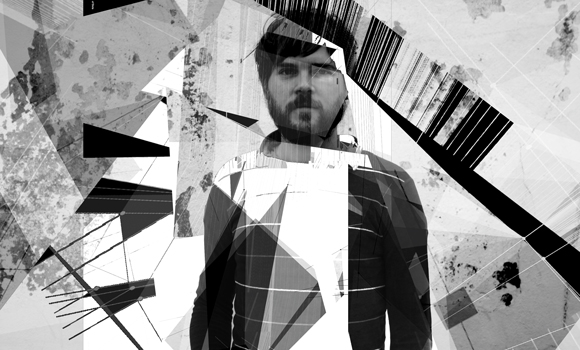 Initiated at Festival City Sonic in 2012 in Mons by le manège.mons, Art Zoyd and Transcultures, as part of the European project Espace(s) Son(s) Hainaut(s), cross-border platform for innovative music, Sonic Labpresents a composite evening featuring short music forms that integrate the technological potential of tomorrow to create new interdisciplinary pieces (music interacting with images, dance, …). This second edition will features creations by Jean-Paul Dessy & Jarek Frankoswki, A.lter S.essio, Alexander Schubert, Laurent Mariusse (+'Rebonds' by Iannis Xenakis).
Production : Art Zoyd, le manège.mons, Transcultures.
In the framework of  Espace(s) Son(s) Hainaut(s) transborder platform for innovative music supported by le fonds européen FEDER-Interreg IV France-Wallonie-Vlandere
Salle des Arbalestriers (Maison Folie), 1 rue du gouvernement, Mons
Free entrance