03 > 07-2014 – t.r.a.n.s.i.t.s.c.a.p.e – Chambre(s) d'hôtel – Bruxelles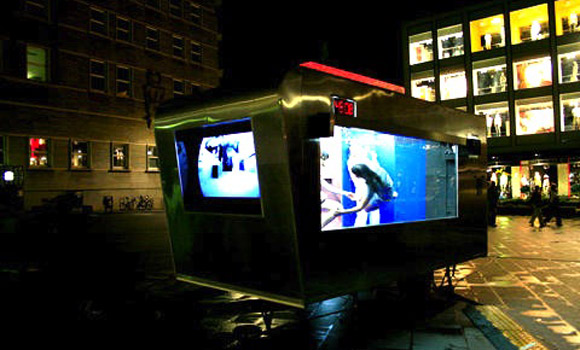 'Chambre(s) d'Hôtel' (Hotel rooms) created by the dance interdisciplinary company t.r.a.n.s.i.t.s.c.a.p.e (initiated by Pierre Larauza and Emmanuelle Vincent) is an urban installation combining a performance and a radio interview. A single architectural object, a hybrid and technoid caravan, combines a piece of fiction and a reality. This travelling hybrid device is experienced as a transit location loaded with possibilities. Experimental film, dance and a testimonial are layered together, forming a narrative puzzle in this tense piece of work that is all about identities and territory.
Production : t.r.a.n.s.i.t.s.c.a.p.e with le Manège Scène nationale de Maubeuge, le Manège.mons / La Maison Folie, le manège.mons, TechnocITé, Transcultures. In the framework of the RE:space, with the support of the Service culturel de la Commune d'Ixelles, de l'agence WBTD Wallonie Bruxelles Théâtre Danse and BELLAS.
free
Place Flagey, Ixelles-Bruxelles > 21:00+22:30
info : 0478/269315