27-09-2014 – Opening Vice Versa 1.0 – from research to digital creation – Quinzaine numérique @ Mons
Posted on

20/09/2014

in 2014, Agenda, All news, Artists, Arts Sciences, Belgium / FWB, Conferences, Exhibitions, Jacques Urbanska, Mediation, Network, Production, Saison Numérique, Vice Versa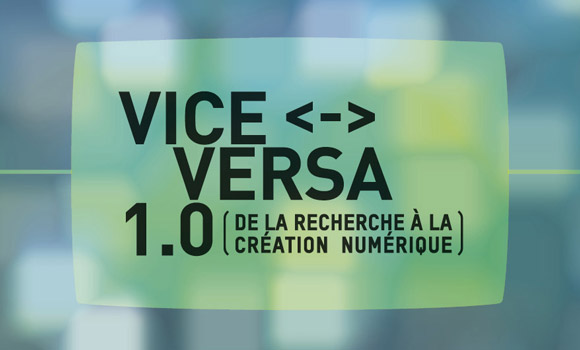 'Vice Versa1.0' celebrates and questions the fertile intersections between applied research and digital creation. With this polymorphic manifestation which is part of the Quinzaine numéique (Digital Fortnight) of the Federation Wallonia-Brussels (and the one organised in Mons on the theme "to programme or to be programmed"), Transcultures in co-production with the manège.mons proposes a selection of works by innovative artists of the Federation Wallonia-Brussels and Northern France which are the result of collaborations between the Institute of research numediart (University of Mons) and the Center for digital cultures and sound.
The "Vice Versa 1.0 – from research to digital creation' event (taking place in two close locations – the Visual School of Arts of Mons, Arts² and the Frigo/site of the ancient slaughterhouse) features interactive installations by Thomas Israel ('Meta-Crâne'), Fabien Zocco ('Threads') at Le Frigo, Nicolas d'Alessandro ('Say aaah!'), a mobile application by the Larbitsisters ('Algorithmic tubetales')+ video selections of Festival Vidéoformes (Clermont-Ferrand) and videocollectifs (video exchanges between several cities initiated by Nathan Karczmar) at Arts² (salle polyvalente).
At 4pm, an interactive performance Tanukis by Francis Zajéga and Loïc Rebourssière (music) is also proposed at Arts² (salle polyvalente) and at 6pm, an electro concert by Very Mash'ta (Quatermass / Sub Rosa) at Salle d'exposition followed by a DJ set hybrid by Next Baxter will conclude this afternoon. Check also the other presentations proposed in the "Afternoon of the digital family)" at Arts² by several digital players of the region of Mons in the perspective of Mons2015, European Capital of Culture.
Commissariat artistique : Philippe Franck & Jacques Urbanska.
Production : Transcultures, en co-production avec Le manège.mons, en partenariat avec numediart et Arts², avec le soutien de la Fédération Wallonie-Bruxelles (arts numériques). Remerciements à TechnocITé.
Vice Versa 1.0 est présenté dans le cadre de la Quinzaine numérique de la Fédération Wallonie-Bruxelles et de la plate-forme transfrontalière pour les musiques innovantes Espace(s) Son(s) Hainaut(s) qui reçoit le soutien du programme FEDER-Interreg IV France-Wallonie-Vlanderen.