24-01 > 25-03.2018 | Alexi Choplin – Uninvisible LAB @ Halles St-Gerry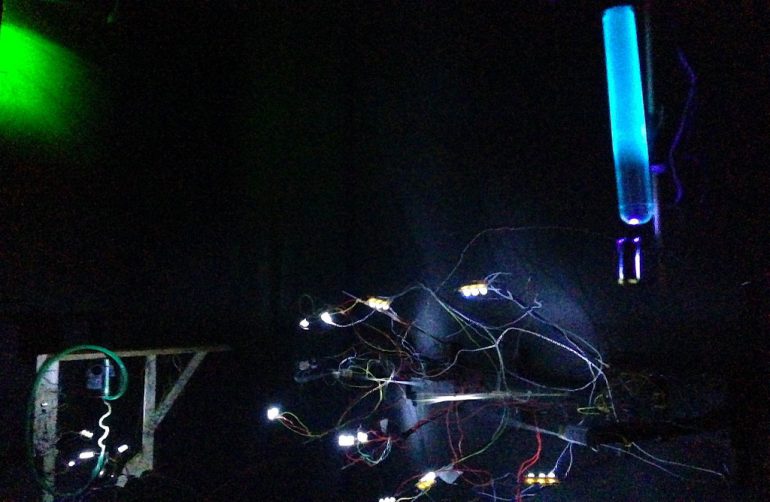 With his ongoing 'Uninvisible lab', Alexis Choplain (Brussels) continues his experimental research on the management and translation of the electrical signal. Composed of about fifteen analog devices, this laboratory device attempts, in the form of an immersive space to produce optical and sound phenomena related to random behavior of electricity. Interacting with each other through a vast network of cables and components sensitive to environmental variations, this hybrid installation materializes the elusive oscillations of a signal made accessible to our senses by luminous, vibratory and mechanical processes.
This work "in progress" created at City Sonic 2017 is part of a "Mirror Exhibition" Halles Saint-Gery dedicated to subversion that aims to explore a section of Brussels heritage compared to a counter-culture movement 60s, fantastic realism. The exhibition profiles a physical and mental geography of radical dissension and postures. It is organized around two parts – one historical and the other contemporary.
Alexis Choplain is invited to participate in the second (also with Alex Verhaest, Jim Shaw, Stéphane Roland, Véronique Béland …): with the complicity of the endowment fund agnès b. which proposes a new version of the exhibition Un autre monde /// in our world curated by the artistic director of the endowment fund, Jean-François Sanz in collaboration with Stéphanie Pécourt (curator of Les Halles Saint-Gery).
Informations
date

Lieu

Place Saint-Géry 1, 1000 Bruxelles

gratuit
Production
In the framework of the exhibition "Topographie de la subversion". Halles Saint-Géry – Fonds de dotation agnès b. – CFC-Éditions
Uninvisible Lab is a Transcultures production