25 > 28.01 | Colloque/symposium COM ∩∪ TIES @ l'ISELP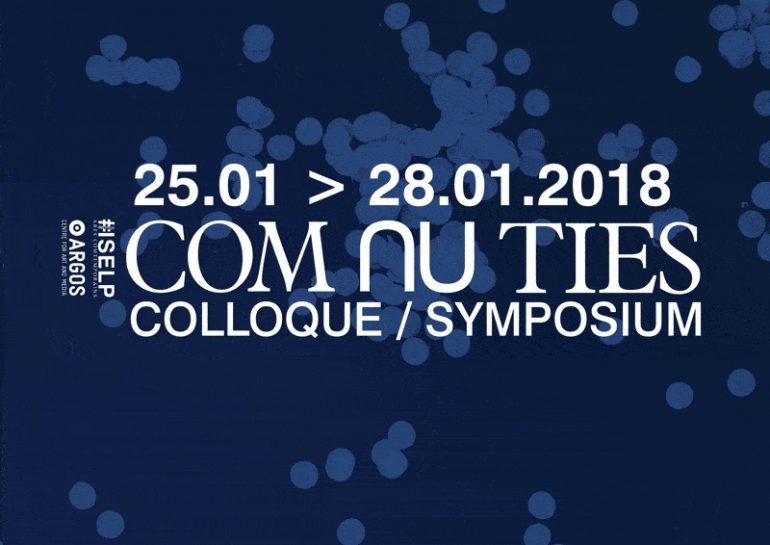 In the continuation of the jointly organised exhibition in autumn 2017, Argos and ISELP – two Brussels-based institutions linked to the two main Belgian linguistic communities – join forces to further their reflexions on the theme of communities, this time in the form of a symposium that brings together artists, researchers, members of the scientific community and curators. As in the exhibition, the "communal" will be questioned according to four organisational modalities, four territorialities: the city, the social body, the political structuration and the environment. Thresholds that tie or untie communal existence appear in each of these configurations.
Thresholds that can either be an obstacle or an access point. Philippe Franck (director of Transcultures, teacher at ESA Saint-Luc Brussels, Arts2 Mons and ARBA-ESA) will be the chairman of the session and moderator of the debates of the January 28, bringing together communications around the 'online communities' by – among others – Iris Lafon (art historian and French curator) , Mezli Vega Osorno (photographer, artist and researcher at the University of Aix-Marseille and ENSP Arles), Pierre-Yves Desaive (art historian, curator and teacher at La Cambre-Brussels).
Informations
28.01 > 12:00 > 16:30 | ONLINE COM ∩∪ TIES

25.01 > 28.01.2018 | COM ∩∪ TIES > Colloque full

L'ISELP

31, Boulevard de Waterloo, Bruxelles

4 days: 12 € / *6 € / **1,25 €

1 day: 6 € / *4 € / **1,25 €
Production
Argos et l'ISELP