Newsletter février 2015

FÉVRIER / FEBRUARY 2015
Février sera, pour Transcultures, un mois principalement de workshops jeunes artistes/étudiants, fruits d'échange entre la Faculté d'Architecture et d'Urbanisme de l'Université de Mons et l'Académie Royale des Beaux-Arts de la Ville de Bruxelles autour du rapport espace-son-mouvement, et entre les écoles d'art également partenaires de notre programme Emergences numériques et sonores, Arts² (Mons) et la Villa Arson (Nice) pour les arts numériques mais aussi de conférences. Sort également, chez a.p.r.e.s. éditions/CNAP un beau livre+DVD autour du film Bernard Heidsieck, la poésie en action, co-produit par Transcultures et consacré à ce grand artiste français disparu en novembre dernier.
Entre les visionnaires d'hier et les talents de demain, les transcultures continuent de se développer.
February will be for Transcultures a month mainly focused on young artists workshops / student exchanges between the Faculty of Architecture and Urbanism of the University of Mons and the Royal Academy of Fine Arts of the City of Brussels. It will deal with the link between space-sound-movement and between the Art schools, also partners of our programme 'Digital and Sound Emergences', Arts² and Villa Arson (Nice) for Digital Arts, which results will be presented soon in City Sonic and Transnumériques festivals. Note that a beautiful book + DVD around the film 'Bernard Heidsieck, poetry in action', co-produced by Transcultures and devoted to this great French artist who died last November will be edited and published by a.p.r.e.s. editions / CNAP .

Between the visionnaries of yesterday and the talents of tomorrow, the transcultures continue to develop.
---
02 > 06.02.2015


Workshop
Écouter l'espace scénique
Mons

> Médiathèque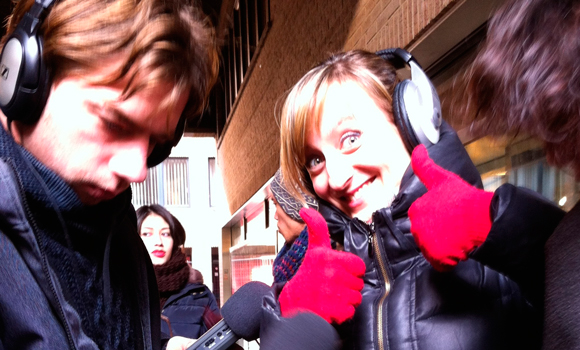 L'architecture comme la danse travaille l'espace ; l'un met en place des composantes statiques, l'autre permet de centrer la lecture spatiale par le mouvement induisant un rapport d'échelle du corps à son contexte. Capter le son d'un lieu en traduisant ses spécificités par le geste, tel est le nouveau défi de cet exercice interdisciplinaire où des architectes, des danseurs, des artistes sonores et des plasticiens croisent leurs pratiques.
Après un premier workshop Ecouter l'espace scénique organisé au Dexia Art Centre à Bruxelles en mars 2014, ce deuxième temps de travail propose de déplacer l'exercice dans l'espace public de la ville de Mons. Ces lieux communs furent appelés il n'ya pas si longtemps encore «espace négatif» ou «espace non construit» se référant à l'architecture structurante de la ville.
Il s'agit d'intervenir dans ces lieux fédérateurs de relation afin d'observer les nuances entre les usagers de la ville et ceux qui s'arrêtent devant la "performance" pour devenir spectateurs. La synthèse du deuxième workshop encadré par l'artiste sonore montois Stéphane Kozik, le chorégraphe/danseur bruxellois David Hayo et les architectes enseignantes, Pascale Petit et Lydia Bollen, sera présentée lors du festival City Sonic, en septembre 2015.
Architecture as the medium of dance work on space; one sets up static components, the other centers the spatial reading by the movement inducing a scale ratio of the body to its context. Pick up the sound of a place by translating its specificities through gesture, is the new challenge of this interdisciplinary exercise where architects, dancers, sound and visual artists cross their practices.

After a first workshop "Listen to the stage space" organized in Dexia Art Centre in Brussels in March 2014, this second working time proposes moving the exercise in the public space of the city of Mons. These common spaces were called, not so long ago, "negative space" or "unbuilt space" referring to the structuring architecture of the city. We mean to intervene in these places unifying relationship in order to observe the nuances between users of the city and those who stop before the "performance" to become spectators.

The synthesis of the second workshop framed by Mons sound artist Stéphane Kozik, the Brussels choreographer/dancer David Hayo and teachers-architects, Pascale Petit and Lydia Bollen) will be presented at Festival City Sonic in September 2015.
Partenariat Faculté d'Architecture et d'Urbanisme, ARBA/ESA-Académie Royale des Beaux-Arts de la Ville de Bruxelles, Transcultures
---
09 > 13.02.2015


Workshop Arts² – Villa Arson
Rhombo (Médiavision)
Mons

> Arts²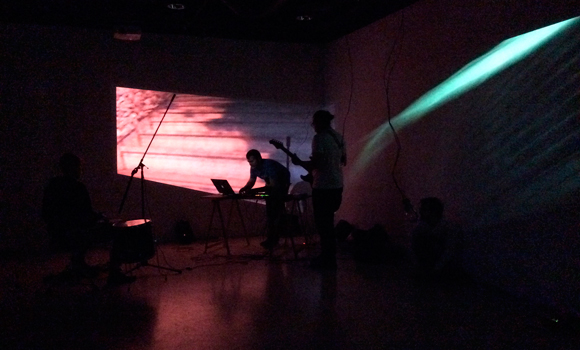 Rhombo projet issu de l'atelier Mediavision initié par la Villa Arson (ENSA Nice), fruit d'un partenariat entre celle-ci, Arts² et Transcultures, aborde les questions de créations d'espaces, de scénographie et de sculpture grâce à l'utilisation de techniques informatiques et numériques. Il s'agit d'explorer les formes architecturales et urbaines par la lumière, transformer un espace, le sculpter, le redessiner pour l'interroger.
Cela passera par la création d'univers singuliers de projections d'images ou de lumière puisque aujourd'hui la technologie des éclairages se rapproche de plus en plus des technologies des vidéos projetées et du cinéma (trames, dessins, 3D, vidéos) sur toutes formes en capacité de devenir écran, façades, murs, volumes simples, etc….
Il est demandé aux participants (issus de plusieurs ateliers d'Arts² et de la Villa Arson) d'écrire des fictions narratives ou pas en utilisant la profusion médiatique et ses virtualités comme ressort dramaturgique. Les mots clés pourraient être hybridations, micros histoires, trames, superpositions, collages, projections…
Le développement se fait sur des logiciels tels que Processing, Rezolume, etc…Le résultat de ces ateliers croisés Arts²-Villa Arson (un premier workshop a eu lieu à Nice en novembre 2014) seront repris sur un site et montrés dans le cadre de l'exposition Emergences numériques lors de la Biennale des cultures numériques Transnumériques (27 novembre-12 décembre 2015) organisé par Transcultures, dans le cadre de Mons2015, Capitale européenne de la culture.
'Rhombo' resulting from the Mediavision workshop initiatied by Villa Arson (National Art School of Nice) and partnership between Villa Arson, Arts² and Transcultures, addresses issues of space creations, set design and sculpture through the use of digital techniques.

This Mons/Nice workshop (a first common workshop has been organised in November 2014 at Villa Arson-Nice) is about exploring the architectural and urban forms by light, transforming/sculpting/questioning the space. This will require the creation of singular worlds of image projections or light today as lighting technology is approaching more and more technologies of projected video and film (frames, drawings, 3D videos).

The students/participants are asked to write narrative fictions or not, using the media profusely and his potential as a dramatic spring. The keywords could be hybridizations, microphones stories, frames, overlays, collages, projections…

The development is done on software such as Processing, Rezolume, etc … The result of these Mons-Nice workshops will be displayed as part of the exhibition "Digital Emergences" in the Biennale Transnumériques (27 November-12 December 2015) organised by Transcultures as part of Mons2015, European Capital of Culture.
Partenariat Arts² – ENSA Nice- Villa Arson, Transcultures.
Enseignants-encadrants/teachers : Drita Kotaji, Natalia de Mello, François Zajega (Arts²), Christian Vialard, Gauthier Tassart (Villa Arson)
---
26.02.2015


Conférence Florence Corin
Espaces, limites et perceptions
Cycle Territoires numériques augmentés
Mons

> Faculté d'Architecture et d'Urbanisme > 12:00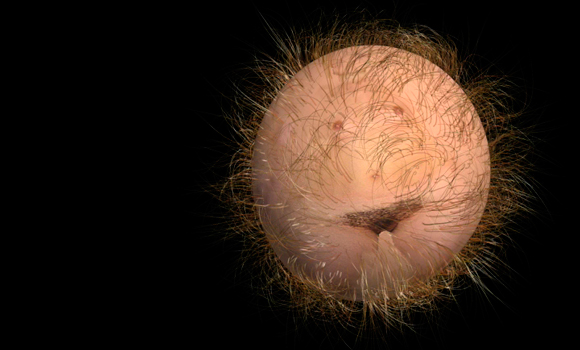 Depuis 2011, la Faculté d'Architecture et d'Urbanisme ( FA+U ) de l'Université de Mons collabore avec Transcultures pour l'organisation de conférences autour de la création sonore et les arts numérique. Le but est double: sensibiliser les étudiants à l'impact des composantes sonores en architecture et analyser des œuvres d'espaces sonores augmentés en retraçant l'évolution récente de cette discipline.
Dans ce cadre, Florence Corin (Bruxelles), danseuse/chorégraphe avec une formation d'architecte, artiste multimédiatique, responsable des éditions Contredanse et initiatrice, avec Philippe Jelli, de Mutin, association qui a réalisé, depuis 2005, des créations artistiques transdisciplinaires liées à la danse, au mouvement, aux arts plastiques, à la vidéo, à la musique et aux technologies numériques, donnera une conférence illustrée ouverte à tous. Qu'offrent les technologies numériques au travail corporel? Alors qu'il est plus aisé aujourd'hui d'introduire au sein du studio des dispositifs interactifs et d'explorer avec ceux-ci, cela modifie-t-il notre perception kinesthésique ? Cela joue-t-il sur nos limites corporelles ? Comment cela transforme-t-il notre espace scénique ou de (re)présentation ?
Plaçant le dialogue corps-machine au niveau de nos sensations, Florence Corin parlera ici d'une intériorité étendue.
Since 2011, the Faculty of Architecture and urbanism (FA + U) from the University of Mons, works with Transcultures to organize conferences around the sound design and digital arts. The purpose is twofold: first, to make students aware of the impact of noise components in architecture and then, analyze works on sound spaces increased by tracing the recent developments in this field. I

n this context, Florence Corin (Brussels), dancer / choreographer with an architect, multimedia artist, manager for Contredanse editions and initiator with Philippe Jelli of Mutin, an association that produced since 2005, transdisciplinary artworks related to dance, movement, visual arts, video, music and digital technologies, will give an illustrated lecture open to all. the question is what can digital technologies provide to the physical work? While it is now easier to introduce interactive devices into the studio and to explore with them, does it change our kinesthetic perception? Does it plays on our bodily limits? How does it transforms our stage area or (re) presentation?

Placing the body-machine dialogue at our sensation level, Florence Corin will deal with a wide interiority.
---
ET AUSSI / AND ALSO
---
03.02.2015


Musiques Nouvelles featuring
Angélique Wilkie
Andy Warhol's night
(Factory Happening 1964-2014)
Namur

> Théâtre de Namur > 20:00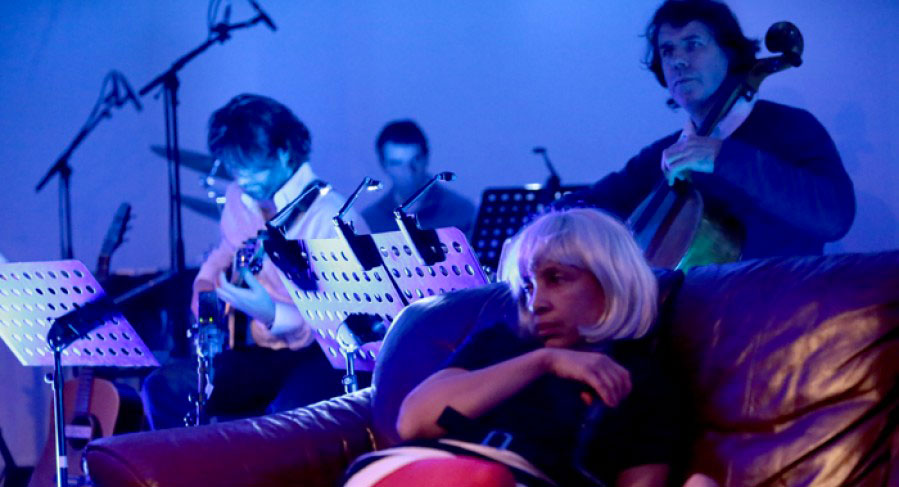 Andy Warhol a marqué définitivement une culture «pop» peuplée d'icônes démultipliées et de superstars étincelantes. En 1963, il invente à Manhattan, la Factory, une usine à créer sans relâche des images, qui attire les jeunes talents, poètes, musiciens (du Velvet Underground à Bob Dylan) et illustres visiteurs du monde entier.
À partir de ce riche héritage essentiel pour notre contemporain, Musiques Nouvelles et Angélique Willkie proposent une performance audiovisuelle mêlant musique live (créations et reprises de Lou Reed et John Cale de chansons de leur album Songs for Drella et de Venus in Furs), projections et documents d'époque (de Gerard Malanga, principal collaborateur de Warhol dans les Silver 60's, photographe et poète) dans une ambiance de loft new-yorkais. Pop for ever !
Andy Warhol has definitely marked a "pop" culture with multiplied icons and fascinating superstars. In 1963, he launched the Factory in Manhattan, a factory to create images that attracts talent, poets, musicians and distinguished visitors from around the world.

From this rich heritage essential to our contemporary life, Musiques Nouvelles (featuring singer/performer Angélique Willkie) propose an audiovisual performance combining live music (new pieces by Musiques Nouvelles and covers of songs by Lou Reed and John Cale from their seminal Songs for Drella album + 'Venus in Furs'), projections and documents (texts, photos and film from the archives of photographer/poet Gerard Malanga, Warhol's main collaborator in the 60's Silver Factory) in an New York loft atmosphere. Pop for ever!
Production : Le Manège.mons/Musiques Nouvelles, Transcultures, BAM, Pôle Muséal Ville de Mons, Flagey, Bozar
---
PUBLICATIONS
---
Coffret livre + DVD
Poésie Action : Variations sur
Bernard Heidsieck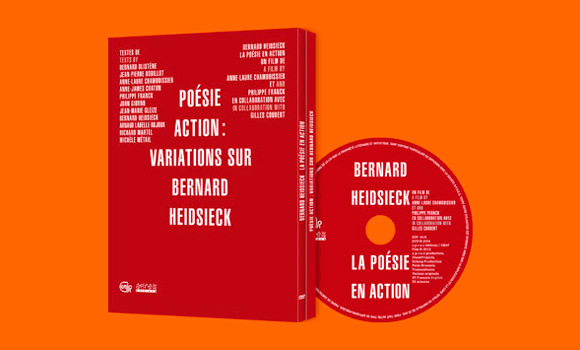 Soit Bernard Heidsieck, un poète en action. Soit la poésie en action. Soit un ensemble d'œuvres de Bernard Heidsieck issu des collections du Centre national des arts plastiques et présenté par Anne-Laure Chamboissier et Philippe Franck dans l'exposition « Sonopoetics », à L'iselp, Bruxelles en 2010.
Soit un désir de rencontrer un artiste pionnier et d'appréhender une œuvre singulière. Soit un cercle d'artistes qui témoignent. Soit un film pour réaffirmer l'importance et l'actualité de cette œuvre majeure. Soit un recueil de contributions inédites de Bernard Blistène, Jean-Pierre Bobillot, Anne-Laure Chamboissier, Anne-James Chaton, Philippe Franck, John Giorno, Jean-Marie Gleize, Bernard Heidsieck, Arnaud Labelle-Rojoux, Richard Martel et Michèle Métail.
Bernard Heidsieck, a poet in action. Or poetry in action. Or a collection of works by Bernard Heidsieck selected from the Centre national des art plastiques collections and presented by Anne-Laure Chamboissier and Philippe Franck at the Sonopoetics exhibition in Brussels, in 2010.

Or a desire to meet a pioneering artist and explore his unique corpus. Or testimonials from a circle of artists. Or a film to affirm the importance and currency of this major corpus. Or an anthology of original contributions from Bernard Blistène, Jean-Pierre Bobillot, Anne-Laure Chamboissier, Anne-James Chaton, Philippe Franck, John Giorno, Jean-Marie Gleize, Bernard Heidsieck, Arnaud Labelle-Rojoux, Richard Martel and Michèle Métail.
Coédition a.p.r.e.s éditions / Centre national des arts plastiques
---
APPEL A PROJETS / CALL FOR PROPOSALS
---
Transnumériques Awards 2015
Art(s) & Network(s) – Spécial GIF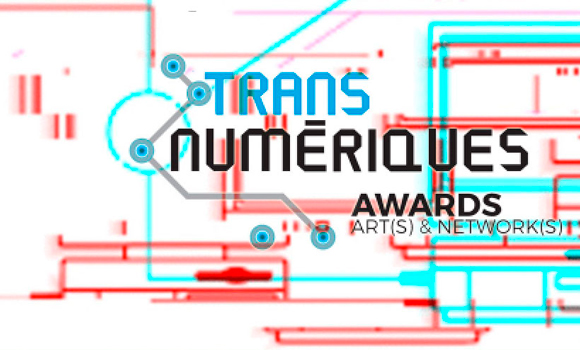 1st deadline (Festival Vidéoformes) : 01.03.2015
Une initiative de Transcutures en partenariat avec le Festival Vidéoformes (Clermont-Ferrand), ARTour (Biennale d'art contemporain et patrimoine, Région Centre), Mons2015 (Capitale européenne de la culture)
---
Résidences croisées arts numériques Vice Versa : La Chambre Blanche (Québec) / Transcultures (Mons)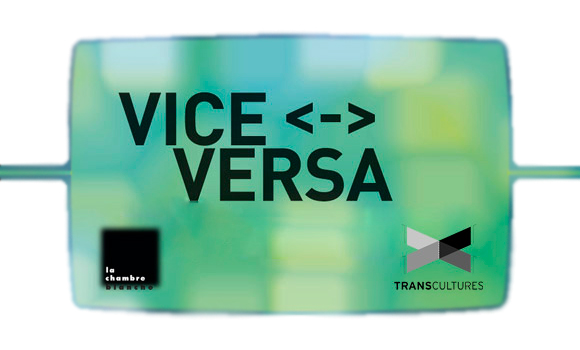 Deadline : 01.03.2015
Partenariat La Chambre Blanche, Transcultures
---